Center for the Arts makes music at Holmes BDD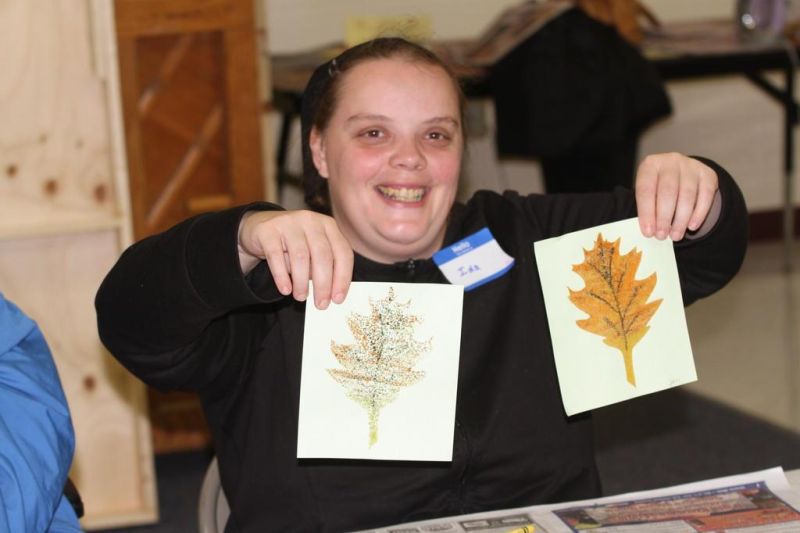 One of the goals of the Holmes Center for the Arts community has always been to utilize the gifts of its members to enhance the lives of others in the community. A recent grant has created an opportunity for them to do just that.
Courtesy of the grant, the center took its first road trip Oct. 29 to visit the Holmes County Board of Developmental Disabilities, where it presented a number of learning and sharing opportunities in the arts to promote creativity, develop fine motor skills and help the clients at the HCBDD to learn to open up and improve their communication skills.
The grant that allowed the Holmes Center for the Arts to be able to reach out to the Holmes County Board of Developmental Disabilities was written by Catherine Lynch, a former art teacher in the West Holmes School District who now has taken on the role of community outreach director for the Holmes Center for the Arts.
The grant covers three festivals with the Board of DD as well as other events at retirement communities at Walnut Hills and Sunshine Villa and doing some outreach with teens through Holmes County Job & Family Services.
"We are trying to reach the parts of the community that would have a hard time coming to us and participating otherwise," Lynch said. "We want to be very involved in the community. We are all very passionate about the arts, and sharing them with those who can't get in to see us is one way we can share that passion with as many people as possible. It's fun to see everyone having a great experience and learning a number of different arts."
The volunteers for the Holmes Center of the Arts provided a number of activities. In the activity center Lydia Havener of Holmes Center for the Arts was on hand to introduce some dance techniques to the clients at the center. She worked with those in attendance, and she said dance can provide so many benefits for the Board of DD clientele.
"It's about getting them to move in ways they haven't moved before," Havener said. "We want them to have fun and be successful in something they haven't done before."
Havener said all of the arts are terrific ways for them to connect with new people and to learn new activities they can use every day. She said dance and music are ways to express themselves, something the center works on with its clients continually. The techniques included some jazz movements, ballet and other dance techniques.
"Even if you can't talk or hear anything, you can still use your body and talents in ways that brings something special to the world," Havener said.
A few doors down, volunteer Pong Thiemmdh, former music instructor for West Holmes elementary schools, was busy teaching a drum session.
In the west center of the building, former art teacher Karen Drongowski, who is now a member of the Holmes Center for the Arts, was creating some colorful leaf waxings with clients.
The clients would color a leaf with crayons on sand paper, create their own design and then she would heat another piece of paper with the wax, which lifts the print and reveals a new design that looks much like pointillism.
"This gives them pleasure. It is tactile. They get to use their creativity, and they are having fun doing it," Drongowski said. "All people are gifted, and it is our job to help bring these gifts and talents out of everyone."
In addition to the activities, Main Street Pizza, Rodhe's IGA and Wal-Mart donated food that served as a fourth stop for everyone to enjoy.
The Holmes Center for the Arts is committed to coming to the Board of DD center once per season for three visits, and both of the entities involved hope the connection between the two only grows from there.
"This is so wonderful," Holmes County Board of DD Superintendent Marianne Mader said. "I have always been a huge supporter of the arts, and when they said they wanted to do something with us, we jumped right on board with them. The arts are a great way for our individuals to express themselves, and the other thing that is nice is that it is an opportunity to do something different, and we like to create new learning experiences for them. I always say you don't know what your favorite is until you meet it, and this is a chance to experience some new and exciting things that can help them grow."
For more information on the Holmes Center for the Arts, visit them at www.holmescenterforthearts.org.