Chamber honors award winners, celebrates successful 2019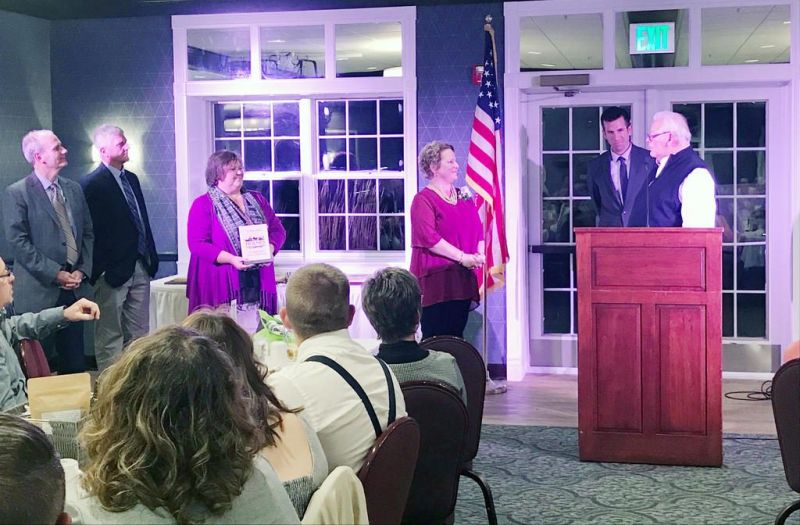 The many members of the Holmes County Chamber of Commerce and Tourism Bureau gathered at Carlisle Inn at Walnut Creek on Thursday, Nov. 7 for the annual meeting and awards banquet.
The banquet honored a number of successful businesses and celebrated a successful year in the county.
Building relationships and partnerships took on a key theme throughout the night.
Kent Miller, chamber board president, said the chamber and the board are constantly seeking ways to connect with the county's business partners and organizations to find ways to improve the county.
"That spirit of working together is what has made our chamber what it is today," Miller said. "But I challenge us because we have opportunities to make our county even better in the future. What is Holmes County currently not providing for our business community, for our families and for our visitors that could be provided? It's important to look at smart growth that is sustainable and honors our heritage. It can be challenging, but it is doable. New challenges can bring with it new opportunities to our county for the next generation."
Miller then invited chamber executive board members Garrett Roach and Mike Birch forward to help celebrate the retirement of Shasta Mast as the Holmes County Chamber of Commerce and Tourism Bureau executive director. Mast served 17 years in the position and handed the reins to Tiffany Gerber.
The board members presented Mast with several gifts for her years of service and her many accomplishments.
"We celebrate with you the successes you have experienced personally and our successes as a chamber," Miller said. "It's evident of your leadership that you are leaving the chamber healthy and poised for more success. Thank you for always being a champion of Holmes County and for promoting our spirit of hospitality."
Holmes County commissioner Joe Miller then presented Mast with a proclamation, thanking her for her service from the commissioners. He then said he was asked to share about all of the reasons why Holmes County is such a wonderful place to live, work and thrive. He said he started to make a list but realized it would take forever. Instead he focused on select things.
The first was how Holmes County's manufacturing world continues to grow and thrive, despite manufacturing being down across the board in Ohio. He also spoke about the 5 million visitors who come to Holmes County each year to enjoy the peace, beauty and tranquility of the area.
"People want to come here and visit, and that is something pretty special," Joe Miller said. "The people of Holmes County find a way to make a living and better themselves every day, and our mission is to continue to build our infrastructure so our businesses can continue to grow."
He then talked about three projects that are currently under way to do just that.
The first was a wage and benefit survey where Mark Leininger, director of Holmes County Economic Development Council, will call businesses for information.
The second was the roadway project near Hiland High School at the intersection of state Route 39 and County Road 77. Work on the intersection is to alleviate the dangerous intersection. He said work will begin in earnest in April 2020.
Last, he said the commissioners will address the Holmes County courthouse clock tower issue.
Miller said it is in dire need of repair, and that will become a focal point in what he said should be a six-month project.
Roach invited the chamber members in attendance to welcome in the newly elected chamber board members Jim Smucker and Mark Weaver and to welcome back current members Atlee Kaufman, Alan Kozak and James Troyer.
Leaving the board were long-time members Kurt Rodhe and Carey Conn, who each termed out, having served three terms of three years each.
"We really appreciate their service; they were great directors," Roach said of Rodhe and Conn. "We are going to miss them."
The focal point of the evening was the introduction of the five annual chamber award winners.
The Small Business of the Year award went to Paint Valley Equipment, accepted by owner Lee Miller; the Medium Business of the Year honor went to Ashery Country Store, accepted by owner Curt Yoder; the Large Business of the Year award went to ProVia, accepted by President and CEO Brian Miller; the Community Service Award was presented to Amish Mennonite Heritage, accepted by executive director Marcus Yoder; and the Lifetime Achievement award went to Bill Mullet, president and creator of ProVia.
Each shared their own personal stories, and all were grateful to their hard-working employees, their families, the work ethic of the community and their faith.
Kent Miller said the themes of hard work, faith and family, and the building of relationships continue to play a key role in the success of Holmes County's economic growth and its ability to provide a wonderful place to raise a family and grow a business.