CitC is 3 days of nonstop activity for sponsor WKLM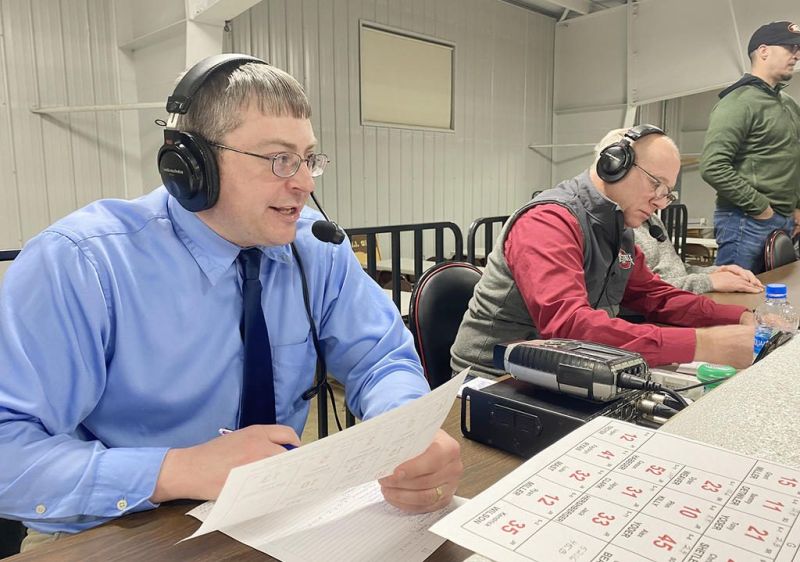 When Classic in the Country first came into prominence in 2005, the idea was to promote high school girls basketball, Holmes County hospitality, great music, food and entertainment and wrap it all up in a celebration of unity and equality among all people, which is why it was built around Martin Luther King, Jr. weekend.
That it came during a winter month that usually saw Holmes County's economy slow to a crawl was no coincidence, and the three-day event featuring 20 basketball games has helped generate a massive flow of income for area businesses during that slow period.
The event has had many sponsors from big to small. It has seen Under Armor once become a major investor, it has had countless local businesses help generate funds to fill seats, and two years ago the CitC saw a new sponsor, WKLM 95.3 Radio, become the major sponsor.
"A couple years ago, we were at a point where we wanted to revamp our website, and this was a great thing to showcase that," program director Matt Croy said. "We stepped in as a major sponsor for a year and wondered if that would be it, but here we are three years later, and it's really worked out. We are proud to be part of something this special to our community, and it isn't just us. It takes a huge number of volunteers to make it go. This event is as community-minded as anything. I compare it to the Holmes County Fair, only in the sporting world, as to what it means to our community. And this community has really stepped up to create something special that serves a huge purpose."
In stepping up as the major sponsor, WKLM has committed to airing every game over the weekend. With this year's slate of games being bumped up to 25 contests over three days, it makes for a rather interesting and hectic time for the WKLM crew, a weekend that is very taxing but satisfying for the team members who hammer their way through what amounts to being on live air for over 33 hours.
That Herculean effort is not lost on Croy.
"It's demanding on not just those of us covering the event, but it is also very challenging for the people back at the stations as we do all of these live coverages," Croy said. "It takes a great effort, and we appreciate everyone's effort to pull together to make it happen."
Croy said they will have five people at the event, and when they aren't calling games, they will work throughout the Perry Reese, Jr. Community Center to do interviews with anyone from special visitors to players, coaches and visiting college coaches.
"Those special pieces are so interesting and such a big part of the coverage," Croy said. "It gives listeners a bit of insight into the people who are a part of the big weekend."
In addition to the on-air calls, WKLM has added a new video-streaming service for each game. Games can be watched along with on-air coverage by logging on to the CitC website at www.classicinthecountry.org.
"It's a fun addition to the programming that will give people another option," Croy said.
Claxon Communications will provide the streaming service.
In addition to the coverage, Croy said they will devote plenty of time to remembering CitC creator Tom Jenkins, who was instrumental in driving the CitC to its success.
As for the income generated by CitC, promoter Dave Schlabach said it is something the initial brain trust wanted to make happen, a nice plus aside from the event itself.
"That was an important part of why we started this event — because this community does struggle economically during the winter months," Schlabach said.
Since its inception the Holmes County commissioners have understood the economic impact of CitC, which is why they have committed grant funding to support the event each year.
Commissioner Joe Miller said CitC may focus on Hiland High School and basketball for three days, but its effects are far more ranging.
"Overall, it is a real booster to our local economy in January, which has always been a down time for Holmes County in terms of tourism, but it goes beyond just that weekend," Miller said. "I think this event plays a critical role in bringing people back into our community throughout the year. I think it absolutely showcases much of what we offer here in Holmes County and gets people excited about returning to experience everything we have."
Miller said visitors recognize the hospitality presented at the event, and he said there is another reason people come, and he falls into this category.
"It's the noodles," Miller said. "I'll stop in just to get noodles, and I know a lot of people talk about those noodles and look forward to them."
Regardless of whether you're local or out of town, are rooting for one team or are just a fan, or perhaps are just a fan of buttery hot noodles, Classic in the Country offers so much that demonstrates the hospitality and spirit of Holmes County.
For more updates and information, visit the CitC website.