Clark school sold but local buyer makes sure it stays put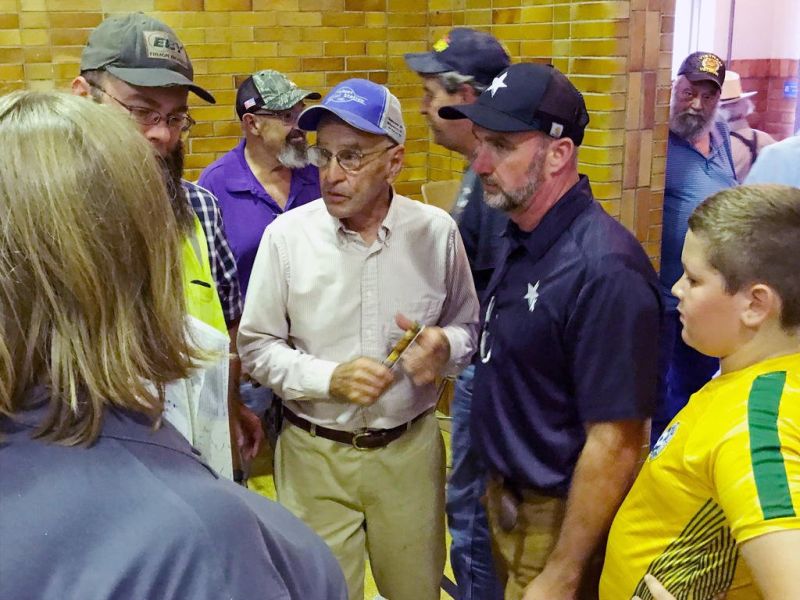 Whether folks were thinking from their hearts or their minds, everyone had to leave Clark Elementary School feeling as though they could feel good about what happened at the school ground auction that took place in front of an overflow gymnasium crowd.
For those who were thinking from a financial and educational perspective, there on behalf of the West Holmes School District, the property brought in $130,000, which will now go into the school district general fund.
For those thinking from the heart, through nostalgic eyes and with a penchant for the historical memories surrounding the school, they had to be pleased the property was purchased by someone who wanted it to go back to the people of the Clark community.
In the middle of the fray was local resident Dale Lahm, who stepped up and purchased the property with absolutely no idea what he will now do with it. For the 1955 Clark High School graduate who grew up there, learned there and met his wife there, the price was right in making sure it would go back to the community to which it once belonged.
Amidst a great deal of speculation, from how much the property would bring, to who would buy it, to what they would do with it, Lahm decided he was going to buy it once bidding began to slow down.
"I'm giving it back to the community," Lahm said of the property. "I would like to see it stay here in the community, some way, somehow."
When asked what his thoughts were on future plans, Lahm said, "I have no idea. I just didn't want it to leave."
Lahm said he had no intention of buying the property until the night of the auction when he felt the opportunity arose for him to do so.
"I saw it wasn't going for that much money, and I wanted to see it stay here," Lahm said. "I didn't want to see it destroyed or for someone to come in here and make something else out of it. I would like to see it become some type of community thing. I don't know what we will do with it, but there are other people here who will work with me."
Lahm went to Clark High School, moving into the community in third grade following World War II and spending 10 years of his youth attending school there. He has lived near the school for six decades.
Like many in the community, the school has a special meaning to Lahm, and he made a lot of community members happy when he won the bid. He also became an instant celebrity as many of those in attendance offered their congratulations and thanks.
Coming into the evening, Dave Kaufman, founder and owner of Kaufman Auction and Realty, served as the head auctioneer for the event. While Kaufman also had sold the Charm Elementary School, that was a completely different animal due to its location value. Even he had to admit this one was anyone's guess.
"We had a lot of people inquire about it, but we really had no idea," Kaufman said of how much the final sale would be. "It could be $20,000; it could be $150,000."
Kaufman was pleased with the turnout, although he realized there were far more curious people than there were committed bidders for the property.
"Naturally you have your people who graduated from here and former students, but probably 98 percent of the people here are here simply out of curiosity," Kaufman said. "Schools, churches, specialty buildings, you just never know."
West Holmes School District treasurer Jamie Zeigler said it was a bittersweet evening for the district. She recognizes there is a great deal of sentiment attached to the school, and she herself was experiencing that emotion.
Zeigler said throughout her 17 years in the district, the idea of eliminating Clark from the district's stable of schools has been discussed.
"We weren't seeing the enrollment trending in the right direction, and that is actually being seen more and more throughout the state of Ohio," Zeigler said. "Something like this is very hard. We have certain standards that we follow when situations like this arise to assist us in these decisions. In the end it was not an easy decision. This day has been tough for me because this is probably one of my favorite places to have as part of the school district."
She too was pleased with the turnout because she felt it showed the community support and spirit from the people of Clark and a real unity among the community. She said she saw numerous former students and staff at the auction and that the school always had excellent leadership and teachers who cared about their students.
"I will say that is the case across the district," Zeigler said. "I know how difficult this has been on some people in the community because this school has meant so much to so many."
Zeigler said at the end of the day, despite how hard it was to pull the plug on Clark Elementary, the board and administration had to keep their focus on doing what was best for the school district.
"We have to do what is best to provide every opportunity for the students in our school district, and that might mean making some difficult decisions like this," Zeigler said. "I understand why some people don't see it the way we do because their hearts are in this school. One of the things we had to do in making the decision was to take our hearts out of it and do what we felt was best for all of our students."
On this evening everyone was able to walk away feeling at least somewhat good about the future of the school and what lies ahead.