Classic in the Country far more than hoops to Jenkins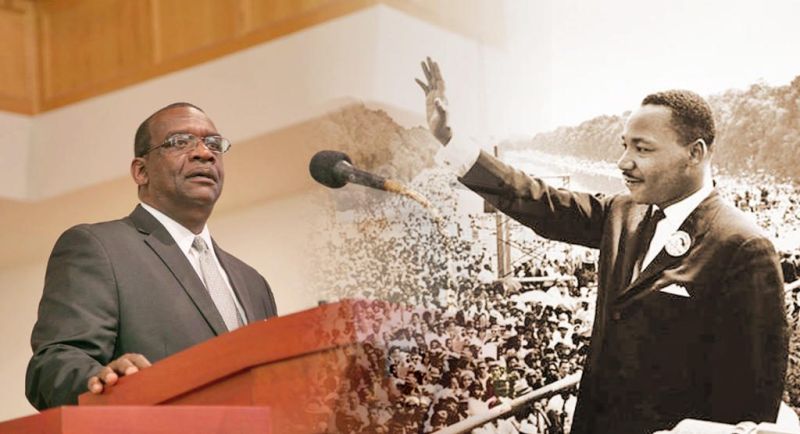 A decade ago Marvin Blanks, "Orator of the Century," walked into the Perry Reese Community Center at Hiland High School during the opening day of Classic in the Country VII and delivered a rendition of Dr. Martin Luther King's "I Have a Dream" speech.
CitC promoter Tom Jenkins, who has worked toward creating equality and unity his whole life, was stirred as Blanks delivered a spot-on speech that took nearly 18 minutes before the evening's final basketball game.
A decade later Jenkins still considers that the shining moment among many that have taken place during the three-day high school girls basketball showcase that is heading into its 17th year and is considered one of the finest of its kind in the United States. This year's event will take place Saturday to Monday, Jan. 18-20.
"What an incredible moment to set the stage for what we want to portray at the Classic," Jenkins said. "It was stirring. You could have heard a pin drop, and it was a packed house. It was such a unique moment and one that I will always remember."
That moment almost didn't happen. Jenkins had checked into a number of Dr. King impersonators, but they were expensive. When Blanks learned about the decision not to have the speech given, he contacted Jenkins and lobbied for him to reconsider. Blanks considerably dropped his price to present the speech, stating at the time that he felt it was something that had to take place in such a meaningful setting.
Blanks has given many presentations of the "I Have a Dream" speech, and he certainly has a huge supporter in Jenkins.
"One of the biggest things that Dave Schlabach and myself have always tried to promote throughout that weekend is the legacy of Dr. King," Jenkins said. "Right along with that is to perpetuate the legacy that coach Perry Reese, Jr. left on this community during his time coaching at Hiland."
Like King, Reese made a permanent mark in history on a local level as an African American man coaching in an Anabaptist, white community. Promoting these two men's efforts to tear down racial barriers and build unity among all people is what lies at the heart of Classic in the Country's existence, along with great girls basketball, Amish Country food and foot-stomping music.
"It is rare in today's world to have two men like that who have virtually changed their communities and people's hearts by themselves," Jenkins said. "One of Dr. King's lessons that gets lost that we try to reiterate at the Classic is that in the outside world everyone is hollering about their differences and diversity. One of Dr. King's greatest lessons was that before you can respect everyone's differences, you have to recognize your sameness. I think that is what the Classic does: give everyone a chance to recognize their sameness."
Jenkins described how the event realizes this lesson. "For three days here, people aren't recognized as Democrats or Republicans, black or white, Christians, Muslims or Jews. Everyone is here for the same reasons: competitive basketball, great food and foot-stomping music," he said. "What better way can we recognize the sameness in people than by celebrating those things? Because throughout America's culture, those three things have always bridged our differences and made us all the same. That is the lesson we want to keep alive."
While King and Reese's memories are paramount, Jenkins does have other favorite memories at the CitC.
One of those was when a Gospel choir came to Berlin and performed and then provided the national anthem. While portions of King's speeches are played between games in lieu of the anthem, each final game features a performed live anthem, and this one filled the Reese Center with harmony.
Another favorite for Jenkins was in the early years when Paul Barlow's Hathaway Brown team from Cleveland went to a local nursing home to visit with residents.
The girls had fun interacting, but Barlow didn't know what was in store for him.
"Coach Barlow was there with the girls, and one of the lady residents there took a liking to him, and she started chasing him around, asking him to take his britches off," Jenkins said. "When he didn't oblige, she gave hive a rather rude hand gesture. Now that is a classic moment."
Two more things that have set themselves apart to Jenkins is both the entertainment and the concession stand, especially Naomi Troyer's homemade noodles, which many visitors state as the main reason they come to the CitC.
Esther Mast's entertainment crew has kept fans in a spirited mood during timeouts and between quarters, halves and games. Whether it is people milking a life-like cow at mid-court, zany games or line dancing, Mast and company have become a critical part of the event.
"They work relentlessly to provide a high-energy atmosphere, and it creates an environment to celebrate our sameness, whether it is an urban kid milking a cow at center court or they are having rap-music danceoffs between suburban and rural schools," Jenkins said. "It is unique to see all the kids interact with Esther and her entertainment team. Many people don't come for one day; they make a weekend of it, and Esther and her crew create such a great carnival atmosphere."
As for the concession stand food, lines are always long as hungry hoops fans get ready to dig into a smorgasbord of fine dining, Amish Country style.
"I think it is the most unique concession stand in the state of Ohio," Jenkins said. "It reflects the hospitality and the community, whether it is the Trail and Swiss, the homemade noodles, fry pies and many other items. They are all part of Amish Country's allure."
With hoops, food, music and a festival atmosphere, Jenkins believes two of the biggest factors in the success of the CitC go unseen and unmentioned but are critical.
First is the support from the local community, which has embraced this showcase from day one and has been instrumental in supporting it financially and as volunteers.
Second is the hospitality of the Reese Center, as well as area hotels, restaurants and businesses.
"This community has been beyond unbelievable," Jenkins said. "The community has taken ownership of this and has realized the value of this event in terms of the numbers from an economic standpoint. As for the hospitality, it is what drives this event. It doesn't matter if it is basketball royalty, teams, visiting college coaches, officials or fans. The hope is that when people leave Holmes County, they have been treated like queens and kings. I think the one thing that this community is built on is hospitality. People here understand that value and embrace it. They want people to enjoy their experience when they visit here."
Classic in the Country tickets for a single game, single day and three-day passes are available at the front door of the Reese Center. Jenkins said it is one of the least expensive three days of basketball and festivities anyone could hope to find.