Classic in the Country gearing up for some hoops and challenges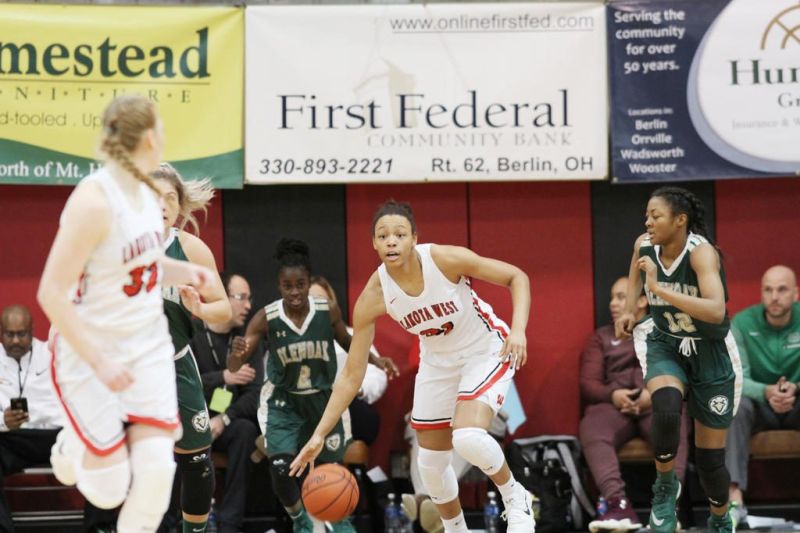 Last year when Classic in the Country XV was hit by unusually difficult weather that sent the staff scurrying to reschedule games due to teams being unable to attend, Bryce McKey, who along with Tenishia Benson heads up CitC and Ohio Girls Basketball Report, found out exactly how difficult such a monumental undertaking can be.
They also found out how incredibly hard people were willing to work with them to make sure the event came off flawlessly.
Thanks to teams and officials working together in a very tight window, they rescheduled the games, and fans were treated to another spectacular three days of high school girls basketball over Martin Luther King Jr. weekend.
As they gear up for Classic in the Country XVI Jan. 19-21 at the Hiland High School Reese Community Center, they understand much better what they need to do first and foremost.
"Pray for no snow," McKey said. "Really, last year showed us just how accommodating everyone is and how willing people are to do whatever it takes to make this event something special. The coaches had all scouted their opponents, and then we switched games around, and they were all very understanding. People here did whatever they had to do to make everything run smoothly. It was so neat to see everyone doing whatever it took to continue this incredible tradition of girls basketball."
McKey has seen the event grow and evolve over the years, first as a coach with five-time state champion Hathaway Brown, which played at the event for years, then as a scout with Xavier University and finally as the promoter of CitC, which he and Benson took over during CitC XIV.
"I think Tom Jenkins and Dave Schlabach had a great vision of what they wanted this to be and what it could become," McKey said of the men who created the event in 2004. "I've seen this event from every angle over the years, and seeing how it has operated and watching it get better and better each year has been something special. It takes a huge commitment from a lot of people, and as always the community of volunteers here at Hiland are the ones who make it possible. They are the ones who help create such a wonderful atmosphere and make it so inviting, from everyone to the teams and coaches to officials, fans and college scouts who fly in from all over the nation."
McKey said CitC has become such a drawing card for high school teams it is now one of two events teams crave to participate in along with the state tournament.
"The elite teams understand what it means to play in this event, and they know the type of competition and the atmosphere is only going to make them better," McKey said. "People are going to see a lot of Ohio's Final 4 teams when they come to watch."
This year's event features matchups like Canton McKinley versus Dublin Coffman, which will showcase two of the state's finest players in Coffman's Jacy Sheldon, who put on a clinic at last year's CitC, and Kirsten Bell of McKinley, a player with so much talent McKey called her a true rarity.
It also will feature the squaring off between ESPN's number-two team in the nation, Africentric, and Long Island Lutheran, New York, which also is a top-10 team in the ESPN national ranking.
"We really feel that this year's slate of games is as good as ever, featuring some great team matchups and some really nice individual players squaring off against each other," McKey said. "We have three top-10 players (Bell, Zia Cooke of Toledo Rogers and Africentric's Jordan Horston) in the country participating, and I don't think that has ever happened before. This is as much star power we have had for a while."
With a slate of 20 games with seven on Saturday and Monday and six on Sunday, the Reese Center will be abuzz with electricity throughout the three days.
McKey said for true basketball fans, there isn't a better value anywhere for the cost of an all-day ticket. For $10 fans can sit down and watch six or seven of Ohio's finest do battle. With all of the food, from homemade fry pies and homemade noodles, burgers and more, there is no reason for fans to leave the Reese Center.
"On any of the three days people are going to see some great basketball featuring teams that have an excellent shot at playing in Columbus at the state tournament," McKey said.
Each team is given a personal tour guide, and the volunteer staff bends over backward to make sure the experience at CitC is a positive one.
"You can go to games around the state where people are getting paid for their roles who aren't very friendly, but you come here and the first people anyone meets are volunteers who are doing this because they believe in the event and they want to make it great," McKey said. "They are the people who set the tone, and they do a great job of making people feel welcome."
Businesses including lodging sites, restaurants and many of local merchants offer plenty of great deals.
"When Tom and Dave created this venue, part of it was to create more tourism in what is usually a down time in the winter," McKey said. "Because of this event, people now know about Berlin and Amish Country who never have experienced it before. We have a number of coaches who now make trips to Amish Country outside of basketball, just because they enjoy the area, and there are many fans who do the same who have now made trips to Amish Country a regular thing."
CitC is scheduled over Martin Luther King Jr. weekend because Jenkins was adamant that it was done to help promote unity and acceptance between all people.
"If you look at the things Dr. King accomplished and look at what coach Reese was able to do in his short time here in Holmes County, they are very unique in that it is very rare in today's world to see one man change anything," Jenkins said. "We saw Dr. King, virtually, by himself, change the world. We saw coach Reese basically change the views and perspectives of people in Holmes County. They really were champions of their causes. CitC is not about our differences, but it is about the many ways we are all the same. It is about finding that sameness in the name of love and acceptance of everyone that we wanted to celebrate this event over MLK weekend."
For more information, visit www.classicinthecountry.org. In addition, stay tuned to www.OhioSportsTicket.com for the upcoming podcasts with McKey as he talks about the matchups and players and we make our annual picks of all 20 games as well as a podcast with Rich Harland of Hall of Fame Huddle, who will talk about many of the participating teams.