Claymont teen has passion for riding and racing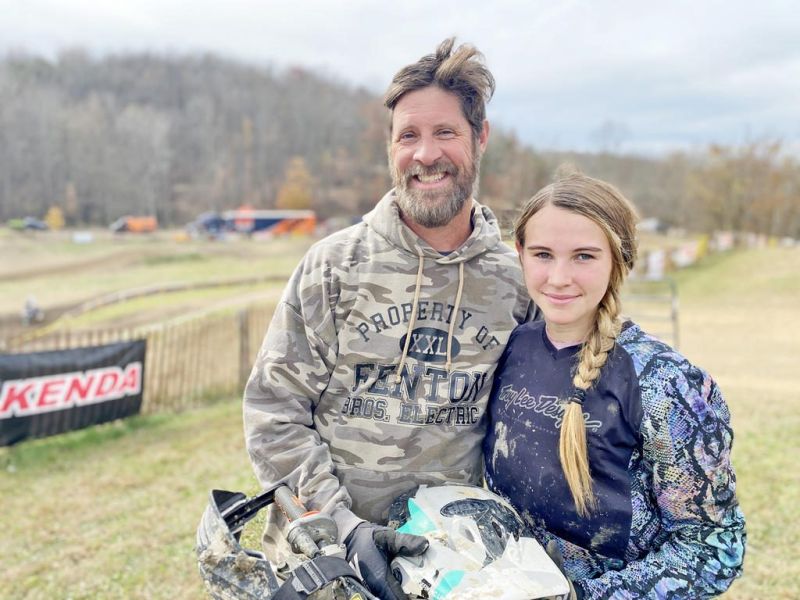 Madison Harman, a 14-year-old Claymont student, latched onto her stepfather's passion for dirt bike racing just three years ago. Along with several other local young competitors, she has racked up a fine record this season, competing in races around the country.
"We raced in Georgia this year," said Harman's mother, Chelsea Legg. "We raced in South Carolina, West Virginia, Pennsylvania — some of those tracks multiple times. And that's just national races."
Finishing respectably in larger national races, Harmon also competed locally, piling up first-place wins win at least three different divisions.
More than 800 bikes and their riders gathered at Crow Canyon Track in Uhrichsville the last weekend in October for a day of practice, creating a beehive effect on the twisting tracks and trails at the facility.
"They come out just to ride, not even race," Legg said, watching her daughter take to the track for more practice. "I really haven't seen much of her all weekend."
Most of the riders were there with family. Racers compete in seasons that can stretch from one snowy season to the next.
"I started watching my stepdad ride, and he showed me how to ride myself and got me my first bike," Harman said. "And I liked it a lot, so that's what I do."
She has two bikes now, one primarily for practice and another for serious racing. Both are slightly modified for competition.
Dustin Legg, Harman's stepfather, said he has been riding and racing dirt bikes since childhood. "She was playing volleyball, and I think wasn't having a lot of fun with that, so I asked if she'd like to start riding bikes and doing some racing, and that's how we got going. Now she's much faster than me. It's her sport," he said.
Harman has won four championships and is ranked sixth in the country in her racing class. The national season for the Grand National Cross Country Series wrapped up in Crawfordsville, Indiana at the Ironman Raceway the weekend of Oct. 24.
Also placing in their divisions in the national series were Harman in sixth, Claymont seventh-grader Michael Myer in third, Claymont sixth-grader Dino Mecomonaco in 11th, fifth-grader Maddox Hudnall in 12th, fourth-grader Remington Myer in seventh, junior Jillian Meechan of Conotton Valley in 11th, freshman Neco Presutti of Conotton Valley in eighth and fifth-grader Hunter Cross of Indian Valley in fifth place in the class.
Local class winners, with first-place championships over three series, were Myer, Harmon, Cross and Mecomonaco.
The family packs up an RV with bikes and equipment for some of the races. At other times the family must travel to another state and book a hotel for the duration of the races. It is a sport that can become a bit draining financially, Chelsea Legg said.
"You have the travel expense itself, transporting the bikes and equipment, stay in hotels, get meals for all of us. You can easily spend $1,000 in a race weekend," she said.
Harman has secured a little help from local sponsors who make the whole endeavor possible. "Any amount at all helps tremendously," her mother said.
The family will continue with indoor events during the early winter months. Her last race will be Dec. 4.
Harmon likes to race on dirt trails in the woods, something that gives her mother some cause for alarm through the season. "I really hold my breath," Chelsea Legg said, noting her daughter has sustained some injuries in the course of racing. "That's a part of it. You worry," she said.
For local racing hopefuls, Crow Canyon Track and Trail is at 4466 Belden Drive SE in Uhrichsville.