Coaching helps Roberts take another step toward 'a normal life'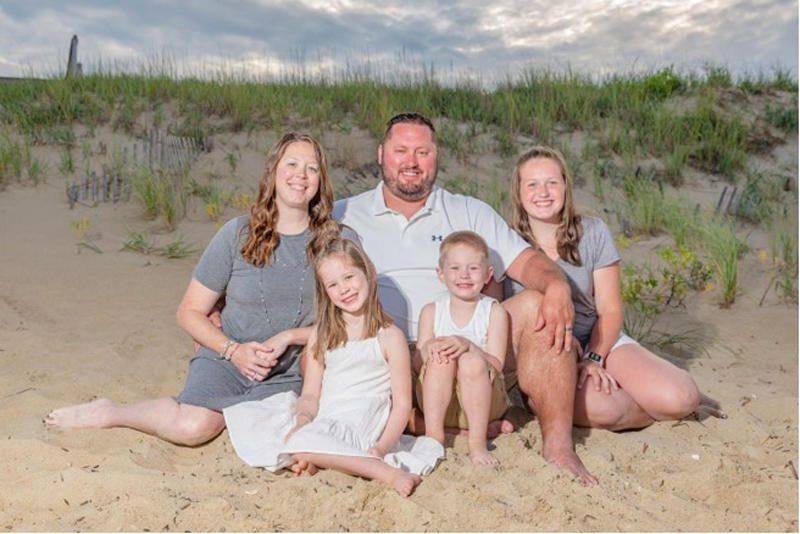 This Nov. 12 marked a very significant date for West Holmes head volleyball coach Megan Roberts.
It was on that date in 2018 she received a heart transplant that changed her life.
Two years later Roberts is on the other side of that ordeal, every day marking a return to the normal life she has longed to live.
Part of that was stepping in as the new WHHS head volleyball coach this past season, where her passion for sports and love of the game and the willingness of her girls to listen and learn helped her take another leap toward that return to normalcy.
"We had a really good year," Roberts said of her volleyball season. "It was so much fun for me to get back to doing something I really enjoy. I love being a mom and being with my family, but this gave me something new to focus on, and it helped me feel like I am getting back to the normal, everyday life everyone wants to have."
Roberts' journey began five years ago.
On Sept. 1, 2015, Roberts was at work at Cline Plumbing when the unthinkable happened. People 31 years old normally aren't candidates for heart attacks, but that was the terrorizing truth Roberts was facing at that moment.
With a rush to Pomerene Hospital, a transfer to Aultman Hospital in Canton and a whirlwind of activity, Roberts was on the operating table, clinging to life.
Doctors said Roberts had experienced postpartum cardiomyopathy, a rare form of heart failure that typically happens in the last months of pregnancy and the ensuing several months after birth. Roberts had given birth to her and her husband Tony's third child, Kannon, in July of that year.
What ensued following the heart attack was double-heart bypass surgery, and the second surgery sent Roberts into cardiogenic shock. Her heart was damaged beyond repair, and she would need a transplant.
It took Roberts six weeks in recovery, followed by a period of waiting for a replacement for her defective heart. Roberts' life became a series of doctor and hospital visits, until November 2018 when she learned there was a heart awaiting her at Cedars-Sanai in California.
The family's faith and Roberts' courage helped them through many tough times, and this was one miracle she wasn't going to miss.
The surgery was a complete success, and Roberts' visits to doctors and trips to California have become less and less with each passing week.
Which brought her to this fall sports season, where volleyball helped her take another big step in the recovery process. She said the attitude and work ethic of the girls and their commitment to focusing on the goals the team had set and the game plan Roberts had drawn for the season created the ideal situation for the team to succeed, COVID-19 aside.
"I felt like we grew a lot throughout the season, which was difficult with COVID happening around us," Roberts said. "The girls came in 100% willing to do everything that I asked of them, and then COVID hit. We had to have some players quarantined, but we saw other players step up and perform. COVID definitely threw some loops into the game plan, but at the same time, as a first-year head coach, I didn't know what to expect to begin with, so we just went with it. I didn't know any different."
Roberts said the team came together. They enjoyed learning and playing together, and she had no complaints with their attitudes.
While the Lady Knights lose Megan Jones, Lauren Jones, Brenna Barnes and Letti Larson, Roberts will see a bevy of talent return next season, which she is already looking forward to.
"We will miss our seniors, but I foresee some of the younger girls stepping up, buying in during this offseason and growing into key roles," Roberts said. "I'm thrilled to have the opportunity to see the girls continue to grow and develop as a team."
Roberts said she has not returned to California over the past year, which marks progress. She has a year-end doctor's visit approaching, and after that, she will be cleared to reduce her doctoral check-ups to every six months.
With the season over, Roberts will enjoy spending as much time as possible with her husband and their children, Mya, Jaisyn and Kannon. She is excited about doing what many parents see as the mundane tasks that come with parenting, but she knows each day is a blessing and every moment is special.
Having gone through so much, Roberts doesn't picture herself as a brave hero, but rather as someone who was simply willing to fight to get back to a normal life.
"I don't see myself as this great inspiration, but I hear it from people and I am grateful to those who see it that way," Roberts said. "I'm just a wife, a mom, a coach, a person trying to live life the best way I can. I'll always have check-ups, but I am on the other side, and I am looking forward to being the best person I can be."