Company culture sets tone for workforce retention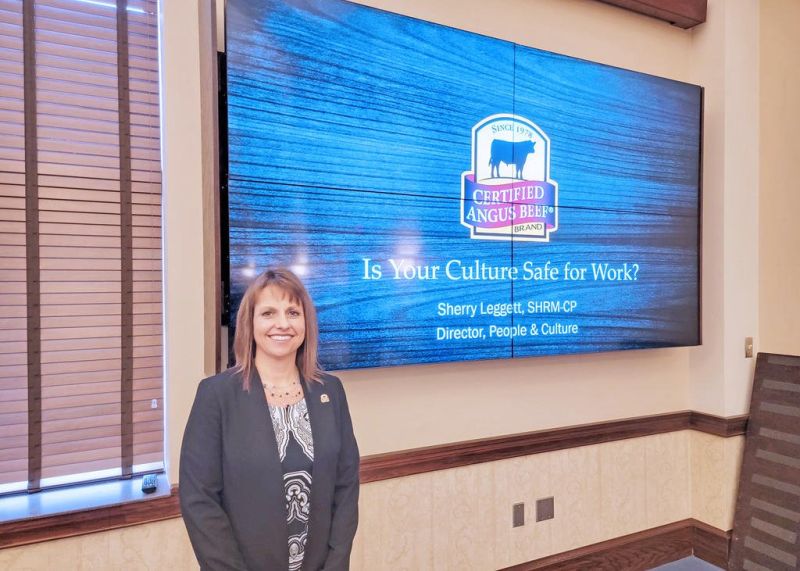 Labor shortage and workforce retention have become buzzwords, gaining attention since businesses reopened after COVID-19 related shutdowns. This rapidly changing environment has left companies questioning the best way to retain employees.
"We continue to hear from our local employers that workforce is a challenge," said Samira Zimmerly, president of the Wooster Area Chamber of Commerce. "While there is no easy answer to solving the workforce challenges, we feel that opportunities to (share) best practices help to tackle the larger issues one step at a time."
In response Sherry Leggett was invited to present at the chamber's Safety Council, asking is your culture safe for work?
Leggett, director of people and culture at Certified Angus Beef, said the solution is to make the workplace a place that strives for safety — both physical and psychological.
Leggett said the company went through its Great Place to Work certification during the pandemic, a time when there was a lot of fear and concerns around safety. Of the trust index survey for that certification, Leggett said, "We even got a 99% rating on this as physically safe to work in the middle of COVID."
She believes this was due to a combination of care and transparency about COVID-19 cases.
Further, Leggett said 88% of Certified Angus Beef team members are experiencing a high-trust culture. That trust index matters because it is linked to employees wanting to work there for a long time.
"Your culture of caring matters. Your culture of physical safety matters. Your culture of psychological safety — it matters too," Leggett said.
She said she does not see Certified Angus Beef as perfect but as committed to continuous improvement.
"Trust is vital to any healthy safety culture. Data transparency is so important, because if you are getting a lot of feedback on what are the hazards and people aren't afraid to say 'we had a near miss here,' then you can improve and do better," Leggett said.
A recent report showed managers have a bigger impact on employee mental health than their therapist, according to Leggett. She and her colleagues are already ensuring mental health is something employees feel comfortable talking about. Certified Angus Beef also has long provided a licensed counselor onsite to support employee mental health.
One caveat Leggett stressed was a healthy work culture is not about being nice. "Yes, we're nice, but we care about you and are going to hold you accountable for your performance," she said.
People need to be comfortable to give feedback and to receive feedback in a safe manner.
Other Wayne County companies also are intentional about creating a healthy work culture — such as United Titanium, a local manufacturer where Don Noble II is the human resources manager.
"I've been here 28 years. If I didn't like it, I wouldn't be here," Noble said. "We have low turnover — low single digits. We're still able to attract good people."
While he admitted having seen a handful of no-shows for interviews in the past two years, Noble said the company is not struggling with the labor shortage.
Noble also said the company did not have to change its culture to improve it since the onset of the pandemic.
"I think we've gotten stronger, if anything — so maybe we have changed. We're all in this together. We have to treat each other with respect. We're family," Noble said, pointing out company President Mike Reardon has always set the tone to make it a nice place to work.
"We're very intentional (about our culture). We want to hire good people to produce good products. We all have to work and live together, and it makes for a nice working atmosphere. We treat people with respect and dignity and don't view them as a commodity," Noble said.
That type of culture does well in a competitive labor market. Kim Sayers views company culture from a different perspective as the director of business training at Ohio State ATI. She views culture through the lens of those who attend her new supervisor and other leadership trainings.
"And what I've realized is that it varies by organization. We might have some folks from one organization where the culture is very strong in the positive side," Sayers said. "But I'm also seeing there are some organizations, at least what we're hearing from frontline employees, that morale isn't always great. Employee morale can be low and all you hear is complaining."
Sayers gave an example of how something seemingly small can intensify: cell phone use policies in manufacturing. Many employers were more relaxed about cell phone rules during the pandemic but now are imposing no cell phone use on manufacturing lines again. Inconsistent enforcement of these policies can lead to resentment and feelings that employers are unfair.
"Seems like a minor thing, but it can build up on top of other minor things to impact how an employee feels about the organization," Sayers said.
In the end Sayers said the healthiest cultures are where there is an openness to learning and growing at all levels of an organization.