County Home quilting crew does its part to help make an impact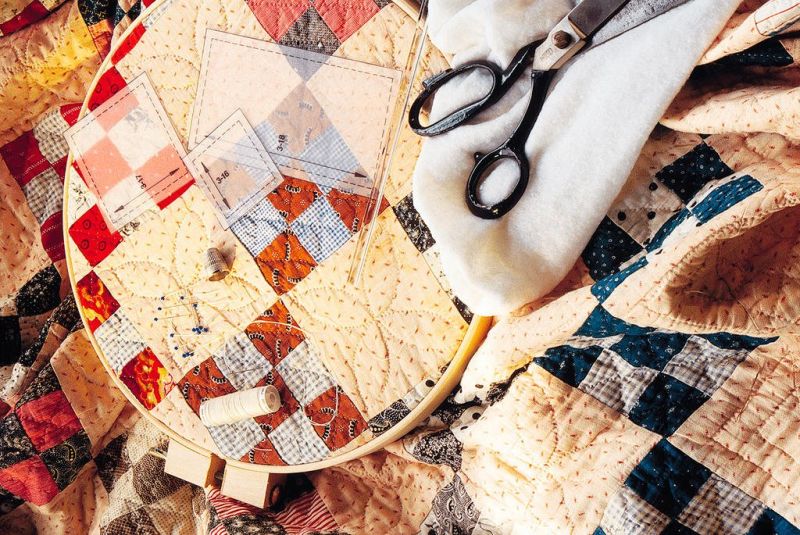 Holmes County is well known for its elegant and well-built wooden furniture, but perhaps just as well known for its hand-made, hand-stitched quilts that bring in thousands of dollars at area benefits and auctions.
The Amish and conservative women of Holmes and Wayne are known for their expert craftsmanship, attention to detail and eye for creating colorful patterns and schemes in their quilts, but most of all, they are known for their steady hands and perfectly placed stitches that make each quilt unique.
For years the Holmes County Home has been a gathering place for area quilters to unite and create, and they do so just for the 50th annual Holmes County Home Auction.
Each year they make the finest quilts that will eventually go to the auction, with this year's auction taking place Saturday, Sept. 18 at the County Home just south of Holmesville on state Route 83.
According to Deb Miller, executive director of the Holmes County Home, COVID-19 put a temporary halt to the sewing group meeting together at the home, but with regulations relaxed this late spring, they went back to work.
Out of the 40 quilts at this year's auction, more than 30 will be hand-sewn by the volunteer quilting ladies at the County Home.
"We have a large number of different volunteers who come to the home to quilt, and what we do is we make about 10 smaller groups who come together to quilt," Miller said.
She said the County Home will actually go out into the community and pick up the women and bring them to the home, give them lunch, and turn them loose on what they do best.
She said that of this year's crop of quilts, some of them were completed last year prior to the COVID-19 shutdown, but with the cancellation of last year's auction, those quilts were put on hiatus until this year. In addition, they have been hard at work coming in since the County Home reopened earlier this year.
"They've done an amazing job, and they are all very experienced quilters who know how it's done," Miller said. "It's really neat to watch them go to work and do their thing."
Miller said one of the quilting committee members joins her in going out to purchase the quilt tops. They then take those back to the home, where the quilting volunteers dive into action.
"It's a process and a lot that goes into it, from deciding on patterns and colors to getting all of the women here, but once they sit down and start to work, they are wonderful," Miller said.
She went on to note that it is a collaborative effort in picking out the year's hottest new designs and color schemes. She said there are buyers for every style and color of quilt, and while Amish Country quilts have always sold well, she said this group of dedicated women know how to bring out the best in a quilt.
"There are no bad quilts from these ladies," Miller said.
She said when they found out they could no longer come into the home to gather together and quilt last year, the women were extremely disappointed but understanding. She said when they were told it was time to return, there was plenty of celebrating.
How much do these quilts bring at auction? That varies, but Miller said in 2019 one quilt went for $3,000, an unusually nice price.
Aden Hershberger, Holmes County Home Auxiliary committee chairperson, said quilts went better than ever at the 2019 auction, and he expects them to push past the numbers posted then at this year's auction.
"People are ready to give," Hershberger said. "In 2019 I was sitting with Dave Kaufman of Kaufman Auctions, and he was even shocked, saying, 'What's going on? I've never seen quilts sell like this before.' It's nice because it really validates the work these women put into making them."
Considering these quilts are stitched and built to last, they continue to make for some wonderful keepsakes that can be passed down from generation to generation.
To purchase a one-of-a-kind quilt made by the steady hands of dozens of area quilters, visit the Holmes County Home Auction on Saturday, Sept. 18, with the quilt auction beginning at 1 p.m. In addition, there will be other auctions kicking off at 8:30 a.m. that will feature home and garden items, furniture, lawn furniture, crafts, big ticket items like a pavilion and a steel building, buggies and more. The auction also will include a huge breakfast and lunch meal, all available on a donation basis.