Croskey 'blessed' to have Clark Library named for her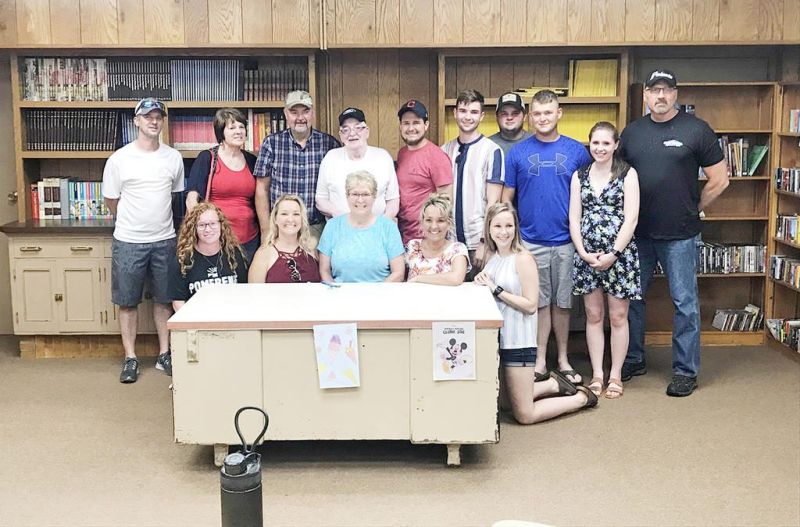 While it has taken countless people to purchase, restore, and provide upkeep and renovations on the Clark Community Center since the former Clark Elementary school building was purchased by Dale Lahm less than a year ago, the CCC board wants to make sure that those who have been an integral part of the community for many years are properly honored for their service to community.
In naming its new lending library at the center, the board did just that, paying homage to one of its many long-time community members who has served in a major role in working at the school for more than four decades.
"There is rain on my glasses and tears in my eyes," is what Joyce Croskey said on Sunday, June 21 when the Clark Community Center Lending Library was named in her honor.
Amidst the raindrops and joyful tears, a large contingency from the Croskey family united to celebrate in the special occasion to honor the long-time librarian.
"This is actually overwhelming," Croskey said during the celebration in the library after the presentation of the plaque that will hang in the library that honors her long-time service to both the Clark school and the community. "I just never expected anything like this. I am humbled and honored and I appreciate them thinking of me."
Croskey worked as a librarian in the West Holmes School District for 42 years and became a staple at Clark Elementary.
Croskey began her librarian career in the West Holmes School District at the high school in 1977, and over the next 42 years, her bright, shining smile and pleasant demeanor helped welcome students into library at Clark Elementary.
She said it was an honor to work for so many years in such a wonderful school district and she enjoyed each year as she watched countless children parade through the school on their journey to graduation at WHHS.
That list includes her daughter, Jill Roll, who went on to become a teacher at Winesburg Elementary and has been there for many years.
Croskey said her job allowed her to develop relationships and meet many new people and she thoroughly enjoyed what she did for more than 40 years That her name will now be associated with the new library is something she said she will revere forever.
"They have done such a wonderful job and they have the library looking really nice," Croskey said. "It's full of wonderful material and hopefully it will be used by our community to the fullest."
CCC board member Mike Schlegel spoke about the new lending library, something the board has been working diligently on over the past many months. Thanks to a large number of donations of reading material, movies and more, the library is ready to be a resource for families in the area.
"We really felt that this was an important part of what we wanted to offer here at the center," Schlegel said. "It should be a great asset for our community."
Schlegel presented Croskey with the plaque that will be placed in her honor in the library. She was also presented with the CCC library card number one. The library card revealed something else special.
"It reads, 'The Joyce Croskey Lending Library at the Clark Community Center,'" Croskey said.
Schlegel said naming the library was a no-brainer for the board.
"We knew from the start what we were going to name the library," Schelgel said. "Joyce has been a pillar in our community and has been here through our whole effort to create this center."
Thanks to the new plaque and her photo that hangs on the library's north wall, everyone who visits will be able to put a name and face to the woman who served her community in such a caring and unique way.