Culminating event closes chapter for literacy initiative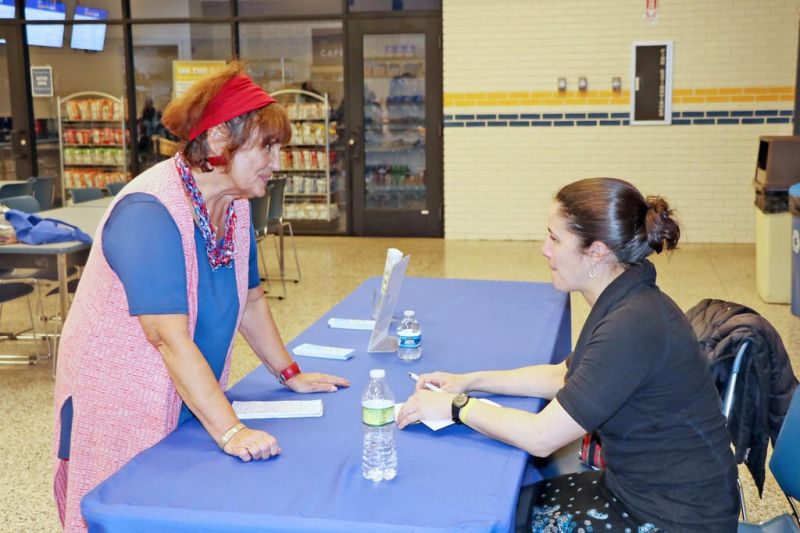 The 2019 One Book, One Community initiative came to a close Monday, Nov. 4 at Kent State Tuscarawas. One Book, One Community is a community-wide reading program designed to promote the value of reading by recommending a compelling book that links the community in a common conversation. It is the marquee project of the Tuscarawas County Literacy Coalition.
"How to Break Up With Your Phone" by award-winning journalist Catherine Price was chosen as the One Book, One Community selection for 2019, the 12th year for the project.
The book presents a practical plan to break up — and then make up — with your phone, specifically your smartphone, with the goal of developing a long-term relationship that actually feels good.
"We chose this book because of how relevant the message is today," said Jim Gill, One Book, One Community chairperson. "Let's face it: There is no going back. Technology is part of our lives, and it brings a lot of good. The key is to find the balance that works for you."
In an effort to help the community get involved with the Literacy Coalition's initiative, a variety of events were held including book discussions in libraries and also in coffee shops, parks, cafes and pubs.
"Rather than just waiting for people to walk through the library door, we hosted events that made it easy for people to get involved," Gill said.
Local students were encouraged to participate in a book trailer video contest. The winners were invited to have dinner with the author, who also took time to visit their classroom. All three teams of students were from Jennifer Mulvaney's language arts class at Buckeye Career Center.
The third-place video book trailer was created by Meghan Schoelles and Iris Austin. Second place went to Hannah Romeo and Jocelyn Cunningham.
Reighly Newbold and Isabella Meek were recognized for their first-place video.
Price was joined by members of the Literacy Coalition and first- and second-place winners of the contest, Newbold and Romeo, at Dutch Valley near Sugarcreek.
At the culminating event, Price said she was driven to write the book after the birth of her daughter about four years ago.
"I had a baby, and I was up all night with her, and I had this out-of-body experience where I could see the scene as it would appear to an outsider. And it was her looking up at me as I looked down at my phone, which really upset me," she said.
Price challenged attendees to take out their phones and turn them off for the remainder of the event. She asked they not just be silenced, but actually turned off.
"I ask my audiences to be here in the moment," Price said. "Today no one is going to light up a cigarette here in this building. As a society we have decided that is inappropriate. We haven't reached that point with phones yet."
Price explained how phones and apps are designed to be addictive and time spent on them damages one's ability to focus, think deeply and form new memories, comparing them to slot machines with dopamine triggers specially designed to keep people in a state of constant distraction.
The average person spends four hours a day on their phone, not counting additional screen time spent on tablets, laptops, computers and televisions. That also does not include time spent listening to podcasts or calling people. Those four hours can translate into 60 days a year.
"Anything you do for four hours a day, you're going to learn something," Price said.
Price thought of ways to better use her time by taking guitar lessons. "Those four hours on your phone is time you will never get back, so we can choose to use it more wisely," she said.
Price suggested individuals make customized changes to settings, apps, environment and mind-set that will ultimately enable them to take back control of their life.
Price is an author and science journalist whose articles and essays have appeared in The Best American Science Writing, the New York Times, Popular Science, O, The Oprah Magazine, the Los Angeles Times, the San Francisco Chronicle, Washington Post magazine, Slate, Parade, Salon, Men's Journal, Self, Mother Jones and Health magazine, among other publications.
Her previous books include "Vitamania: How Vitamins Revolutionized the Way We Think About Food" and "101 Places Not to See Before You Die."
A graduate of Yale and UC Berkeley's Graduate School of Journalism, she's a recipient of a Middlebury Fellowship in Environmental Reporting, a two-time Société de Chimie Industrielle fellow at the Chemical Heritage Foundation, an ASME nominee, a 2013 resident at the Mesa Refuge, a fellow in both the Food and Medical Evidence Boot Camps at the Knight Science Journalism Program at MIT, and winner of the Gobind Behari Lal prize for science writing.
Price said she is committed to helping people achieve what she calls "Screen/Life Balance." This means designing a life in which individuals control their technology, rather than the other way around — with the ultimate goal of increasing happiness, productivity, creativity, health and well-being.
For more information visit www.ScreenLifeBalance.com. You can learn more about Price and her work at www.catherine-price.com as well.