Dean and Stevie Beachy lived every day like it was a gift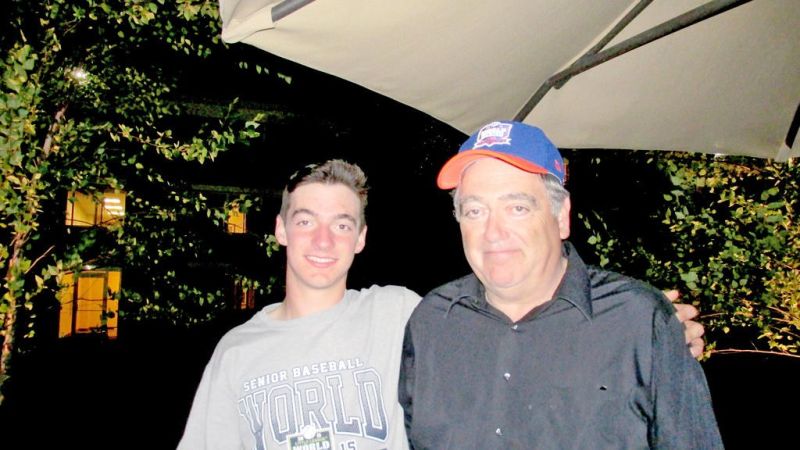 Sometimes it is not until death that people can fully comprehend the incredible impact people have on others in life. Such was the case for Dean Beachy and his son Steven, affectionately known as Stevie to almost everyone.
On Thursday, Jan. 24 Dean and Stevie were senselessly murdered in a restaurant in Pennsylvania by a gunman.
The details of that night are horrifying and tragic, and their absence will forever leave an enormous hole in the lives of Dean's wife Linda and her surviving sons, Bobby, Benny and Davie. However, both Dean and Stevie's life stories are not about what happened that night but what occurred every single day of their lives prior to that fateful evening.
Many people will never know what it is like to make a positive impact on people's lives. Dean Beachy seemed to live that way daily.
A farmer, auctioneer and horse trader, as are all of his sons, Dean lived his life through his faith, giving to others freely and easily. A constant, easy smile, he moved into conversation with grace, whether people knew him or not.
Dean's horse auctioneering and dealing in the equine world took him all over the Eastern and Midwestern United States, and he would often take one of his sons along with him, which is what Dean and Stevie were doing when tragedy struck. The lives he touched along the way were innumerable.
Independent auctioneer Atlee Shetler was one of myriad people who knew Dean well. Shetler worked his way into the horse and auctioneer business when he was a young 14-year-old Amish boy. One day an auctioneer named Dean Beachy summoned Shetler to help him with a horse auction in Mt. Hope, and that began a lifelong relationship. That was more than two decades ago. Today at 35 years old, Shetler has gleaned everything he knows of the business from his mentor, a man he lovingly refers to as his second father.
"I was a little Amish kid who Dean brought in and took under his wings and taught me the auctioneer business," Shetler said. "He would always buy my hotel room, my meals and would pay me for working, and he always had a way about him that made people feel special and accepted. I always felt that Dean made me feel special, but I realize that it wasn't me, but he made everyone feel that way."
Over more than 20 years of working closely with the Beachy family, Shetler developed a unique bond with all of them. He said the stories he could share were countless, but the overriding theme of many of them were that Dean seemed to be larger than life where they went.
"Everyone seemed to know Dean because he was so heartfelt and purposeful in reaching out to others," Shetler said. "He was so gifted in so many ways that went way beyond the auction barns and horse sales. He had a natural way of putting people at ease."
His impact both locally and even globally was impressive. Among those in attendance at the services were people from Switzerland and Rene Allard, one of North America's top harness racing trainers.
"Rene is this huge name in the training world, and here is this guy from Holmes County who made such an impact on him that he came for the services," Shetler said. "Dean called him 'The King,' and it always made Rene feel special. Rene said that he would end up buying horses at an auction Dean was doing when he didn't even want to buy a horse."
Shetler went on to talk about his friend and mentor, noting that he had no fears in life. He then regressed quickly, noting that there was one.
"He was terrified of the water," Shetler said. "He couldn't swim, but he loved to fish. One day we were up at Lake Erie and the water was choppy, so we fished from the shore for a while, but it got boring, so we decided to go out on the boat, and Dean almost lost it. That was the only thing I ever saw him be scared of."
Shetler said the things he has learned from Dean Beachy will forever guide and direct him in his life, whether it is dealing with problems in life or running a horse auction. The man he will love forever as his second father made that kind of impact on him, and he was far from alone in that camp.
Stevie Beachy wasn't always the life of the party; he simply was the party. Stevie's grin stretched from ear to ear. If Stevie was present, one could almost guarantee there was plenty of laughter and joy present as well.
Stevie had a boyish charm and an attitude that endeared him to others. He was very involved with mission work, he loved stepping into the family businesses of farming and horse trading, and his zeal for life was unquenchable.
The impact he had on his friends was amazing. At calling hours the Hiland High School baseball team, with players both past and present who donned the Hawks' uniform with Stevie, gathered together to pray, cry and remember their friend. A friend was gone, but the memories will live on.
Former Hiland baseball head coach Tom Gibson was honored to coach Stevie from a young age. He said it wasn't the baseball that made him enjoy Stevie as much as just talking to him.
"It's tough to put it all into words," Gibson said. "Stevie was one of the nicest, kindest kids I have ever met. He worked hard, and he had the heart of a lion. The room always got a little bit brighter when Stevie entered, and when I would see him walking down the hall at school, we wouldn't even say a word, and he would break into that trademark grin. I think the times I spent with Stevie that were the most enjoyable weren't baseball, but talking about life and mostly about horses. Even when he was younger I would oftentimes take him to our clinics and we'd talk about horses. His sense of humor was priceless, and he has definitely left an amazing impression in my life."
All of the Beachy boys had a special bond. They were similar in so many ways yet so distinctly unique that it made for plenty of fun, interactive and sometimes competitive days on the farm growing up.
If there is any doubt about how much these two people impacted those around them, one would need look no further than at calling hours, which took place Sunday and Monday, Jan. 27-28 at the Mt. Hope Event Center.
There, heartbroken people sat in line for many hours as they waited for their turn to grieve with Linda and her three sons.
Several thousand people came through in the three visitation sessions for calling hours, all of them aching, all of them longing to have just one more day with their friends, but all of them grateful to have known these two men and the joy they brought to so many. More than an estimated 1,500 people attended the funeral services, where each of the sons and close family friends including Shetler shared stories about the ways Dean and Stevie left such a huge impression on their own lives.
In the sorrow and grief of their senseless and tragic deaths, which are difficult to make sense of, those who knew them rejoiced in their life, the joy they brought to others, their selfless giving, their commitment to their faith and the impact they made in their time here. Because of their willingness to give to so many without thought of return and because their immense faith prompted them to reach out to anyone and everyone, their legacy will live on.