Disaster Aid Ohio reaching beyond the Buckeye State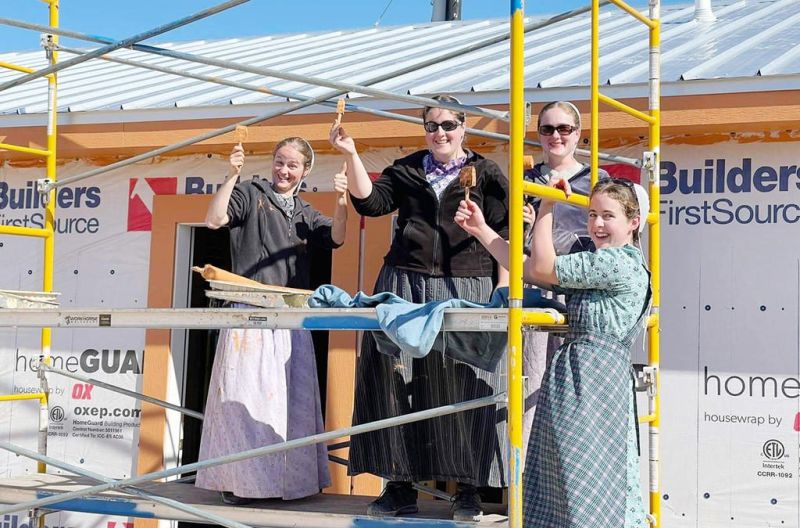 The name Disaster Aid Ohio might imply the group of volunteers is willing to roll up their sleeves and lend a hand any time a disaster of great magnitude hits Ohio.
However, the love and compassion are so great that Ohio's borders can't contain this group from reaching out to other areas of the nation that are beset by disaster.
Disaster Aid Ohio is currently sending volunteer teams to both Texas and Louisiana to help with the cleanup and rebuilding process, following hurricanes that took place last fall.
According to Gid Yoder, director of the DAO projects, the organization has been sending teams south every two weeks, an effort that began last November and continues today.
"We're sending about 48 people every two weeks," Yoder said.
One location receiving aid from DAO is in Lake Charles, Louisiana, which continues to struggle in its recovery from two major hurricanes over the past two years. The second area is in Magellan, Texas, where they are building housing structures that will be home for immigrants for anywhere from two weeks to two months, until they can find proper entry into the United States.
According to Yoder, the primary goal is to help clean, build, paint and assist in the building and rebuilding of structures.
The DAO season begins in early November and ends in late March.
"Depending on the need, we build new homes or do repair work, depending on how devastating the disaster was," Yoder said.
Yoder said the group is careful not to step on the toes of local contractors and compete for their work. He said DAO only works with families who can't afford to hire contractors.
"Our aim is to help those in need who can't help themselves because they can't afford to hire a contractor," Yoder said.
He also said when DAO does venture into an area to aid, they try to purchase materials at the local level to help support those communities in need.
Yoder said the effort through DAO has been ongoing for close to a decade, and the organization has a lengthy list of volunteers willing to head south for two weeks to lend their skills to the project.
He said oftentimes volunteers will serve multiple weeks, with many of them coming back year after year to continue to serve others. He said this season they will have had around 500 total volunteers serving in the two sites, meaning there will be approximately 1.7 million hours of donated time during that stretch.
Yoder said while the organization is faith-based, when they travel to a site to work, they don't push their faith on people and simply let their faith grow out of them organically as the weeks progress.
"We definitely don't push anything on anyone when we go, but it always seems that eventually people will connect with us and bring up the idea of faith and why we do what we do," Yoder said. "I think when we make connections like that, they will almost naturally open up and want to learn more about you. That certainly is a benefit of what we do in addition to building."
Those relationships have proven to be long-lasting and valuable as the group rebuilds lives following disasters.
He said watching each project progress is inspiring, seeing how God's hand and their faith can develop.
Yoder said at Lake Charles DAO was struggling with funds for enough material to make a big dent, but once the area began connecting with them, donations from those who could help throughout the area began pouring in and materials were purchased.
In the midst of serving others, Yoder said the rewards and benefits don't stop with the people being blessed by these volunteers.
"Our community gains more than anybody else because of the way we are blessed in serving others," Yoder said. "Our youth volunteers get to see different cultures and see how much of a blessing serving others can be."
In addition to the work down south, there's a new Mennonite Disaster Services warehouse in Holmes County, an appropriate place for the warehouse to exist due to the vast amount of support the organization receives from Holmes County.
After a lengthy time of trying to find the right fit, Mennonite Disaster Services and Disaster Aid Ohio dedicated a new warehouse near Berlin on Sunday, Jan. 29.
The dream to build a new warehouse began in August 2021, and after finding the necessary land, MDS broke ground last June.
Amid rising costs for material, MDS was able to forge ahead with the project and completed it recently. The warehouse is now up and running, and the dream has become a reality that will help keep volunteers well-supplied in 2023 and beyond.
In addition, the warehouse will be shared by Disaster Aid Ohio.
"That building has been a real blessing. We use that to store tools and trailers, do repairs, and as a starting point for our trips," Yoder said, noting it has other benefits.
MDS would like to thank the MDS Eastern Ohio Unit, Disaster Aid Ohio, MDS Region 2 and the Keim Home Center for the collective contributions of both minds and hammer-swingin' hands that helped bring the warehouse into existence.
Yoder, who served as the lead builder on the project, said, "I feel blessed to think how things came together," noting there was more than $150,000 worth of in-kind labor, services and discounts given during production of the new facility.
If anyone would like to donate or volunteer for Disaster Aid Ohio, they can call Yoder at 330-231-6040.
All donated funds will be used for the purchase of tools and food for trips to serve.