Doing nothing means doing paperwork for H15 director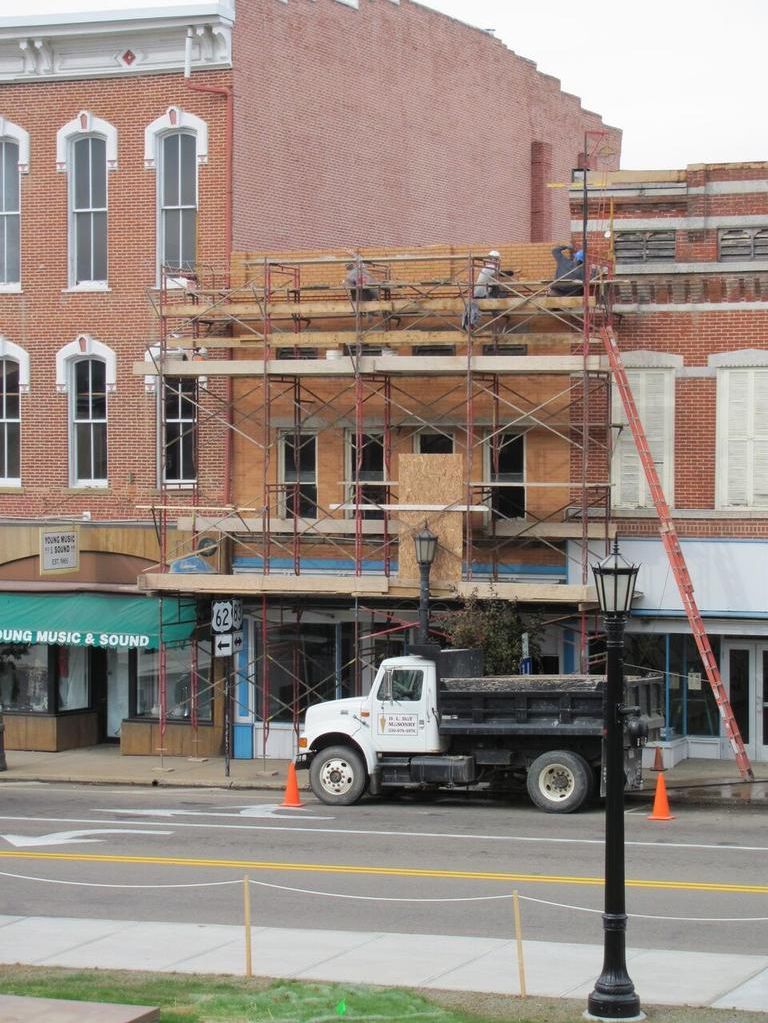 As the director of H15 Ministries, Andy Schafer has proven time and again that he is truly a hands-on guy. No project is too big for the man with the gigantic heart and even bigger vision, but in October Schafer had to tackle one of his biggest hurdles yet: doing nothing, at least as far as working on the youth ministry facility in Historic Downtown Millersburg is concerned.
After months and months of relentlessly attacking the renovation process, October proved to be a moment of down time for the many volunteers who have poured themselves into recreating a brand-new look to the old building's interior.
"This has been a little bit of a quiet month as far as the ongoing work," Schafer said. "There are no new completed projects to talk about, but we are still moving forward. I have been struggling with having to do a lot of paperwork lately, and I've been spending a fair amount of time on the fundraising campaign. I know all this stuff is important, but I really miss it when I can't go down to the center and work on the project."
Rather than use his hands and building skills on the construction side of the ministry, Schafer turned to something he is less comfortable with: the world of paperwork.
H15 Ministries is currently working on a big fundraising campaign to pay for the work that needs done on the second building to get it ready to start the renovation process inside, and to date H15 has raised close to $6,000. Schafer said there is still a long way to go, and if anyone would like to help, they can see in greater detail what is yet to come in the renovation process by visiting www.dropbox.com/s/n3azlp45ohq5krq/CapitalCampaign.pdf?dl=0.
While paperwork isn't exactly Schafer's cup of team, he realizes there are many different pieces of the puzzle that must be put in place before the center roars to life.
"Even though I have felt a little less accomplished this month due to all the paperwork and fundraising I've been doing, it doesn't mean that I haven't been seeing God working," Schafer said. "He has brought me encouragement and strength through a number of different people this month, and I am so thankful to be able to say that I know I am in his will."
Late in October the initial stages of phase II got underway. The first project that needed taken care of was getting the top of the brick face replaced on the west building. That task was tackled by D.L. Day Masonry, where owner Dennis Day had his crew attacking the facade of the building.
Schafer said as he discussed the project with Day's son Aaron, he informed him that the ministry wasn't quite half toward raising the needed funds necessary to complete the job.
"As we looked at the disintegrating brick and discussed the weather concerns, Aaron said that he would really like to get it done sooner than later," Schafer said. "He offered to go ahead and do the work and we could pay him whenever we were able, and now it is done."
D.L. Day Masonry started the project on Oct. 22 and finished it on Halloween. The building is now ready for the new roof to be framed and finished.
"It is such a blessing to have men like Aaron who share my faith in God that he is going to provide and are willing to walk out on that faith," Schafer said. "It is such a wonderful thing to look up at that new brick and realize just how awesome God is. Just having the Days here and doing this project and the conversations we had have been a huge encouragement."
On Oct. 6 H15 Ministries saw a crew of volunteers from Mennonite Christian Assembly, the Schafers' home church, help clean up the main room.
"We got everything moved out, pulled up the cardboard, washed walls and just cleaned the place up in general," Schafer said. "The goal is to be ready when the Ohio Floor Company is able to come back and put the final finish on the floor, and it is awesome to see it all cleaned up and looking ready to use."
Most of the rest of the month found volunteers picking away at the little stuff and making slow but steady progress. There was a hold-up at the finish shop on the rest of the trim, but Schafer said they were able to go get it.
Schafer said he and his wife Tammy continue to share at area churches whenever possible to spread the news of progress and their hopes and dreams of what the center will mean to the community youth.
H15 Ministries also has begun doing interviews with people who want to volunteer once they open their doors. If anyone is interested in being part of that team, they can fill out an application by visiting this link to either print out the paper form or submit it online: www.h15ministries.org/apply/.
Here is the tentative schedule for those wanting to volunteer to help on work days: Thursdays, Nov. 15 and 29 from 5-8 p.m.; Mondays, Nov. 19 and Dec. 3 from 5-8 p.m.; and Saturday, Nov. 11 from 9 a.m. to noon.
Schafer can be called at 330-231-7147.