Dolly Parton and Fran DeWine unite to put pages in front of kids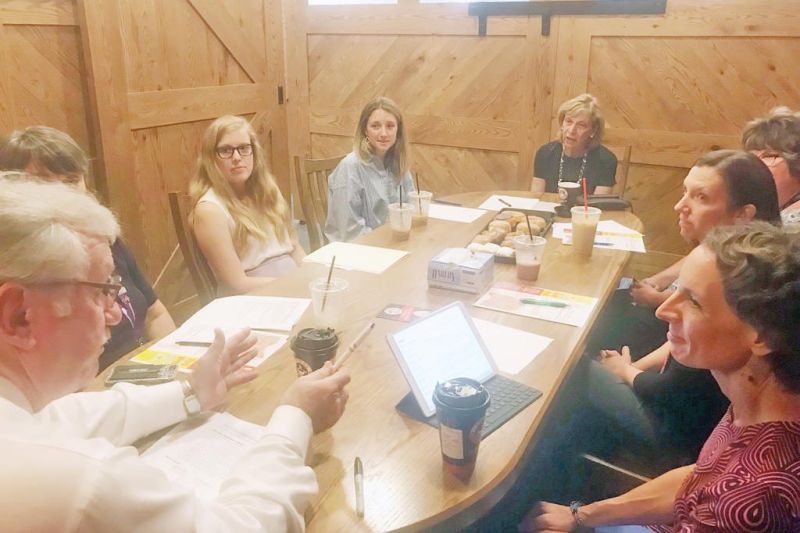 Dolly Parton's Imagination Library is a book-gifting program that mails free books to children from birth until they begin school, no matter their family's income.
After launching in 1995, the program grew quickly. First books were only distributed to children living in Sevier County, Tennessee, where Dolly Parton grew up. It became such a success that in 2000 a national replication effort was underway.
By 2003 Dolly Parton's Imagination Library had mailed 1 million books. It would prove to be the first of many millions of books sent to children around the world.
Ohio First Lady Fran DeWine is now taking up the crusade to further the program in Ohio's 88 counties. She is currently making a tour through Ohio as she connects with county leaders and organizational leaders who might have influence in helping the program get off the ground.
DeWine was in Millersburg on Monday, Sept. 23. She met with a number of local entities including the Holmes County District Public Library, Millersburg Rotary Club and others, discussing how they could best implement the program in Holmes County.
A grandmother of two-dozen children, DeWine has been a proponent of promoting education, and this particular program was one she felt was well worth getting behind.
"I am passionate about children and about helping them learn and get ready for life," DeWine said. "I learned about the Dolly Parton Library because my own kids were receiving them through our library, and my grandchildren were so excited about getting them that I began to look into the program."
What she found was every child who signs up for the program receives one new book every month from the time they join until they are age 5 and ready to go to kindergarten.
The program is free to every family and child who signs up, and the $2 per book expense is covered by area businesses and entities that recognize the value in getting books into the hands of children at a young age.
A committee from the Dolly Parton's Imagination Library pores over children's books to create a library of books that are age-appropriate. The first book that goes to every child is "The Little Engine That Could."
"My goal is to get this program set up in every county in Ohio so that every child has the opportunity to learn to read," DeWine said. "It's an exciting chance to make a big impact in the lives of our children."
DeWine said clubs like Kiwanas, Rotary, Lions Club or other civic groups or organizations like United Way and even private businesses and individuals have become integral partners with the program.
Part of the goal for DeWine and her staff is to make connections with those organizations willing to support the program. She said the state has even created a fund to help match those funds given to the program.
"There is one person per county who kind of manages the mailing list and the fundraising for each county," DeWine said.
It is widely recognized that the best way to promote language development is by reading aloud to children, yet not all families have easy access to new books for their children.
Currently there are over 700,000 children under the age of 5 in the state of Ohio, but less than 100,000 of those children are currently enrolled in Dolly Parton's Imagination Library, and studies have shown a marked improvement in children who utilize the program.
DeWine said the program transcends all economic levels, being an asset to families with wealth and those that would struggle to purchase the books on their own accord.
"It's a wonderful way to get children ready for kindergarten," DeWine said. "For $2.10 a month, we can bring a child up to kindergarten readiness. Imagine the joy for a child who is going to kindergarten ready to read."
Once a community has gained the support needed to become part of Dolly Parton's Imagination Library, their zip code will be entered and families will be eligible to enter their child's name into the system.
Signing up can be done online or through the organizations that will be part of the program. DeWine said babies can be added to the system when they are born.
DeWine staff member Amy Timmerman said the DeWine family is very committed to helping children and building education.
Timmerman was excited about their meeting with Holmes County organizations, where they met at Jitter's Café to discuss the program.
If any organizations would have an interest in participating and supporting the Ohio Governor's Imagination Library, they may do so by filling out a form that is available at www.ohioimaginationlibrary.org. The form allows people to leave a note and express their interest.
DeWine staff member Kristy Amy said business partners also can become enrollment partners that support the program by being an avenue where families can pick up sign-up forms.
"We're in the early stages, but we are very excited sharing this vision with the entire state of Ohio," Amy said. "Our basic goal right now is to simply connect with organizations and businesses around the state to share our reading vision for kids and to create partnerships that will allow us to develop the program statewide."
When a county is added, donations can be made directly to the participating nonprofit organization that takes a lead role, or they also can be made to the state level, where it can be earmarked for a specific county.
To learn more or to get involved, visit www.ohioimaginationlibrary.org.