Doughty Valley Steam Days bring the power July 21-23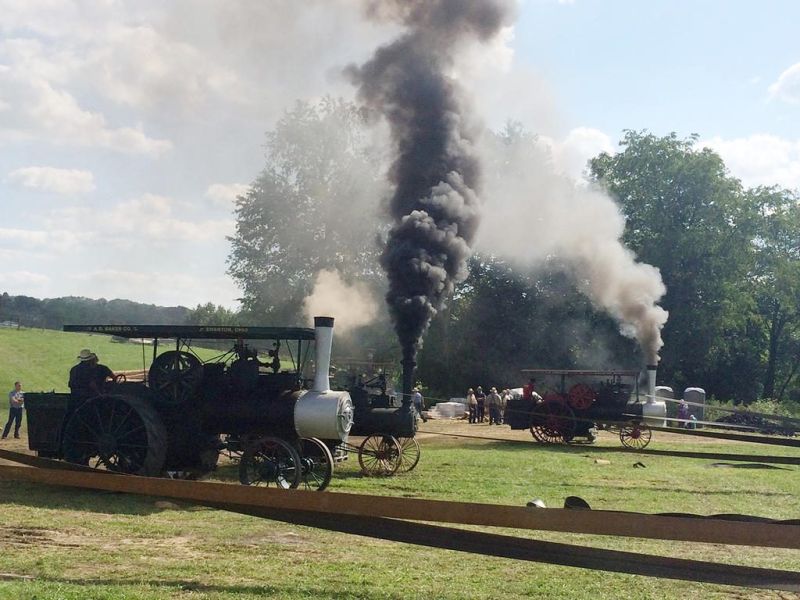 The wailing of the steam engine may be foreign to today's world, but a century ago, when steam was king and was an instrumental part of the agricultural world, the sound of the whistle, the chugging of the engine and the smoke pouring out of the chimney were commonplace.
For three days in Charm, these iron beasts will once again be the center of attention during the 22nd annual Doughty Valley Steam Days July 21-23.
Of the many things that have made life easier, mechanization of farm work was a major advancement in America. Doughty Valley Steam Days want future generations to preserve that history and continue to pass it along for generations to come.
To promote that sense of importance, each summer event organizers bring in antique farm machinery collectors from Ohio, Indiana, West Virginia and Pennsylvania for the three-day event with an eye toward bringing history to life through demonstrations that showcase the work ethic and raw power of machinery.
Usually, between 18-20 steam engines, dozens of antique tractors and demonstrations in threshing, a sawmill and plowing, and a pair of evening spark shows highlight this three-day event dedicated to steam.
While it may take some gas to transport the steam engines to the event, board member Wayne Weaver said one advantage with gas prices so high is the weekend will feature equipment that is built to run on coal and wood.
"We won't be burning up any gas once we get there — that's for sure," Weaver said. "We are looking forward to a fantastic weekend of steam, from the horse and tractor pulls to the Friday night spark show and the steam demonstrations. There will be plenty to see and do. It's a great show for young and old. We really encourage people to bring the younger kids to the show because they are going to be the future of these steam shows."
Thursday will kick off with demonstrations at the sawmill, threshing, baling and plowing with each day including oil-field engines, a shingle mill, antique tractors and working Baker fans. In addition, there will be food by local vendors, homemade ice cream powered by hit-and-miss engines, kettle corn and homemade pretzels.
Thursday's schedule will include an antique consignment auction at 3 p.m., and the horse pull show will begin at 5 p.m., moving through draft ponies to lightweight and finally the heavyweight horses.
Thursday also will feature the live music of Bridgestone Band at 7 p.m., and the group will play again Friday at 7 p.m. The flea market will be hosted all three days.
On Friday at 5 p.m., the tractor pull will highlight the day's events, with the Friday night spark show always a big draw as engines send glowing embers into the night sky, painting a picture that looks like thousands of orange fireflies flickering through the air.
"It's a beautiful show, and people love it," Weaver said.
In the past the show has come courtesy of burning saw dust, cedar chips and even corn cobs, but last year saw the group introduce the burning of eco-bricks that are cleaner and easier on the engines.
Also on Friday, the annual tug-o-war with a steam engine will take place with as many people as possible squaring off in battle — a steam engine yet to see the long line of people out-pull it.
Saturday will highlight the mini horse pull at 9 a.m., the garden tractor pull at 10 a.m. and the old-fashioned garden tractor pull will follow, giving the kids a chance to participate.
"These smaller tractor pulls are designed to get the young kids involved," board member Ivan Miller said. "It's not only a lot of fun for the kids to compete, but we also talk to them about the working mechanics of a garden tractor and discuss safety and responsibility, so it's fun and educational."
Miller said presenting these types of activities for younger people helps generate excitement for steam to the next generation, which he said is important in continuing the tradition and knowledge of steam.
Miller also said this year's show will host a scale model steam and tractor display. He said while larger half-scale steam engines and anything larger are by invitation only, anyone with a 16-inch diameter or smaller scale model engine is invited to bring it in for the show.
Amidst all the fun and entertainment comes one important message the board hopes to continue to promote. According to the board, there is merit in remembering the past and keeping the nation's rural farm heritage alive in present day. They see steam as a valuable and important part of the nation's growth and want people to appreciate these iron beasts for the role they played in the nation's industrial growth.
Gates will open daily at 8 a.m. Daily admission is $5 per person, and those age 12 and under are free.
Each day also will provide plenty of food including pork ribs and chicken, as well as live music.
Doughty Valley Steam Days will take place near Charm at 5023 state Route 557. It's easy to find. Simply follow the huge billows of smoke to all the action and history on display.