Edgewood students help author with book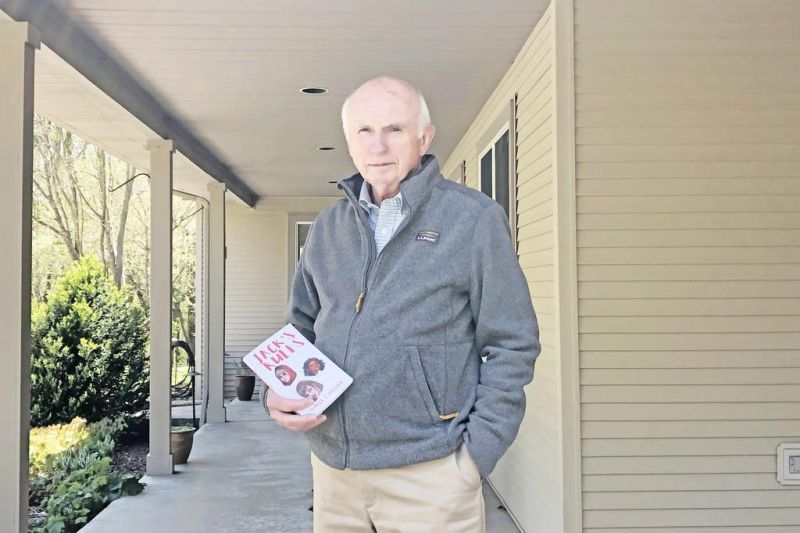 "We wouldn't call the old man 'geezer' — we'd say 'boomer,'" said one of the students involved in a recent project where students at Edgewood Middle School got to help an author ready his book for publication.
That critique was offered to Wooster resident Ronald Holtman, the author of "Jack's Rules," a book geared toward middle school readers.
The book tells the story of the Gardner family, a family that is homeless and escaping from an abusive stepdad. The main characters, Peter and Chessie, are stuck living with their mom, Ruby, in a single room at the Salvation Army. But help and hope come fast in the form of a safe house run by an old man named Jack. It's everything the family needs to get back on its feet.
But for Peter, the strict rules and daily responsibilities are too much, and he refuses to let another man rule his life.
Chessie, meanwhile, has her own problems, being poor, biracial and the new kid — standing out when all she wants to do is fit in.
When Ruby loses her job, the family's fragile stability is put at risk, and both Peter and Chessie are forced to turn to the one stable influence in their chaotic lives: Jack, who has troubles of his own.
To survive, the family has to come together, move past its traumas and learn the biggest truth of all: When you have nothing, family is everything.
Holtman, a retired attorney, has previously published a book of poetry, two novels and a collection of short stories. He approached the Wooster City Schools administration about his ideas for the project, and the administration welcomed it.
"At first I wasn't sure they would be receptive since (the schools) already have so much on their plates," Holtman said.
Edgewood language arts teacher Mike Sexton coordinated the students' efforts. "They were told it was something they had to do during their independent reading time or at home," he said. "I was pleasantly surprised at the number who became interested."
Sexton said it started with just one student reading the manuscript at their classroom table, and soon other students were wanting to know what was going on.
"I was kind of surprised the kids got as excited about it as they did," Sexton said. He said around a dozen students participated.
Soon the students were reading and editing and offering feedback to Holtman via Google forms, which Holtman said helped him considerably on finishing what was the 14th and final draft of the book.
"It was a very cool concept," Sexton said. "The kids picked up on it right away and were very honest and up front with their questions and comments."
One example of a substantial change was the students said they didn't feel the character of Chessie was fully developed. Holtman said as a result he went back and rewrote some of the parts of the story featuring her character.
"The students' feedback was phenomenal," Holtman said.
Holtman said the students also offered their opinions of the scene where the young girl was bullied, making it more relatable.
Sixth-grader Braelynn Sexton said she was impressed with the amount of research Holtman must have done to make the story so realistic. "I thought the way they talked and behaved was very realistic. That was my favorite part," she said. "I think it also helped that my friends felt good knowing that they were taken seriously."
Holtman said his work as an attorney, as well as volunteering in various community service roles, helped with the background of the story. "My experiences have given me a sense of what it must feel like to be lost, what challenging family situations are often like," he said.
The capstone of the project was a luncheon at the school where Holtman presented his finished product to the students. "It was nice for the students to see the finished product and the results of changes that I made which were entirely due to their feedback," he said.
Holtman said one of the most fulfilling aspects of the project was seeing the students' learning and appreciation of the writing process grow throughout the project. "A number of them came up to me and said they wanted to be authors someday," he said.