Weekly breakfast for those in need at Broken Grounds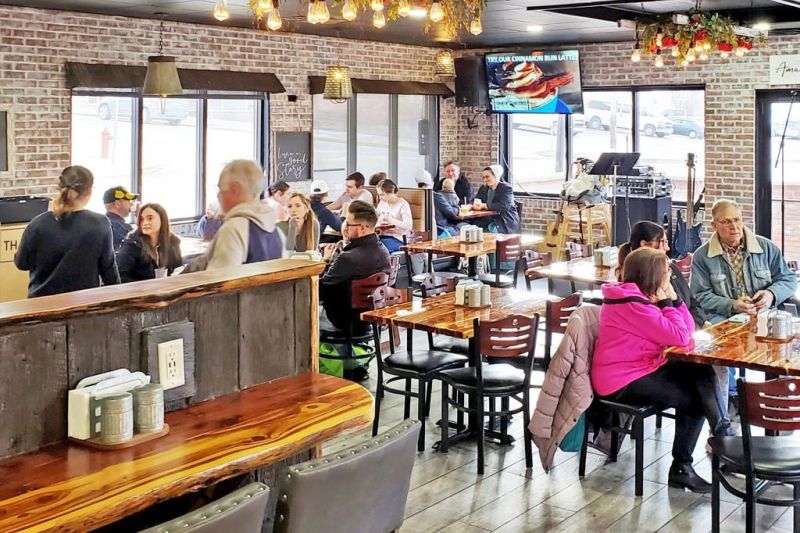 Not only is Broken Grounds Café the perfect place to grab that hot cup of morning joe or enjoy a quick bite to eat on a busy work day, but also it is known as a place for community gathering where people come to meet friends or strangers enjoy a safe, comfortable environment.
Broken Grounds also is home to its very own church worship services, offering even more ways for members of the local community to gather together at the downtown Millersburg building.
Now Broken Grounds owner Herschell Hargrave, along with his wife Charity, are putting into play another opportunity to be friendly neighbors by offering free community breakfasts on Saturday mornings to those in need.
"This concept is the result of a conversation that I had with a friend and local business owner at Holmes Custom Molding," Herschell Hargrave said. "We were discussing how we could make a difference with people who are struggling around us, and he asked about the possibility of serving meals to those in need. We know that there are many people who struggle financially during this time of year and felt like we would meet a need for some of the most vulnerable in our community."
From veterans, to foster children and their parents, to widows and the elderly and in between, the breakfasts are picking up in popularity since they began in early winter.
"The turnout has been gradually growing over the last few weeks that we have been serving," Hargrave said. "We had a couple of weeks of really bad weather on Saturday mornings that had an impact on our turnout. We suspect that there may be people who are trying to figure out if there is some kind of 'strings attached' to what we are doing. The answer is there is absolutely no strings; the meal is free to all who would come that are in need, no questions asked. As we continue to get the word out, we expect that we will continue to see more people coming for breakfast."
Not only are the breakfasts a way for the Hargraves and their staff at Broken Grounds to help those locally who may be in need, but also the meals offer a service that aligns well with what the small business stands for.
"At Broken Grounds people matter," Hargrave said. "Our mission is centered around giving back, sharing hope and adding value to each person that we encounter. We are committed to community service, both within our local community and with our ongoing projects to the Pine Ridge Indian Reservation in South Dakota. Our coffeehouse environment is the perfect place for people to gather naturally to share in good food and conversation. Many of the people that we are serving are also in need in other areas of their lives. As they come in to share a meal, they also have an opportunity to connect with caring people who are able to offer help in other areas where they may have needs."
Like any new idea, it takes time to make something great turn into a success. But already in the short time Broken Grounds has been offering the Saturday breakfasts there are regular visitors stopping in for a hot meal of pancakes, eggs, bacon, coffee and fruit juices every week.
"A lot of times people who are in need struggle with making that need known," Hargrave said. "When things are tight and difficult, many times just having one less thing to worry about can ease the load. Currently we've had the privilege of meeting and serving a Vietnam veteran who earned a bronze star and two purple hearts and his wife, a single mother struggling to find her way after a divorce, a foster mother of five special-needs children, a lonely widow on a fixed income seeking conversation as much as the meal, and many more special people."
The goal of the meals, Hargrave said, is to "give someone a reason to smile more and worry less, to send the message that you can make it, you have value and someone cares about you. You are loved."
The Saturday breakfasts are served weekly at Broken Grounds from 9-11 a.m. Plans are to continue the meals through early spring, but if the need in the community continues, Hargrave said they will continue indefinitely. Visit the business' Facebook page at Broken Grounds Coffee Company for the latest information or call 234-301-9021.
Anyone ever in need of a hot meal will never be turned away at Broken Grounds. Stop in and speak to Hargrave or a manager if necessary.
Broken Grounds is located at 214 W. Jackson St. in Millersburg.