Emus shown at the Tuscarawas County Fair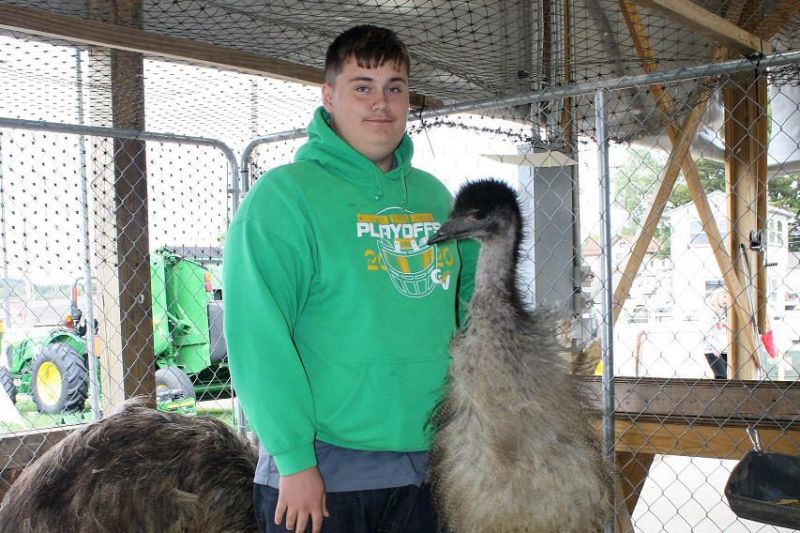 With self-determined 4-H projects, the member can select almost anything to learn more about and compete at the county and state level. For Hunter McLaughlin, it was emus. And it seems you can really buy anything on the internet.
"It originally started as a joke. My dad got them as a joke, and we hatched them. We bought the eggs off eBay," said McLaughlin, 15, of the 4-H Junior Achievers Club. "We didn't actually think any of them would hatch, and then here we are. We have four emus now."
McLaughlin earned first place in the county with his project book and received an Outstanding of the Day award at the Ohio State Fair.
According to Hunter's mother, Sherry McLaughlin, whose husband Darrel enjoys hatching different types of eggs such as quail and pheasant, they had considered trying to hatch ostrich eggs, but emus have a better personality. The birds are natives of Australia.
With no established emu area at the fairgrounds, the two emus selected for display had to wait until Thursday after the chickens were removed from the poultry pavilion to arrive at the fair. They were transported via a horse trailer and attracted much attention. Although to keep everyone safe, the family put some barriers around the emus' pen so people couldn't get too close.
The emus hatched in January, and the flightless birds were a little harder to care for when they were younger. Now that they are older, they are in an outside pen, making them easier to care for.
"When they were younger, we had to change the mat out and spray it off. It was a decent amount of work, but now it's not bad at all," McLaughlin said.
The family had to put up a 6-foot-high fence to safely contain them. The enclosure is approximately 50-by-200 feet. Emus eat a special type of food that has all the vitamins and nutrients they need.
"And then for treats, we usually give them either animal crackers or red grapes," McLaughlin said.
The birds can grow to be 6 feet tall, and they will add more weight to their frames.
Emus have a distinct personality.
"Every emu is unique in its own way. But most of all, they're all curious and they're very friendly as well, especially if you've been around them since they were younger. They know you, and they're friendly towards you," McLaughlin said.
The birds are sometimes prone to getting into trouble.
"One time my aunt had flip flops on when she came over, and she had on red toenail polish. They would not leave her toes alone," McLaughlin said.
The birds also like baths, which is a good thing because they tend to get dirty.
"They like to wallow in the mud and play in the water," Sherry McLaughlin said. "We hose them off, and often they go roll in the mud again."
With the weather getting cooler, the emus will have their choice to run in and out of the barn. If it gets cold, they will have heat lamps available.
Hunter McLaughlin was happy he could show the emus during fair week.
"It's a learning experience for a lot of people," he said, adding he spends about 30 minutes a day caring for the birds. "They're not that high maintenance at all. Some people think that big birds would be high maintenance, but they're really not."
The McLaughlins plan to keep the birds as pets. Despite concerns, the birds did well at the fair. Loud noises from the tractor pulls did not seem to bother them unless a vehicle was extremely loud. Then they would just look.
Sherry McLaughlin was amazed to see the birds acclimate so well to unfamiliar surroundings. One night when the national anthem was playing before a tractor pull, everyone at the fairgrounds stopped in respect to look at the flag. She looked over at the emus, and they were standing still, looking at the flag.
Hunter McLaughlin also took a market broilers and market hog project this year. Outside of 4-H, he enjoys hunting and fishing.
Though the emus are a first for the fair, other species of animals shown at the fair are increasingly starting to show a variety of characteristics, especially in rabbits, fancy poultry and pack goat categories.
The Dotts sisters, Isla and Gemma, showed their Lamancha breed goats at the junior fair utility goat show on Friday afternoon. The Lamancha goats are known for having short ears. Unless you look closely, the goats look like they don't have any ears at all. The goats are known for having good personalities, making them increasingly popular at the fair.
The Lamancha goats were first bred in California in the early 1900s and were officially recognized as a breed by the American Dairy Goat Association in 1958.
Gemma Dotts showed Obi Wan while James Miller showed Han Solo, Obi Wan's brother, which the Miller family purchased. Isla Dotts showed Trickster, whose birthday is April Fool's Day.
Despite what one might think, the Lamancha goat's ears do not take any special care.
"Just like any other goat, they need food, hay and grain every day. They need washed all time, and we make sure they have enough exercise and lots of room," Isla Dotts said.
The family currently cares for 15 Lamancha goats.
"They don't scream a lot unless they need anything," Gemma Dotts said. "They're very quiet."
Though the family hasn't taken any of the goats camping, they learned Lamancha goats will get right into the tent with you.
"We knew we wanted them because they're just very sweet," Gemma Dotts said, adding they do take the goats for walks in the woods. They must be careful because the goats are pretty good at escaping.
The two girls and their sisters, Cora and Aria, are members of Boots N Bling 4-H Club.