Ernest Warther Museum and Gardens: Events on May 8 mark 85th anniversary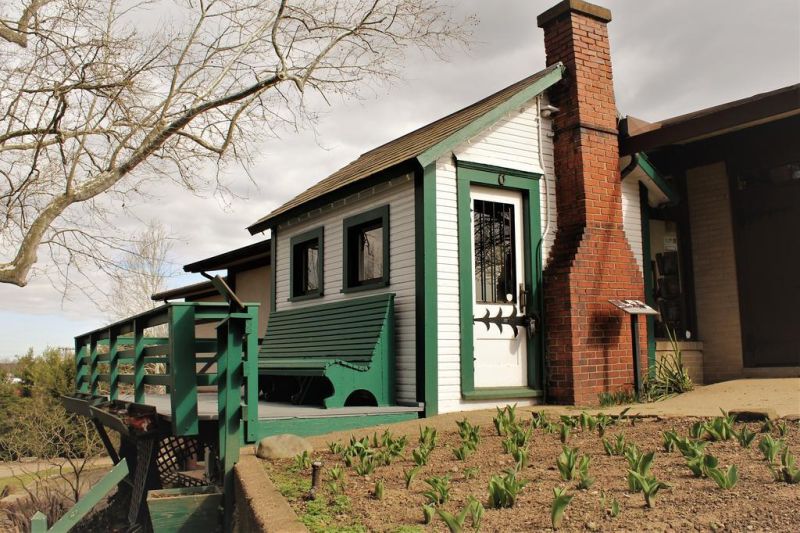 In celebration of the 85thanniversary of the Ernest "Mooney" Warther Museum, which opened on Mother's Day in 1936, the organization will open the Dave Warther Arboretum on May 8. It also is the date of the annual flower sale to benefit Frieda Warther's garden.
"The little building that is the button building was the first museum," said Carol Moreland, daughter of Dave Warther and granddaughter of Ernest and Frieda Warther.
Prior to that time, Mooney Warther kept his carved steam engines in the family home.
"He would take people in there, but then the daughters started complaining when they were teenagers because he was always bringing people in. So in 1936 he built this first museum," Moreland said.
Dave Warther, one of Ernest and Frieda's five children, spent his life creating a lasting tribute to his father that resulted in the museum and gardens of today.
The arboretum was the vision of Dave Warther, and he spent many years organizing it. He brought in some plant and tree species to the area that are not typically found here because he wanted to share them with the visitors the museum gets from all over the world.
Dave Warther also wanted to provide these species for area residents who might not see them otherwise.
These species are the tricolor European beech, sweet birch, coastal redwood and Grenache grape vine. Although some of these were already on the property, like the American sycamore, they are some of the oldest in the city of Dover. The sycamores lined a once-working millstream, and they are over 150 years old. One of the grape vines is original to the museum and is over 100 years old.
The museum has officially been granted Level 1 Arboretum status through the ArbNet program with the Morton Arboretum.
To earn the Level 1 status, an arboretum must have a variety of at least 25 trees and wooded plants. An example of a wooded plant is a rhododendron. While not a tree, it is considered a wooded plant. The arboretum also must hold an activity at least once per year.
"All the trees are going to have labels on them so you'll be able to walk around and identify what they are," Moreland said. "We are getting those printed right now."
There will be no official gathering for the opening of the Dave Warther Arboretum. The museum and family will celebrate it in a private ceremony.
The first annual arboretum talk will be available to the public on May 8. There will be a guided tour of the arboretum, featuring discussions on plants, trees and perennials found on the property, as well as the history of the property itself. Space is limited, and advanced sign-up is required. Two sessions are available with space for 20 people per session, offered at 9 a.m. and 10 a.m.
Mooney added on to the property over the years, and the family bought out a trucking company that was below the property to increase the size of the grounds. "It's grown over the years, gradually," Moreland said.
Also on May 8, the museum will host its fourth annual flower sale from 9 a.m. to 3 p.m., which will honor Frieda Warther and her love of gardening. A variety of items will be for sale, ranging from seeds, perennials, ground covers, annuals, vegetable plants, combo planters and hanging baskets. Preorder is available to ensure flower selection. Proceeds from this sale benefit Frieda Warther's original Swiss gardens.
"People can order in advance if there's something specific they want. We can order that for them so they get what they want," Moreland said.
Frieda Warther founded Dover's Garden Club, was an advocate of 4-H, and shared her garden and craft-making knowledge with hundreds of locals. The museum is working to keep her dreams and gardens alive.
Moreland recalled her grandmother's efforts to teach others about flowers.
"She was a 4-H advisor, and her club worked with flowers — how to dry flowers, make dried arrangements and live arrangements. She held it around her big kitchen table and had eight or 10 girls there doing things," Moreland said. "I was in one of the last years she had it, which would have been in the late 1960s."
The proceeds from the plant sale will help enhance Frieda's garden.
"It helps us to be able to plant more volume of flowers and find more things that are unique, which is something Frieda would have liked," Moreland said.
To place a preorder or register for the arboretum tour, call 330-485-3891 or send an email to kristen@thewarthermuseum.com.
The museum is located at 331 Karl Ave. in Dover and has more than 100 pieces in its collection. Ernest "Mooney" Warther was born in 1885. At the age of 5, he began carving, and his focus became the evolution of the steam engine.
The museum is open daily from 9 a.m. to 5 p.m. with the last tour of the day starting at 4 p.m. Tickets are available online at www.warthermuseum.com or at the door.