Holmes Extension office enjoying freedom of new space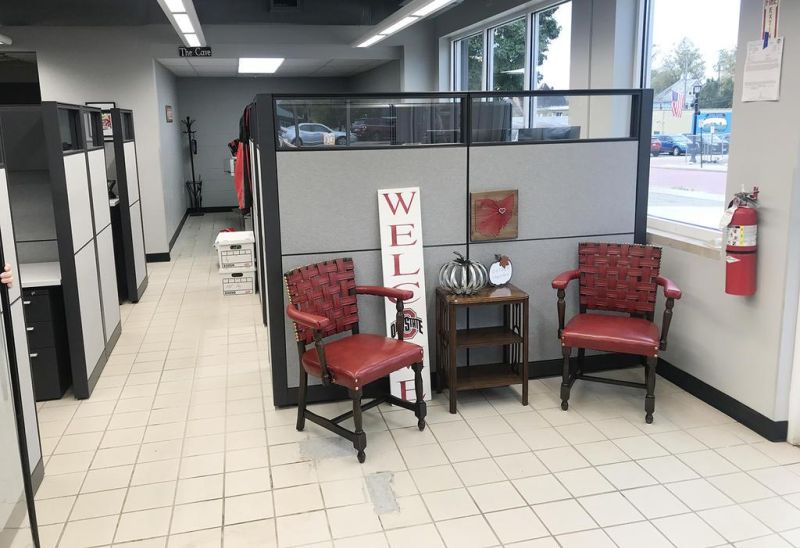 Where once was aisles of candy, gum, chips, motor oil and drinks, now are cubicles, computers and plenty of scarlet and gray.
Welcome to the new home of the Ohio State University Extension, located in the former BP Station across from the courthouse in Historic Downtown Millersburg.
After plenty of planning and hard work, the extension office members took residence there, exiting their one-room office in the government building on Monroe Street and entering a new world of sunlight and space.
Gary Graham, educator of agriculture and natural resources, was excited about the opportunity to have the group meet in an actual meeting room in addition to having their own cubicle.
"We used to have to meet all huddled around a desk at the old place," Graham said. "It's going to be so nice to be able to spread work out and work on it while being able to have more than one person there. We are happy to see it come to fruition."
Kate Shumaker, educator of family and consumer science, has been at the Holmes County office since January 2000, and she has seen a multitude of offices come and go for the extension office. She said she has gotten very good at moving, this being her fifth office in 20 years.
"Every office brings its own unique adventures, but this is going to be really amazing," Shumaker said. "It's been fun to see the transformation this place has undergone."
Shumaker said the visibility, from inside the office, to viewing the downtown area, to travelers finding their office with great ease, is a welcomed addition. She said having ease of access along with ample parking dedicated to their building is going to be wonderful. She added their job is to serve the people of Holmes County, and this facility will allow them to do so in a much cleaner and better fashion than ever before.
"It's created good workspace, and we even have a room dedicated to providing private conversation with people who visit," Shumaker said. "We are so grateful to the Holmes County commissioners for finding a way to properly utilize this space and give us ample room to do our jobs."
Finally, Shumaker said regardless of where the extension office staff calls home, they have done remarkable work in aiding the people of Holmes County.
"The team has been amazing no matter where we are, and our team right now is really great and works so well together," Shumaker said. "We have always found the best way to pull together, and it seems like there isn't anything we can't do when we do it together."
Initially, the extension office was gearing up for a future home at a proposed building on Glen Drive next to the Holmes County District Public Library that also was to be home to the Holmes County Health Department.
When COVID-19 hit, those plans were put on hold, but when the former BP Station became available and Campbell Oil presented the commissioners with a golden opportunity to purchase the building and land, the commissioners quickly moved from the idea of creating a parking lot on the acreage to restructuring the building for the extension office.
Tim Morris, Holmes County buildings and grounds/solid waste director, began an extensive rebuilding effort, creating blueprints and gutting the old gas station, and the plan went together smoothly and quickly. He said seeing this project come together since he began the planning sessions at the end of May was satisfying.
"Overall, it went well," Morris said of the project. "I have envisioned a little different layout, but this will definitely work. I always felt like this building could serve a greater purpose than just a parking lot. We had the structure, and there is still ample parking here, but most importantly, we couldn't continue to keep the extension office staff in a soup can. I'm really happy with it."
New furniture, something they haven't had for two decades or more, and plenty of space have created excitement for the extension crew.
Joining the previously quoted team members will be office associate Ashley Gerber and Emily Laugesen, program assistant of 4-H youth development, and the five people won't be crawling on top of each other to get around the office.
"We have windows, and a lot more room, and a place we can call our own," educator of youth development Janessa Hill said. "Kate did a really nice job of branding and making it all tie together with the OSU scarlet and gray theme. It is amazing, and we are so excited to be in a place where we aren't on top of each other. It's a breath of fresh air."
As the extension office moves out of its former digs, it didn't take long for the county to repurpose it. The former office is now inhabited by dedicated poll workers who are receiving registrations and early voting ballots.