Extension Office interns create opportunities for area youth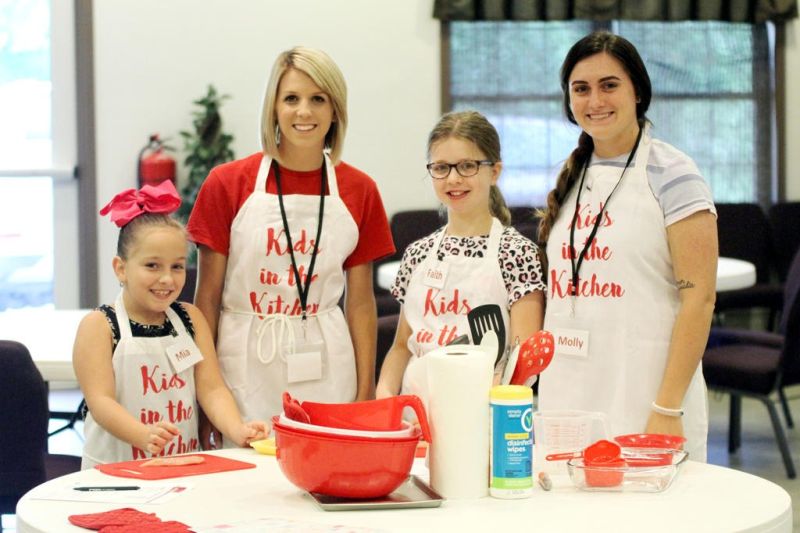 Welcome to Holmes County. Now here are your hard hats.
That is basically what Holmes County Ohio State University Extension educator Janessa Hill said to her two new interns, and they couldn't be happier about gearing up and getting to work.
After being tabbed as one of the extension offices in the state to take on an intern program, Hill figured why just stop at one when she could have two.
Therefore the already small extension office in Millersburg became even more full this summer when two young interns became part of the OSU extension team.
Bringing their expertise and enthusiasm to the organization this summer are Devan Eckert and Molly Sprankle, both of whom are tackling a number of roles for Hill, who didn't wait long to throw them in the deep end where they could help formulate game plans for a number of summer events.
Sprankle hails from Muskingum County, growing up near Zanesville, where she raised turkeys and horses, took photography, and was heavily involved in a number of 4-H activities. She will be a senior at the Ohio State University this fall, studying animal science in pursuit of a Bachelor of Science in agriculture.
She said she was excited at the possibilities of interning in Holmes County because she knew it had a tremendous 4-H program.
"After graduation my goals are to either pursue a career as an extension educator or find employment working for the USDA or a government entity pursuing animal welfare. I'm not exactly sure which route I want to take, so this summer will go a long way in helping me determine exactly where I want to go," Sprankle said.
She added that her entire career in 4-H has prepared her for whatever career she decides to take.
"All of the 4-H pillars taught me responsibility and how important it is to understand animals and agriculture," Sprankle said. "It gave me something to invest myself in and to be professional, even as a kid. 4-H kids have a lot of contact with adults, and I don't think I truly understood exactly how important 4-H was in my life until I got into college."
Eckert grew up about an hour south of Zanesville, where she too was heavily invested in 4-H as a youth. Growing up on a family farm, she showed cattle as a 4-Her and eventually became so passionate about it that she began showing cattle all over the world.
"Had it not been for 4-H, I doubt that I would have ever discovered my passion for that," Eckert said.
Like many 4-Hers who stick with the program, Eckert joined the Morgan County junior 4-H fair board, where she gained experience.
The soon-to-be senior at the Ohio State University said experience alone helped her strengthen her communication skills. This fall she will study agriscience education.
She is currently debating between becoming an extension educator or going into the field of agriscience, so like Sprankle, she will value this opportunity. Either way she wants to continue to be involved with FFA and 4-H as an advisor.
Both have already made themselves at home in Holmes County, getting to know a variety of different organizations and 4-H leaders.
"I felt coming in that making connections and building relationships in this area was going to be important," Eckert said. "But I also felt that this was going to be a wonderful opportunity to impact the youth here and to see what I can add to the county's programs. I think that will really strengthen me as a professional, and it will make me a more well-rounded person."
Sprankle said coming to the end of their careers at OSU is both exhilarating and frightening, but getting this experience is a perfect segue into the future.
"Janessa has been amazing to work for, and she didn't hesitate to give us a lot of responsibilities," Sprankle said. "The one thing I realized very early on was how committed, invested and supportive this community is in its 4-H programs. That is incredible to me, and getting to see 4-H from a different perspective from the extension side rather than as a 4-Her has been eye-opening."
For Hill, having a pair of capable interns to work with during these busy summer months has already paid dividends. The two have spearheaded the Cloverbud Camp and have taken charge on a number of different fair-related programs.
"They've been a blessing in so many ways because them being here actually allows us to offer even more to our area 4-Hers," Hill said.
Hill and several others interviewed the pair, and they quickly realized both of these interns would have plenty to offer. They were so impressive in their interviews that Hill had no qualms in throwing them into the fire.
"They knew coming in that we were going to put up the bumper guards and literally turn them loose in the bowling alley in giving them projects that they could grow and develop," Hill said.
That list included the Cloverbud Camp, Kids in the Kitchen with educator Kate Shumaker, and taking the lead on the Tech Change-Makers program, which will see them put to use a grant Hill received earlier this year and will allow them to join two Holmes County youth to implement technology pieces in the community, mainly with senior citizens. They will be writing and implementing the curriculum for that program.
"We're going to have them working like seasoned veterans by the time they leave here," Hill said with a laugh.
The two interns would like nothing more than for that to be the absolute truth as they gain experience while at the same time helping Holmes County's youth.