Fairless senior makes a statement with art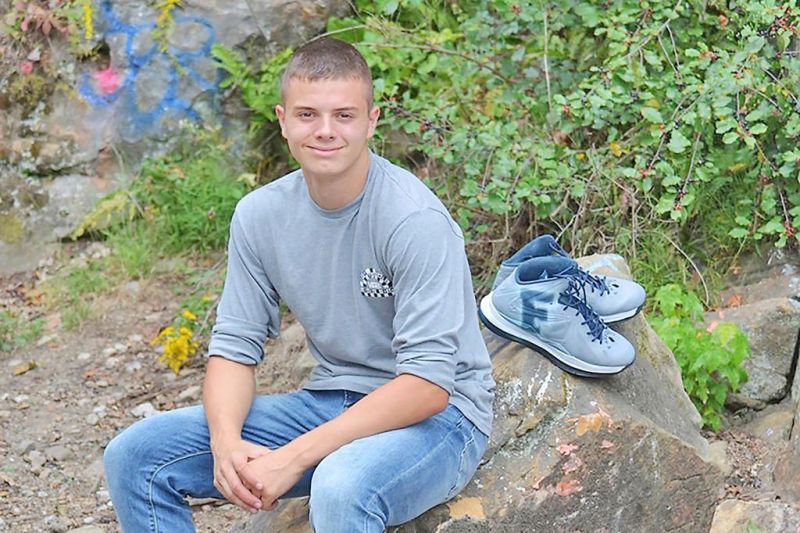 Whether it is on the football gridiron or on the hardwood hoops scene, athletes want a shoe that is comfortable, durable and gives them plenty of support.
For Fairless High School senior Jory Oakleaf, he would rather focus on the appearance of the shoes and making a statement.
Oakleaf has merged his love of athletic shoes and his passion for art to create a budding business that one day could see him creating colorful shoe designs for anyone from elementary kids to professional athletes.
Oakleaf created J's Custom Kicks, and through his business he can paint clients' shoes with whatever design their hearts desire.
For Oakleaf, J's Custom Kicks satisfies both his artistic and entrepreneurial spirit.
"My passion for art began at a very young age," Oakleaf said. "My mom is a small business owner herself, and she has always had great artistic abilities. Her influence led me to pursue multiple types of art from a young age, from drawing to painting and ceramics."
It was around early summer 2018 that Oakleaf had an inspiration for using shoes as his canvas to create. He has been developing designs and adding them to people's shoes ever since.
"I decided that I would start painting on shoes and immediately painted my first pair, which were Rainbow Nike Huaraches," Oakleaf said.
It didn't take long for him to realize he was delving into something he was going to enjoy because it gave him freedom to add his own spin on the art suggested to him by his clients.
"The base design is given to me by the client, but I enjoy brainstorming and imagining how I can improve upon it so they are absolutely blown away when they receive their shoes," Oakleaf said. "One example would be when I base a pair off of a show, movie or game. I'll sit down and watch or play that material to gain some inspiration, as well as pick up some small details that will really make the shoe."
As his client base has grown, so too has his ability to create art in a very different way than when he first began. The artistic ability has always been something he has possessed, but as he became more confident with his ability to paint on shoes, his creativity and technique developed as well.
"I'd say my ability to add depth through certain texture stencils has been my greatest improvement," Oakleaf said. "Rather than just laying down a plain, single-colored background, I use tons of different stencils and colors to add more depth and personality to each pair."
To date he has painted about 50 pairs of shoes including clients like Detroit Lions cornerback Dee Virgin, Detroit Lions free safety C.J. Moore and Massillon Tigers receiver Jayden Ballard, who is committed to play at the Ohio State University next season.
While he has completed numerous projects, to date his favorite is a pair of Super Mario Kyrie 4s that he did to kick off summer 2019.
"They are my favorite, but I'm working on a pair of Christmas cleats that will be revealed soon, and they may take the top spot," Oakleaf said.
The cost to design a pair of shoes usually ranges from $160-$250 for the art. Clients must provide the shoe or pay extra for Oakleaf to purchase the shoes for them.
Currently his business is conducted over Instagram at js.custom.kicks, as well as on Facebook at J's Custom Kicks and Twitter at js_custom_kicks.
Oakleaf said he is currently in works with his friend and social networking manager Logan Slutz about opening a website where people can go see his work and order their own pair.
"I would love to potentially make a career out of this and do it the rest of my life," Oakleaf said. "Right now I'm mostly focused on getting more NFL clients as well as expanding to both the NBA and MLB."
That is big expectations for a high school senior, but what he has accomplished to date proves he is more than capable of making that dream come true. Meanwhile, he continues to be himself at Fairless High School, where his fame and kicks haven't gone to his head.
"I have become somewhat of a celebrity around Fairless, but I'm very glad that everyone treats me the same," Oakleaf said. "No matter how far this takes me, I never want my friends to treat me any differently. I'll always be the same person doing the thing I love, painting shoes. I had always hoped that this would take off, but I never imagined that in just a year and a half it would grow to be this successful."