Fallen Vietnam hero Rick Miller honored in touching ceremony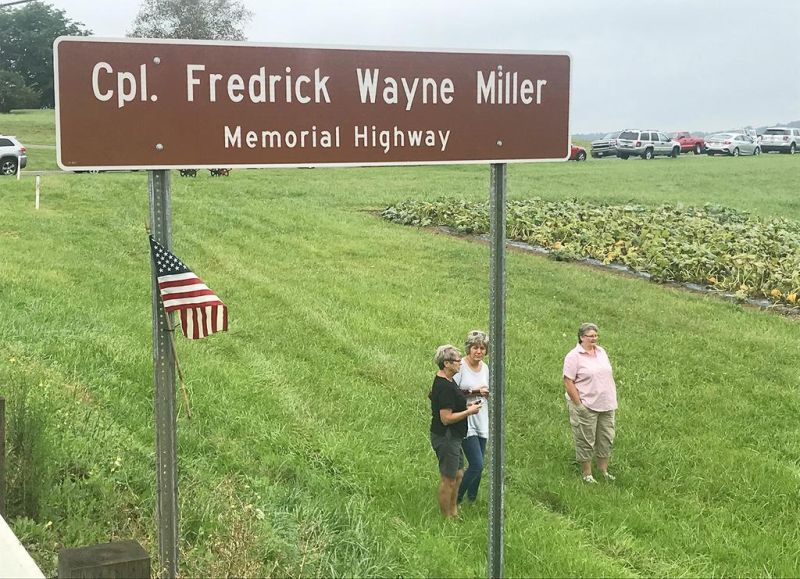 Roger Warens has an old photograph of two young brothers, Jim and Rick Miller, dressed up in their cowboy duds, mugging for the camera like a couple of Wild West gunslingers. The Millers' mother and Warens' father were brother and sister, Warens being a few years younger than the Miller boys.
The photograph is one of those old, adorable photos that tends to cling to the recesses of one's mind, harkening back to days of yore.
The photo became even more important and valuable in terms of memories after Rick Miller was killed in combat duty April 21, 1966, becoming the first Holmes Countian to perish in the Vietnam War.
"I looked at that picture so fondly," said Warens, who spoke at the commemorative ceremony dedicating a memorial highway sign in honor of Cpl. Rick Miller along state Route 39 entering the east side of Berlin. "Who would have known in looking at that picture that Rick would have grown up to be a warrior?"
Fredrick Wayne Miller, more often known as Rick by everyone who knew him, was a star athlete at Hiland High School. He was well-liked, respected and one of those people others were drawn to.
Miller enlisted with the United States Marine Corps right out of high school in 1963. After serving his initial two-year stint, Miller re-enlisted, and with one month to serve in his second stint, he was killed in combat duty in Vietnam on April 21, 1966, thus becoming the first Holmes County native to lose his life while serving during the Vietnam War.
Warens spoke at the dedication service on Wednesday, Sept. 2 about the type of stand-up individual Miller was.
"He had that passion, that calling to serve his country, and I believe that God calls certain men to do that and to make that sacrifice, knowing in their heart that they may never come home," Warens said.
Warens remembers the day word came to Hiland High School that Miller had been killed in combat. He was a freshman, Lynda Hochstetler, Miller's sister, an upperclassman.
"All of our hearts were heavy and burdened," Warens said. "We felt so sorry for the Miller family. The tragedy hits home."
In the 1990s, Warens felt the need to visit the many monuments honoring veterans in Washington, D.C., but most of all, he wanted to find Miller's name on the Vietnam Veteran's Wall. he said seeing the enormity of the wall was overwhelming, and he began to seek Miller's name. A park ranger came and assisted them in finding the name, and after searching for what seemed like forever, the only name they could find was Fredrick Miller, which took Warens by surprise.
"All of the years I knew him, he was always Rick," Warens said. "Everyone always called him Rick. But when we saw his name, alongside all of the other young men who gave their lives, it really hit home. We need to be thankful for the sacrifice for all of those men, and now everyone who travels through Berlin will see this sign that says Fredrick Warren Miller Memorial Highway. That is an honor. He gave his life for our freedom."
Warens ended his speech by reading the poem, "A Prayer for a Soldier," something he felt was appropriate to sum up the courage and dedication of Miller and the many others who served and died.
What followed was a 21-gun salute from members of the Millersburg American Legion and Killbuck VFW, along with the Tuscarawas County American Legion and Sugarcreek American Legion.
The members who attended the dedication ceremony were honored to remember one of their brethren who had given the utmost sacrifice for his country.
"It could have been any one of our names on that sign," Wes Maxwell of the Millersburg American Legion and Killbuck VFW said. "We all made it home, but not everybody did. This is long overdue. The family doesn't need a sign to remember, but for all of the people who never knew him or knew about his sacrifice, it is special to get his name on there so others can appreciate the sacrifice he made."
The sign placement in Berlin was an honor for the Miller family, especially with the way most Vietnam War veterans were treated upon arriving home.
"It's very humbling, but it is a long time coming," Hochstetler said. "My family had to actually soak this in a little bit, but to see the sign up honoring him was really special. So many of those brave people who fought in the Vietnam War were looked down on and ridiculed for their service, which was truly unfair. It was heartwarming to see all of these other veterans here to help us celebrate because I know it means a great deal to them too."
Miller was the son of Allen "Red" and Geneva Miller. Hochstetler said her brother was excited to serve his country, something he felt called to do with great passion. Hochstetler said she remembered the day her brother left to enlist. She was an eighth-grader, and it didn't sink in, but she said the entire family was proud of him making the decision to serve his country while at the same time worried because of all of the unrest in Vietnam.
"He enlisted and chose the Marines," Hochstetler said. "Dad was a POW, and he knew the risks of serving. I'm just glad after all of the years Rick is finally getting an honor that is long overdue."