Family the focus of Amish Care Fund of Ohio's Hospice LifeCare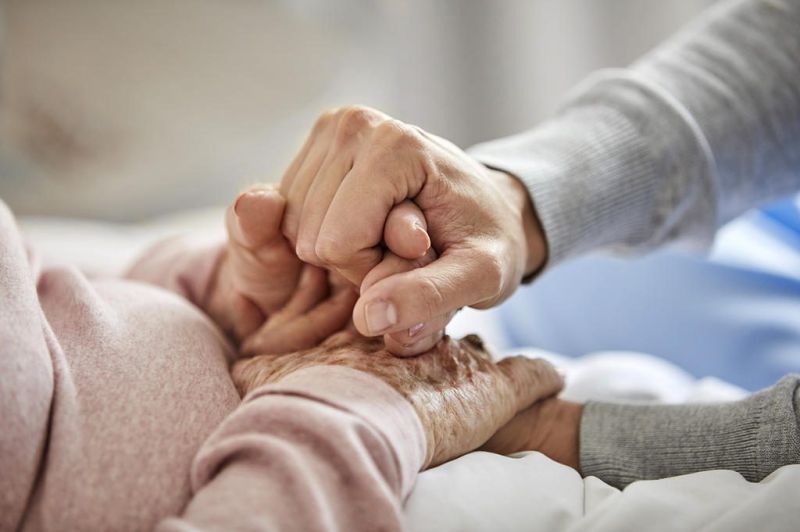 Hospice care is for people who are nearing the end of life, and for years, Amish Care Fund of Ohio's Hospice LifeCare has been there for those in the Amish community and families who are facing these life-altering times in their lives as they prepare to say goodbye to a loved one.
Hospice services are provided by a team of health care professionals who maximize comfort for a person who is terminally ill by reducing pain and addressing physical, psychological, social and spiritual needs. This respite care helps families deal with a heartbreaking situation through compassion, love and most importantly, Hospice caregivers allow those facing their final days the ability to do so with dignity.
Unlike other medical care, the focus of hospice care isn't to cure the underlying disease. The goal is to support the highest quality of life possible for whatever time remains, which is exactly what Amish Care Fund of Ohio's Hospice LifeCare does for the families with which it works.
In order to fund the Amish Care Fund of Ohio's Hospice LifeCare efforts, there will be an annual fundraiser that will have all of the proceeds go toward this critical and meaningful group of healthcare workers.
The Ohio's Hospice LifeCare Benefit event will take place May 7 at the Mt. Hope Event Center beginning at 8 a.m. The event will feature food, an auction, a raffle and several speakers who will talk about the important role Amish Care Fund of Ohio's Hospice LifeCare plays in the lives of the families with which its healthcare workers connect.
According to Amish Care Fund committee member and community liaison John Miller, this event plays a critical role in creating the necessary funding to provide for what has been a growing number of families in the Amish community that are taking advantage of the opportunity to connect with Hospice.
"I just saw a report and use of Hospice among the Amish has increased 203% in 2020," Miller said. "We are utilizing Hospice care far more than ever, and this event has taken on a substantial role allowing us to do so."
Funds raised from the event will benefit Amish Care Fund of Ohio's Hospice LifeCare, a community-based, not-for-profit hospice serving patients and their families in Wayne, Holmes, Ashland and Medina Counties.
The Amish Care Fund enables Ohio's Hospice LifeCare to provide hospice and palliative care to anyone in the Amish community facing end-of-life illnesses.
Miller said they recorded more than 10,000 Hospice-related patient days during 2020 and noted that the need is obviously there and growing in the Amish community.
With Ohio's Hospice LifeCare leading the way, that care is fortunately available.
"Ohio's Hospice LifeCare embodies the spirit of neighbors caring for neighbors with a commitment to relieve suffering, ease fears and provide companionship along life's last journey," said Kurt Holmes, executive director of Ohio's Hospice LifeCare. "Our hospice team of doctors, nurses, health aides, social workers, chaplains and volunteers works together to meet patient and family needs, wherever the patient calls home."
The auction will begin at 6 p.m., with items including a JDM Structures storage barn, 450 Bushmaster gun, steak dinner for a dozen people, quilts and many other items. There will also be a raffle, with the grand prize being a 48-inch Toro hydrostatic walk-behind mower, a Berlin Gardens patio set, a Ravin R26 crossbow, a Velec R48 eBike, a Green Egg grill, binoculars, a sewing machine, La-Z Boy recliner, a Dewalt tool kit, a portable fire pit with grill, a Yeti 65-quart cooler and a Eurosteam steam iron.
The raffle will take place during the day of the event.
There will also be a benefit haystack supper, with carry-out beginning at 3:30 p.m. and dinner service starting at 4 p.m.
Every dollar raised at the event will go directly to Ohio's Hospice LifeCare so it can continue to serve those families during a time when it is needed most.
Ohio's Hospice LifeCare provides superior care and superior services to anyone in the community facing end-of-life illnesses, regardless of their ability to pay; grief support at no cost to anyone in the community; complementary services such as massage and music therapies; and palliative care to patients whose chronic disease compromises their quality of life.
Miller said his family has recently felt the sting of losing a loved one and having a Hospice caregiver there was a comforting part of the process.
"Having a Hospice caregiver come brings a certain peace with it because they are very caring and assuring and provide such a wonderful sense of care and peace," Miller said. "Many of the families who use Hospice care really look forward to having a professional on hand. They can ask question and get reassurance that they are providing everything necessary for their loved one."
Miller said with this being the second biannual event, the committee is more attune to what to expect than it was during the inaugural event in 2019.
"Our first one was very successful, and we are so appreciative of everyone who comes out to support the cause," Miller said. "We continue to see a growing need in Hospice care among the Amish community and we are grateful to all who make this event happen.