Family summer reading program new at Gnadenhutten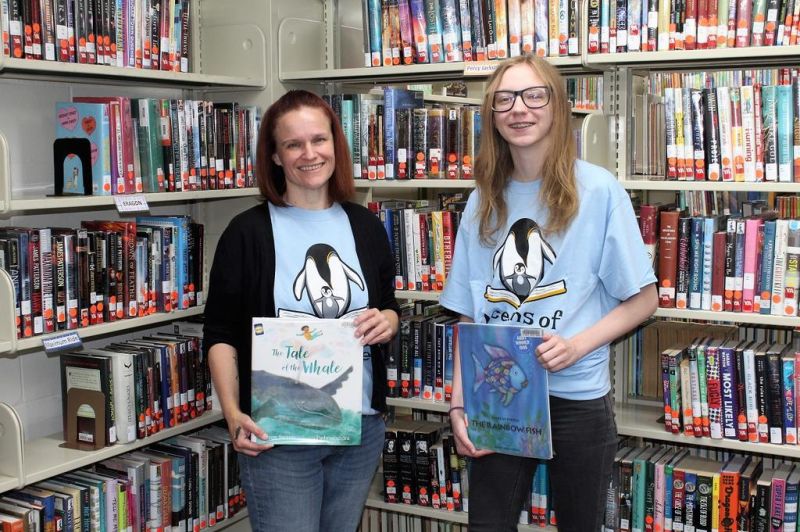 This summer the Gnadenhutten Public Library will offer a family program for the first time with its Oceans of Possibilities summer reading program. Youth librarian April King and Liberty Copley, summer library assistant, are excited to get started with in-person events.
"We had largely event-based summer reading programs until COVID, and then we had an at-home summer reading program. Last year was a blend of in-house and at-home. So I'm very excited that this year we're back to the in-house programs, and we have them for multi-ages," King said.
There will be four different sections of summer reading this year. Registration will begin June 6, and programming will start June 13. The program will culminate in a finale party on July 30.
There will be an opportunity for early registration at the community yard sale June 3-4.
"If they're here already, I will have those packets available, and they can go ahead and sign up. Then they don't have to make another trip in the next week," King said.
The library has always participated in the yard sales, but this year they are earmarking the proceeds for their main floor renovation. Along with memorial contributions made earlier this year for the late Deborah Gilmore, they plan to replace the 1980s carpeting, get some new shelving and purchase a new circulation desk.
The renovations will make the library more modern and user friendly without changing the structure of the building itself.
During the summer program, King and Copley will provide a weekly story time for children from birth through having just completed kindergarten.
"A story time is three songs, three books, a snack and a craft. It's literacy motivated to help those early-literacy skills develop. And then, of course, some of the kindergarteners are already reading, and they get to be a part of it. I choose books that they can help read," King said.
King also tries to accommodate children who might have food allergies with a snack they are able to eat.
For the other age groups, King plans an educational portion and a hands-on activity. She is most excited to offer a family module for the summer reading program for the first time this year.
When planning the summer programs, King was looking through a manual that libraries receive for ideas.
"I found so many multi-age ideas, which they like to use as a gap between the young ones and the elderly, to bring them together, but in my head I thought families," King said. "We have several patron families here at our library that have children of wide ages and some families who have high school graduates and preschoolers in the same family."
Children can participate in their own age group and with their family too. The family module gives a family something they can do together during the summer.
"There are activities in this family summer reading program, six of them. But there's also a bonus reading category where they can earn more tickets toward prizes if they read together as a family," King said.
There may be a few bumps along the way because this is the first year, but King plans to use them to help plan future family programming.
"I'm excited to see the kids and see people come back and use their library in a way that it's meant to be used," King said, "that they'll come back and really remember what it's like to have these free, fun, family-oriented events in their community."
The summer program will showcase two area writers. Farrah Raines will read her book, "Sea of Feelings," and lead a craft as part of the completed grades 1-5 program, and Michelle Richey will be at the library on Wednesday, July 27 at 11 a.m. to read her book, "The Adventures of Grandma and the Moonbeam Fairy."
King will continue to present her Gnadenhutten Public Library on Facebook Live cooking program, Foodie Friday, each Friday at 2 p.m. She created the program to showcase quick, easy recipes that can be made for one or two and with as little cleanup as possible.
"I very rarely have to buy a lot of stuff for Foodie Friday. It's just normal things that we have. Every now and then, we do something bigger, but it's just simple things that you might not think to combine together to make this easy and tasty meal," King said.
Family summer
reading program
Families will earn points for each activity completed and bonus points for reading together. A family prize package will be awarded to the top earning family.
The schedule includes the following:
—Week one, treasure hunt: Grab a map and follow the clues to find the hidden treasure. The activity may be completed anytime during regular library hours June 13-18.
—Week two, design at home: Create water bottle sea creatures at home. Submit one or more for display at the library. Submissions are due by Saturday, June 25 at 1 p.m. Use your own or pick up crafting supplies at the library.
—Week three, trivia night: Ocean-themed trivia where families will compete with other families for treats on Monday, June 27 at 6:30 p.m.
—Week four, beautiful ocean: Create an ocean-themed diorama or mural at home. Submissions are due by Saturday, July 9 at 1 p.m.
—Week five, geocache: Families will search Gnadenhutten for five hidden caches. This activity may be completed anytime during the week of July 11.
—Week six, escape this: An ocean-themed escape activity. Make an appointment to complete this activity during business hours July 18-23.
Children birth
through kindergarten completion
This program consists of story times with three songs, three books, a craft and a snack. The programs will be held Wednesdays at 11 a.m. Themes are as follows: June 15, Pirates; June 22, Mermaids; June 29, Ocean Animals; July 6, Shells and Sand; July 13, Treasure; and July 20, Conservation.
Students who have
completed grades 1-5
The program consists of weekly themed events celebrating ocean fact and lore on Thursdays at 1 p.m. The schedule is as follows:
—June 14, Davy Jones' Locker: Talk like a pirate and create a boat to avoid Davy Jones' locker.
—June 21, Mermaids Rock: Get a brief history of mythical mermaids and paint a rock to look like a mermaid or other mythical sea creature.
—June 28, Sea of Feelings: Local author Farrah Raines will host a story time and craft. There will be an opportunity to purchase her books; however, purchase is not required.
—July 5, Watersheds & Aquifers: Discover where water comes from and make an edible aquifer.
—July 12, Dreams as vast as the seven seas: Explore goal making and create a vision board to display.
—July 19, Ocean Day: Learn about the traditional Japanese holiday and create a paper lantern to release upon your sea.
Students who have
completed grades 6-12
Weekly themed events celebrating ocean fact, lore and more will be held Thursdays at 4 p.m. The schedule is as follows:
—June 16, Survival Island: Think you can survive on a deserted island? Come to the library to find out.
—June 23, Once Upon the Sea: Watch a video about mythical ocean creatures and create a mermaid sugar scrub.
—June 30, Operation Repurpose: Bring a T-shirt to create an upcycled book bag with bonus points awarded for ocean-themed T-shirts.
—July 7, Jewels of the Sea: Learn about the only gemstone that comes from a living creature, "dive" for pearls and create a key chain or bracelet with the pearls you collect.
—July 14, Ocean Treasures: Watch a brief video of things found in the ocean and then create an ocean-themed marbled mug.
—July 21, Our Blue Planet: Learn about ocean pollution and how to upcycle trash often found in the ocean, then create a plant pot out of plastic grocery sacks.