First Moravian, Eagles providing hot meals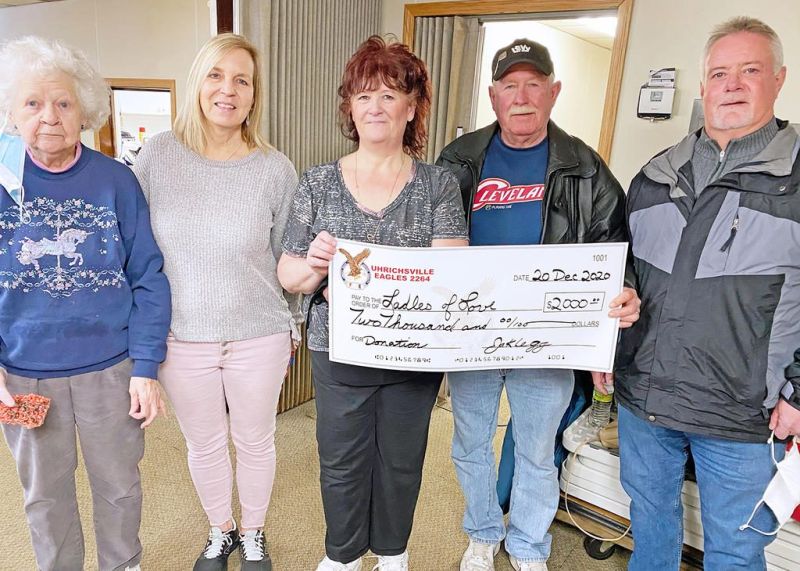 Because of the efforts of members of First Moravian Church in Uhrichsville, those with insecure sources of food can get a hot, home-cooked meal at least twice a month. And because of members of Uhrichsville Eagles Club 2264, the church will have funding to continue its food outreach program for the foreseeable future.
Ladles of Love began two years ago in the wake of a children's after-school program the church had previously offered. When financial support for the children's program waned as another local church offered a similar but larger program, First Moravian began looking for a new way to serve the community. It was in 2019 when the church began serving meals to those in need twice a month.
"Before COVID," program organizer Linda Spring said, "we were serving the meals here inside the church, usually about 50-60 people. We serve the second and fourth Tuesdays each month. Now since we have to be careful about social distancing and can't have everyone come in to eat, we offer the meals for pickup in the church parking lot, and we are serving 160 meals twice each month."
Some residents at Buckeye House get meals delivered, and some of the meals have been delivered to those working at Trinity Hospital Twin City.
Most of the cooking is done by Spring and Donna Moreland, also of the church, with help from Anna Louise Maurer. Members of the church also help with providing desserts.
Jim Milburn of the Eagles Club said the organization contributes to several organizations in the Twin City area.
"We give money to the police and fire departments, the Claymont Foundation, the food banks, and several others," Milburn said. "We've given more than $20,000 in donations this year."
The club provided a check for Ladles of Love in the amount of $2,000. "We will support their work in the future as well," Milburn said.
Uhrichsville First Moravian Church, with an aging congregation, would be unable to keep the program going without such generosity.
"Some people who come through to get meals offer a donation. We explain that it isn't necessary to do so, but if people want to help out in that way, that's fine," Spring said.
Moreland cooked the Tuesday meal for early February in the church kitchen. Swiss steak, mashed potatoes, green peas, bread and a dessert all found their way into serving boxes. It was typical of the fare served by the church twice each month.
Spring said the substantial increase in the number of people coming to the church for the meals since the pandemic began is likely due to word of mouth as people have learned of the service. The church has a little room to grow to serve more meals.
"Our pastor, David Geyer, comes to help on those Tuesdays," Spring said. "Some students help us as well. It's a little tough with just the two of us doing most of the cooking, but we will serve as many as we can. It's something our congregation has felt was a much-needed contribution to the community, and they have been supportive in every way since we began two years ago."
"People who get the meals are very appreciative," Moreland said. "We are able to keep up with demand so far. Some of the people who get the meals are maybe getting one of the few hot meals they get during the month."
Uhrichsville First Moravian Church is at 315 N. Water St. Those who would like to get more information or receive meals may call Moreland at 330-432-5659.