First river poker run to be held in Newcomerstown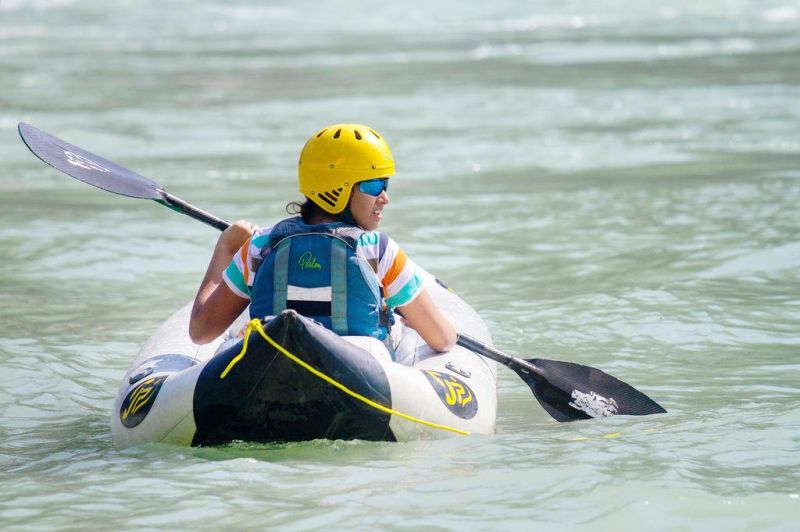 A new event, the first Iron Man/Iron Maiden River Poker Run, will be held in conjunction with Newcomerstown's Gateway to Fall Festival on Aug. 20. The festival will be held at Cy Young Park while the river poker run for kayakers and canoers will be at the Simonds-Heller Park in Newcomerstown along the Tuscarawas River.
The cost to enter the event is $25 per boat. Boaters must register to participate at www.newcomerstownoh.com/PokerRun. Call 740-498-6313 for more information.
Additional poker hands also may be purchased. The race will cover two courses. The first route will cover 17 miles, starting at the Gnadenhutten boat ramp to the Simonds-Heller Park boat ramp, and it will start at 9 a.m.
The second route will begin at the Simonds-Heller Park boat ramp at 11 a.m. and go for 6 miles to the Orange boat ramp at the intersection of state Route 751 and state Route 36.
Participants in the 17-mile route will receive seven poker chips while those navigating the 6-mile route will receive five chips. Once they return to Simonds-Heller Park, they will exchange the chips for cards, and whoever has the best poker hand will win.
"We're excited. Basically, with a boater poker run, there'll be certain spots on the river that will have a bait bucket. There'll be chips in a different color at each station," Mayor Pat Cadle of Newcomerstown said. "When you're done with the run, you turn in your chips, and you get a card for each chip. They're different colors so that you can't take more than one chip out of the bucket."
There will be prizes for the top-five poker hands. First place will win $150, second will receive $100, third will get $75, fourth will get $50 and fifth will get $25.
Cadle said so far there has been more interest in the 17-mile route.
"That's an all-day event. You'll be paddling for a while. But the shorter one — the boat ramp to the park to 751 — you can get done in probably 2 1/2 to three hours. It's more recreational," Cadle said. "We wanted something available for those who wanted to go out for the day but also for those who don't want to do it for a whole day."
Cadle did the 17-mile trip about 15 years ago with his father-in-law.
"We kept wondering when the end was going to come. We couldn't remember how long it was. It is about 10 miles from Gnadenhutten to Newcomerstown on Route 36, but you add that river in there and it's 17 miles," Cadle said.
The addition of the Simonds-Heller Park opened the opportunity to host activities at the site like the river poker run.
"We saw other people doing it and thought we could do that too. And it would help raise the money for the nature park," Cadle said. "We have a beautiful river walk, a half-mile loop now that we're adding more trails. We got a grant for the boat ramp land last year and got that into position. We're excited about how much use it gets for different reasons. It's a nice, quiet place to just go for a walk. We have people that walk there religiously. We have people walking their dog there. Also, we cleared out a quarter-mile part of the trail just along the river. It's a beautiful river walk."
Cadle hopes the event will give the village some extra money to enhance the river park, and he thanked village employees Lisa Stiteler and Shannon Kincaid for their work to put the river poker run together.
Volunteers are always needed for events, and donations are welcome. Contact the mayor's office for more information.
The poker run was planned for Aug. 20 so race participants also can attend the Gateway to Fall Festival, where food trucks, music, a beer garden and other vendors will be set up at Cy Young Park.
The festival is sponsored by the Thomas R. Little Community Fund. Cadle credits the foundation for doing many good things for the residents of Newcomerstown.
Cadle is pleased to see the Gateway to Fall Festival back to its original two-day run this year. For more information visit the Newcomerstown Mayor's Office or the Gateway to Fall Festival page on Facebook.
Greg Lashutka, a former football player for OSU under coach Woody Hayes, will speak at Newcomerstown High School on Saturday, Aug. 20 at 1 p.m. In addition to his success on the football field, Lashutka played for the Buffalo Bills, became a lawyer and served as mayor of Columbus for eight years.
"He's had an outstanding number of careers and things that he's participated in, and we're excited to have him as a speaker," Cadle said.
Cadle also invites everyone to the next Second Saturday event on Main Street in Newcomerstown on Aug. 13. There will be food, vendors, music and a beer garden. The Second Saturday events are organized by the Newcomerstown Now group to raise money and activities for Main Street. There also will be a Second Saturday event in September.
Cadle said he is excited to see so many successful activities in the village. "We've got a lot of things going on, and we're getting better all the time," he said.