Food bank's Harvest for Hunger campaign kicks off with virtual event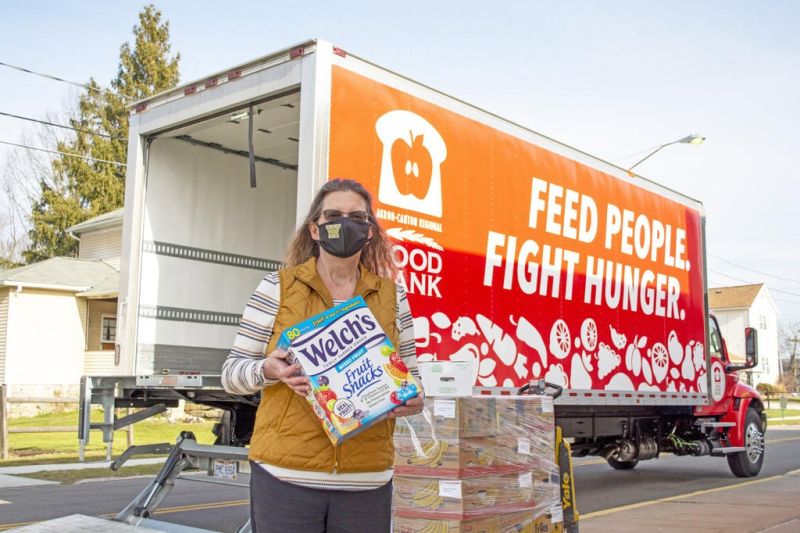 The Akron-Canton Regional Foodbank kicked off its 30th annual Harvest for Hunger campaign with a virtual event on Feb. 16. Community leaders and representatives from a variety of organizations logged on to learn more about this year's campaign and how to get involved.
Harvest for Hunger fundraising efforts have been critical to the food bank's ability to provide nourishing meals to community members struggling with hunger. The ongoing support of the community is vital as the food bank continues to provide help to the 1-in-6 people facing food insecurity, an estimated 31% increase caused by COVID-19.
To jump-start fundraising for the campaign, a matching gift challenge was announced at the kickoff where all online donations made Feb. 16-19 would be matched dollar for dollar up to $25,500. If the match challenge is met, it will help provide the equivalent of 204,000 meals for the local community.
Another announcement was made at this year's kickoff. After providing an overview of the food bank's pandemic response efforts including delivering food directly to families in need through a delivery program pilot and increasing the frequency of its drive-thru grocery distributions, President and CEO Dan Flowers unveiled a plan to make a significant impact on local hunger relief.
"It is the duty and the mission of the food bank to continue our emergency-response efforts as the recovery of local families will take years," Flowers said. "The community was tremendously generous in its support of our network's hunger-relief efforts. Because of this, we have a unique opportunity to meet the urgent needs of this moment, continue our emergency COVID-19 response and recovery efforts, and confront the challenges ahead."
Flowers said much of the funding received in 2020 was in response to COVID-19. The organization wanted to remain true to donor intentions by investing in recovery efforts. To maximize impact, the food bank surveyed its hunger-relief partners and other local leaders to determine how to best serve the community.
Flowers outlined key initiatives to support both the short- and long-term food security needs of the region. Some plans include allocating funding to continue its increased grocery distributions and food deliveries for families.
New initiatives include a mobile pop-up pantry, providing food access to neighborhoods with limited food resources, and a partnership with local health systems, recognizing access to healthy food is a social determinant of health outcomes. The food bank also will replicate services provided by the Ohio National Guard by delivering food directly to hunger-relief partners, saving the charitable agencies both time and resources.
The biggest investment the food bank will make, however, is to waive all shared fees for its network of hunger-relief partners in 2021. The food bank and its partners have always shared the cost of procuring, storing and distributing food to the community with the food bank incurring the majority of the expenses. But because of the community's generosity in 2020 and the support of the Harvest for Hunger campaign, the food bank is able to waive these fees, allowing food programs to invest in their capacity and other resources to better serve the community.
The food bank's investments will provide more than $4.3 million in additional food and capacity directly to its hunger-relief partners. In total, the food bank will distribute more than $40 million worth of food and essential items at no cost to charities this year.
"2020 showed us just how fragile food security can be. We wanted to ensure that hunger did not become another symptom of the pandemic," Flowers said.
Continued community support through the Harvest for Hunger campaign will ensure the food bank and its network of hunger-relief partners can feed local families. The campaign is the food bank's largest fundraising initiative and helps support food distribution all year long.
The 30th annual Harvest for Hunger campaign is led by returning honorary campaign co-chair Elizabeth Bartz, president and CEO of State and Federal Communications Inc., and new co-chair Sam Falletta, CEO of Incept. They encouraged the kickoff's virtual guests to support the campaign by coordinating food and funds drives, participating in Check Out Hunger, the donation collection that takes place in many local supermarkets, through employee giving campaigns and more.
Harvest for Hunger is a collaborative partnership between the Akron-Canton Regional Foodbank, Greater Cleveland Food Bank, Second Harvest Food Bank of Mahoning Valley and the Second Harvest Food Bank of North Central Ohio. It focuses on fighting hunger across 21 counties in Northeast Ohio.
This year's kickoff event was presented by The J.M. Smucker Co. and State and Federal Communications Inc.
If interested in participating in the 30th annual Harvest for Hunger campaign, visit www.akroncantonfoodbank.org/hfh.
Donations can be made online by visiting www.akroncantonfoodbank.org.