Food Truck Friday returns to Panhandle Passage Trail Head Park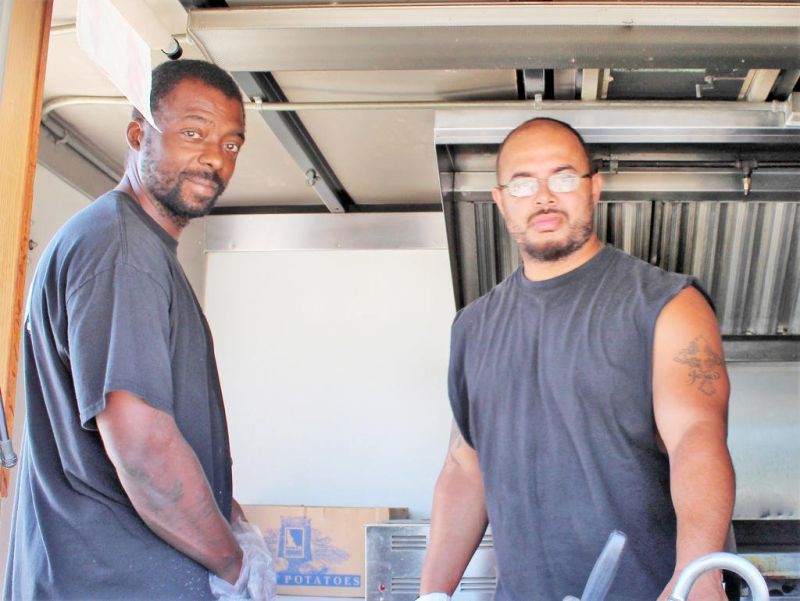 It's been four years since Phillip Garnes of Canton purchased his Euro Gyro Express food truck, and this year has been like no other.
"We used to have a lot more events," Garnes said.
Garnes' food truck was set up recently at the Panhandle Passage Trail Head Park in Uhrichsville for the Twin City Chamber of Commerce's Food Truck Friday event. Garnes said his Euro Gyro Express trailer participated in the event last year, and they were pleased to be asked to participate again this year.
Although this year has been a struggle, Garnes is looking on the bright side.
"We're making it through; we're doing OK. We're taking advantage of (the downtime) to spend extra time with the kids at home," Garnes said.
Garnes' truck has been to many area festivals in the past including First Town Days and Tusky Days.
Garnes said he heard other food trucks have had to resort to setting up in neighborhoods. "It's been a crazy time," he said, adding festivals and fairs usually bring in more people.
There are pros and cons in the food truck business. "I work for myself and set my own schedule around my family's schedule and do what I want," Garnes said.
Garnes' biggest con in the food truck business is finding good employees to work. "You could do a lot more, but finding someone to be there and show up is a problem," he said.
Help was not a problem for Garnes at the recent Food Truck Friday. He worked with his favorite employee, Chris Barrett from Canton.
As with the name Euro Gyro Express, gyros are their best-selling product, and locally, there are fewer gyro food trucks to compete with at events. They also serve chicken philly sandwiches, fresh cut fries and drinks. Sixty percent of their events are south of Canton. Visit their Facebook page at Euro Gyro Express to see their schedule of events.
This is the second year for Food Truck Friday, sponsored by the Twin City Chamber of Commerce. It's been appreciated by many in the area.
"I can't go to the same place every day and eat," said Basil Hillyer of Dennison, who attends the Food Truck Friday event every chance he gets. "It's a good idea, and it's needed, especially right now (with the pandemic.) Who would have thought this six months ago?"
Teri Edwards, executive director of the Twin City Chamber of Commerce, said she's heard many favorable comments from Food Truck Friday fans.
"The feedback we're getting from the local community and businesses is really good," Edwards said. "I know of a lot of those businesses that every week they will call ahead to the food truck to preorder. They'll pick up a big order and take it back to work because not everybody can leave for lunch."
Edwards said the idea for Food Truck Friday came from a TCCC committee meeting. "Other areas were bringing food trucks in. We thought it would be a nice way to have something additional for people to do. Our main reason was we wanted people to utilize the Panhandle Trail Head more," she said.
The park is located at the intersection of Grant, Center and East Third Street at the Panhandle Passage Trail Head Park on the banks of the Little Stillwater Creek.
The former City Auto property now features benches, picnic tables, a grill and ample parking. A gazebo was donated by Becky Welch in memory of her husband, attorney Ken Welch. The Clayland Lions Club put up an informational kiosk, and the Claymont Library put in a free library box.
"Free WiFi was installed about two weeks ago, and we are thankful for the partnership with Smart Way Communications," Edwards said.
Vendors are encouraged to set up at the park. "There's no form; there's no fees. You can set anytime during daylight hours," Edwards said. "We encourage people who have homemade crafts or vendors with produce to set up. A couple years ago, we tried to do a set day and a set time, and it just didn't work out. So we just left it up to the people. Some people want to come set up on the weekends, or they might not have enough stuff every week."
The only exception is Food Truck Friday. Vendors need to call the Twin City Chamber of Commerce office and preregister. "We do have to try and limit the number of people there on Friday so there is parking. If they want to come and set up, we encourage them to set up in the grass if at all possible," Edwards said.
Food Truck Friday started July 10 and will continue through October.
"We have a different food truck every Friday. We are trying to play it by ear. Though if November comes along and the forecast looks good, we may extend it. We do have some food trucks that are equipped to go year round," Edwards said.
Edwards is pleased they were able to continue Food Truck Friday this year. "A lot of the food trucks are really hurting because everything is canceled, and this is another avenue for them," she said.
All the food trucks participating in Food Truck Friday are required to be members of the Twin City Chamber of Commerce.
Edwards invites everyone to check out Food Truck Friday, and when cooler weather begins, the park is decorated with a lighted display featuring gingerbread figures. "It's a really cute display," she said.
Food Truck Friday is a time to utilize the Panhandle Passage Trail Head Park, but Edwards encourages everyone to use it at other times of the week. "If they want to have a picnic, there's a little grill. You can take your family over there, have a picnic and then walk along the Panhandle Passage Trail," she said.
The schedule of food trucks for the rest of the season is as follows: Aug. 21, Backwoods Smokehouse; Aug. 28, Daleen's Dogs; Sept. 4, Euro Gyro; Sept. 11, Bunker Hill BBQ; Sept. 18, Daleen's Dogs; Sept. 25, Euro Gyro; Oct. 2, Bunker Hill BBQ; Oct. 9, Daleen's Dogs; Oct. 16, Bunker Hill BBQ; Oct. 23, Backwoods Smokehouse; and Oct. 30, Daleen's Dogs.