Football players bag groceries for Harvest for Hunger campaign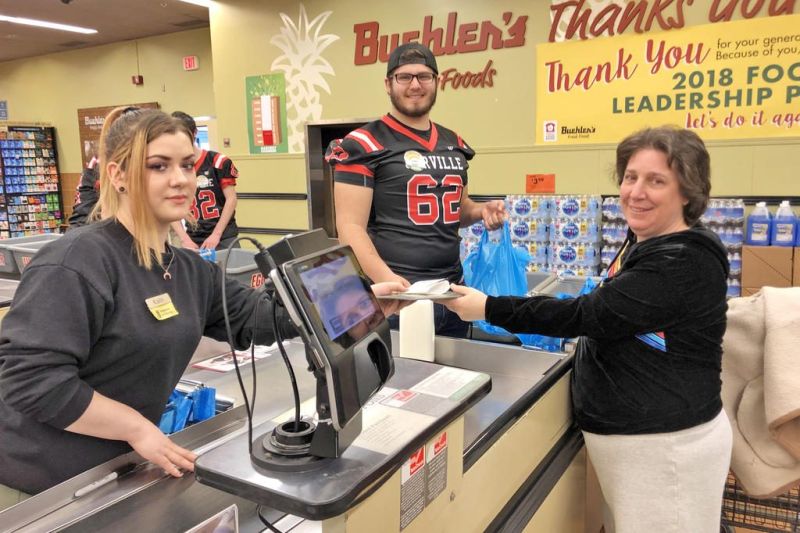 Orrville Buehler's shoppers had their groceries bagged by local celebrities — in this case the state champion Orrville Red Riders football team — on Supermarket Saturday, a celebrity bagger event supporting the Akron-Canton Regional Foodbank's Harvest for Hunger campaign.
Customers could have their groceries bagged on April 6 by the local celebrities when they made a $10, $5 or $1 donation to the Harvest for Hunger campaign. The Week of Giving is a joint effort among all four food banks participating in the Harvest for Hunger campaign and an opportunity for community members to get involved in local hunger-relief efforts.
Buehler's in Jackson Township and Giant Eagle of Cuyahoga Falls and North Canton also participated in the event.
Joyce Keener, service and facility manager at Buehler's in Orrville, said when their corporate office asked them to get involved in the project, the football players were the first thing that came to mind.
"They're great kids, and they've been involved in other causes in the community, so we had a pretty good idea they'd probably like to do it," she said.
Keener said while the store has done Harvest for Hunger for a few years now, this was the first time with the celebrity baggers.
"We didn't even have to train them or anything," she said, adding they did have staff standing by to "make sure they didn't pack the eggs on the bottom."
Logan Hogie, a football player who bagged groceries for Candy Stoner of Orrville, said he was enjoying the event. "I used to work here, so this is actually pretty cool," he said.
Hogie said it felt good to be able to help the cause. "We try to help out in the community whenever we can," he said.
Red Rider football coach Doug Davault said there were a dozen or so players helping at Buehler's.
"We have many players also busy with baseball and track, or we'd have had more here," Davault said.
Davault said his team has helped at other events throughout the community such as at the library and the fire department on the Fourth of July. "We like to show the kids how important it is to give back to their community, and hopefully this is a lesson they take with them," he said.
According to Raven Gayheart of the Akron-Canton Regional Foodbank, it is a nonprofit organization with a vision of a thriving community free of hunger.
Gayheart said, "This year one in seven people in Northeast Ohio will face hunger, and the food bank will be there to help."
The food bank is the source of emergency food for nearly 500 food pantries, hot-meal sites, shelters and other hunger-relief programs that directly serve individuals and families in Carroll, Holmes, Medina, Portage, Stark, Summit, Tuscarawas and Wayne counties.
The food bank, with its supporters and partners, is leading the fight to end hunger in the communities they serve. In 2018 it helped provide access to food for 24.5 million meals to its network of hunger-relief partners.
To join the hunger-relief efforts, visit www.akroncantonfoodbank.org/wog.