Friends of Wooster Memorial Park host foliage hike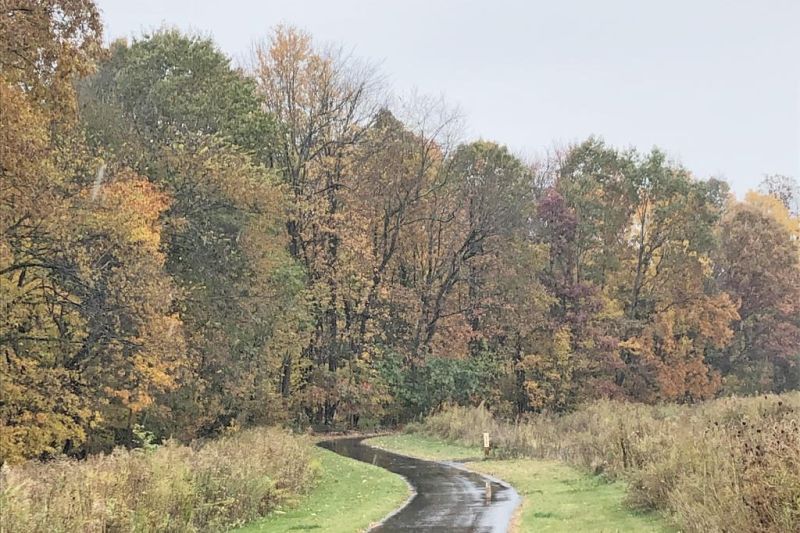 A small group of nature lovers gathered in the rain at Wooster Memorial Park for a fall foliage hike on Saturday, Oct. 26.
Nick Wiesenberg of the College of Wooster geology department led the Friends of Wooster Memorial Park hike along the park's Kenwood Trail, a paved path that skirts along the outer edges of the woods.
"Nick's our resident tree expert; it's quite impressive how much he knows," said John Abt, chairman of the group's education and public-awareness committee.
Before heading out, Wiesenberg gave a quick overview of what happens to trees in the fall, saying the changes in the leaves' colors happen when the chlorophyll, a pigment that is essential in photosynthesis, breaks down because of the changes in the length of daylight and cooler temperatures.
Wiesenberg said the colors help identify trees in the fall with an example being reds are generally maples.
Wiesenberg is an expert in tree rings, also known as "growth rings."
"In addition to dating the exact year they were formed, tree rings serve another valuable purpose," he said. "Tree rings are the keepers of climate and atmospheric conditions in different periods of history."
As the group set out on the hike, its first stop was at a sassafras tree. Hikers passed along a twig, bending it to smell the fragrance. "It smells lemony," one hiker said.
When they came to a white oak, Wiesenberg explained a detail about the tree's leaves. "The way to really tell is that the red oak's leaves have a little, wispy bristle on the leaf tips," he said.
The group next came upon a beech tree that was not very colorful, bearing just yellow and brown leaves.
Hiker David Wiesenberg impressed the group when he offered that this was a trait called "marcescence."
"Marcescence is when trees keep the dead plant organs that are normally shed," Wiesenberg said. "In some trees when autumn begins, the veins carrying the sap slowly close until the vein is totally closed off and allows the tree to shed the leaves. But in some trees that doesn't happen. Some of this is from trees that evolved in other climates, some oaks and maples in more equatorial areas."
Marlene Boyer, a new member of FWMP, said she enjoyed the hike. "I came to one of the forest-bathing walks a while ago and really liked it," she said. "There's just something about being out in the woods that is so peaceful."
Further along the trail, Wiesenberg explained certain trees develop different pigments.
"People select and propagate these as brands, like Silver Star Maples or so forth. They even copyright them for sale," he said.
Wiesenberg said an example is sugar maples have much more brilliant colors in yard plantings than out in nature.
Not all hikes at WMP need be so specialized, however.
Casual hikers enjoy WMP throughout the year along its more than 320 acres and 6 miles of trails. Found on Silver Road just off of Route 250 and west of downtown Wooster, WMP offers vistas and a place to get back to nature.
Memberships for FWMP are $10 and allow a member to get information about all WMP activities, vote in the annual meeting and help support a local nature area.
Those interested can sign up on the website at www.friendsofwmp.com or mail payment to FWMP, P.O. Box 1776, Wooster, OH 44691.