Dodd's healthy turnaround an inspiring story for all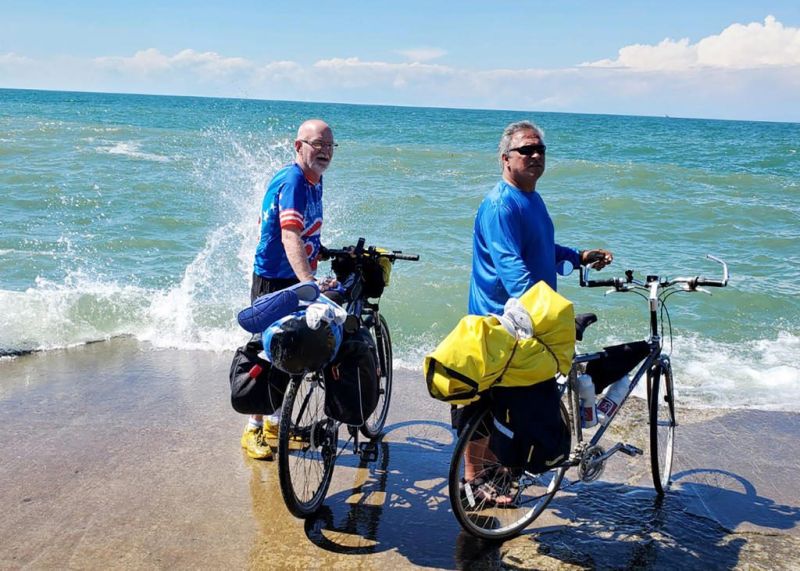 Two years ago, when directing the Ohio High School state band at the Ohio State Fair in Columbus, Brian Dodd, West Holmes High School band director, had a life-changing moment.
Dodd, who has directed the band for years, asked his wife Lori to bring him a pair of jeans to wear because all he had was his suit.
She did, and when he went to put on his jeans, the same jeans he had worn many times before, they wouldn't fit.
Talk about a defining moment in a person's life.
When Lori told her husband she was going to buy him some new jeans, Dodd never wavered in his response.
"I said, 'No, you're not.' I wasn't going to go down that road," Dodd said.
Inspired by his good friend and WHMS band director Mike Pacula, who lost a lot of weight when he came to the same realization, Dodd vowed right then and there he was going to get in shape.
"Mike is my inspiration," Dodd said. "He runs and competes in 5ks and has lost a lot of weight, so I told myself right then and there I was doing this."
Dodd started walking at the fair that day and hasn't looked back. Sixty pounds later, he feels great, better mentally and physically, and it has changed his life to the point where he has been tackling some impressive physical goals.
This summer Dodd and Kevin Oldaker, a biology teacher from East Knox High School, hit the biking trail and biked from the banks of the Ohio River in Cincinnati to the shores of Lake Erie near Cleveland, a 336-mile trek they completed in 5 1/2 days. The two friends hit it hard for the first four days, biking an average of 66 miles each day, then cruising the final two legs by churning out treks of 38 and 37 miles, respectively.
"Changing my lifestyle wasn't easy the first couple of weeks, but once I got into a routine, my diet got better, my exercise schedule improved and now it is a lifestyle change," Dodd said.
For a man who used to bike and was an avid runner, it was a matter of reintroducing things he had since forgotten or let lapse. "At some point I let that all go. And I gained a lot of weight. Now if I don't exercise, I feel out of sorts, so I was excited to take on this summer's challenge, and I actually felt better at the end of the trip than I did at the beginning."
Dodd started to return to form by simply walking, adding length to each walk and then moving into running. When the thought crossed his mind that biking might be another good alternative exercise, he started pedaling his way back to a healthy lifestyle.
Bicycling started right before the pandemic, and Dodd said that activity alone helped carry him through the rugged many months of the world becoming less active.
The two actually set aside seven days to make the trip but pared that down to 5 1/2, and along the way they not only experienced the joy of the physical exercise, but also enjoyed the scenic views that accompany the trail.
This trek isn't new to the two men. They also have kayaked Muskingum River and are already talking about new projects they can work on, and for Oldaker, being out in nature as they travel gives him time to video their trips and create some biology videos for his students.
For Dodd, the experience that changed his life isn't something he brags about, but he does hope to inspire others to follow suit, regardless of what level people choose to invest in exercise and a healthy lifestyle — as long as they are improving the quality of their life in the process.
"Like so many people, before I started, it was easy to make excuses to myself," Dodd said. "People are busy, and other things take priority, and it's easy to eat fast food, but you have to buckle down and do what is best for your health. It's about making healthier choices that you can live with, and now I no longer live to eat, and I feel great."
Dodd said he hasn't stopped eating the foods he enjoys; he is simply more sensible about portions. He said when he did that and added exercise to his routine, the pounds started melting off.
Dodd said regardless of what people choose to do in terms of how they exercise, the important thing is taking that first step and finding an exercise they are comfortable with and moving forward from there.
"I don't want to sound like a healthy fitness nut. It's just about understanding how your body needs to be healthy, and we all need to take steps in moving in that direction," Dodd said. "I feel more energized. Get off of social media. Get off the couch and find something you like, whether it is walking, biking, gardening, archery or whatever makes a healthier lifestyle enjoyable for each individual. Just don't be afraid to take that first step. Mike Pacula has been my inspiration, and we all need someone like that in our lives to help inspire us."