Galloway takes top spot at the Fireworks Festival Talent Show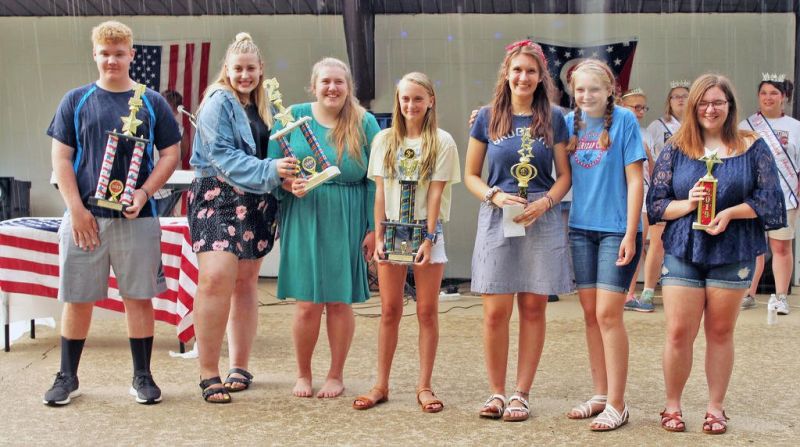 There was no dodging the raindrops as a downpour forced the contestants and crowd to take cover at the Gnadenhutten Fireworks Festival before the annual talent show was held at Heck's Grove Park.
Once the skies cleared, Bradyn Galloway, age 14 of Dennison, took the top honors for singing "Don't Stop Believin'" by Journey as he accompanied himself on the guitar. Galloway took home a trophy and $100 for his efforts.
Organizer Hope Johnson was pleased with the variety of talent on display at the show. Acts included vocalists, a comedian, a rapper and vocalists accompanying themselves on a variety of instruments.
Recognizing the growing talent of a generation of younger contestants entering the show, Johnson said, "We really had a good group of talented kids. A 14-year-old won."
Two 19-year-old cousins took the second-place spot and $75 with their rendition of "Ho Hey" by the Lumineers. Hana Stevenson of Gnadenhutten provided vocals and accompaniment on keyboard while Sophia Stevenson of Akron added vocals.
Placing third and winning $50 was Karlayna McDaniel, age 12 of Gnadenhutten, who sang "American Honey" by Lady Antebellum.
Laney Barger, age 16, and Peyton Barger, age 13 of Gnadenhutten, placed fourth and won $25. The duo sang a medley of songs by Rodney Atkins while accompanying themselves on the guitar and mandolin.
Placing fifth was Sami Krocker, age 17 of Goshen. She sang "Second Chance" by Shinedown. Bethany Hans, age 11 of Gnadenhutten, placed sixth after she showed her skills in rapping to "Stranger Things" season one recap.
Other contestants included Ethan Collins, age 10 of Newcomerstown. Though autistic and legally blind, Collins plays the piano and sings the national anthem at Special Olympics games. For the Gnadenhutten show, he sang "Meant to Be," a song by Bebe Rexha.
Showing creativity, Isaac Hans, age 13 of Gnadenhutten, entertained the crowd with a comedy routine under his stage name, White Curry.
Rounding out the event were performances by Marc Davis of New Philadelphia, who sang "Shallow," and Jessica Palmer of New Concord, who sang "Fair Robin I Love" from the opera, "Tartuffe."
The judges for the event were Diane Robinson of Port Washington and Audrey Hann and Haley Carpenter, both of Gnadenhutten. Sound equipment was provided by disc jockey Hans of Gnadenhutten.
Prior to the talent show, the winners of the baby contest and Jr. Parade Marshals were announced. Blake Porter, 5-½-month-old daughter of Trey and Rikki Porter of Gnadenhutten, was first in the baby contest, and 2-month-old Lincoln Schwartz, son of Steven and Lara Schwartz of New Philadelphia, was second.
The Junior Parade Marshals, who each won a bicycle donated by Koch Funeral Home, were Redman Kendell of Port Washington, son of Dan and Chelsea Kendell, and Presley Doane of Gnadenhutten, the daughter of Josh and Jess Doane.
Despite the intermittent showers on Friday night, Johnson was pleased that all the festival events were moving along close to the schedule. A group of volunteers were on hand to dry the basketball court using a leaf blower and remove the puddles on the baseball diamond's infield so the three-on-three basketball tournament and the Little League Game Under the Lights could proceed.
"Things are going great. We had a good turnout after the downpour," Johnson said of the crowd. "They didn't have to stick around; the support of people is greatly appreciated."