Class of 2020: Garaway grads go to the movies to celebrate together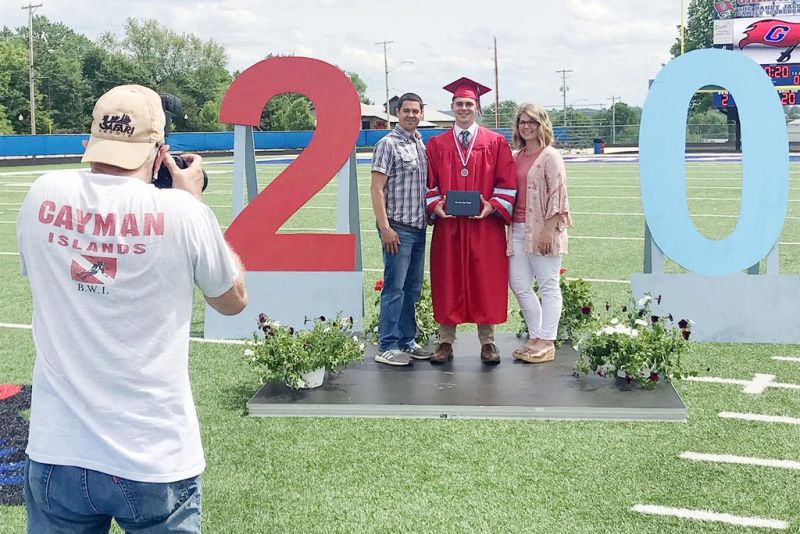 Never let it be said the coronavirus scare of 2020 stopped Garaway High School from celebrating its graduating class in a unique and somewhat exciting fashion.
Stripped of a routinely traditional graduation ceremony, the Garaway district administration and its class advisors set about designing a graduation ceremony that would be memorable.
After discussing several options, the school eventually settled on an individual family graduation ceremony at midfield on the football field on Wednesday, May 27. Each graduate marched to center field with their parents and had their photo taken in front of a large two and zero, the scoreboard in the background displaying 20s across the board.
While some schools may have stopped there, Garaway was not about to let the Class of 2020 go out without fanfare and regale.
The entire class and families were invited to participate in a giant parade through downtown Sugarcreek before eventually heading to the Lynn Drive-In Theatre in Strasburg, where a video was put together featuring messages from each of the students.
Each graduate was asked to submit a 15-second video of themselves sharing whatever they wanted to share with their classmates. The video was created by Storied Rivals, who also made DVD copies each student could take as a keepsake.
"The video project was really exciting to me," said Garaway principal Ryan Taggart, who had to drive to Zanesville the day of the showing to make sure all of the names matched with the graduate on screen. "It's a unique class that has contributed so much to the school. They have enhanced a lot of the programs we have created, like our student mentoring, our peer mentoring and a lot of other neat promotions like Pencils of Promise that this class took the reins on. They have achieved a lot, and we wanted to make graduation as special for them as possible, knowing it was going to be the norm. I think they will appreciate it, and I got emotionally choked up watching it."
Mary O'Farrell, one of the senior class advisors along with Jess Schwartz, said seeing this class come through and watching them receive their diplomas in such a strange way was both happy and sad.
"This has not been easy," O'Farrell said. "It's so much more than just a traditional ceremony. We understand there are frustrations, which is why we worked so hard to create something unique and special for them to remember."
O'Farrell has been in the district for two decades, so she has watched these graduates grow from young children to adults before her eyes.
Being able to celebrate with them on this day was something she said is very special for her. She said the final week of school is usually packed full of activities for seniors, and this group didn't get to experience those joys. Knowing that, she was disappointed for them, which is why the entire district wanted to make something special for them.
"This group of kids will go on to do some great things," O'Farrell said. "They will rise above and move forward. In the end, missing their final few weeks of school together is only going to be a blip in their lives."
Longtime retired GHS teacher and photographer Tim Sewell was one of the fortunate few to be there as the graduates came in for their diplomas. He said having seen so many of them throughout the years was fun.
"I've known so many of these kids and watched them come through, and I've even taught some of their parents a hundred years ago," Sewell said. "It's neat seeing them now as adults, ready to move on in the next phase of life. You learn to deal with adversity like this and grow from it, and I am sure these kids will do just that. This is different, but it is still meaningful."
Taggart said watching the school staff and administration unite to pull off the graduation ceremony was exciting, knowing how much extra work there was to pull it off.
"It's an emotional time for everybody, and we put a lot of extra time into making sure we give our seniors an appropriate thank-you and celebrate their accomplishments," Taggart said. "Unfortunately things like this don't always win the eye test for everyone, but we are so grateful for our staff and our community and the support we have received. Josh Jarvis, Mary O'Farrell and Jess Schwartz have done things in a very short time frame and made adjustments on adjustments to make this all happen. We all love serving these students in the best ways that we can, and we have learned to do it in most unprecedented times."
The community also got involved, with each graduate having two community families sponsoring them, showing further support for each one.
Taggart said the graduation video allowed each student to put their own official stamp on graduation, a stamp that will be remembered forever on DVD.
"There are some things these graduates have gone through for graduation that are far from traditional, but that doesn't make them any less important," Taggart said.
For a class that had its final moments of school taken away, it was refreshing and emotional to honor them in ways they will remember forever.