Garaway, Hiland unite for fundraiser that really PoPs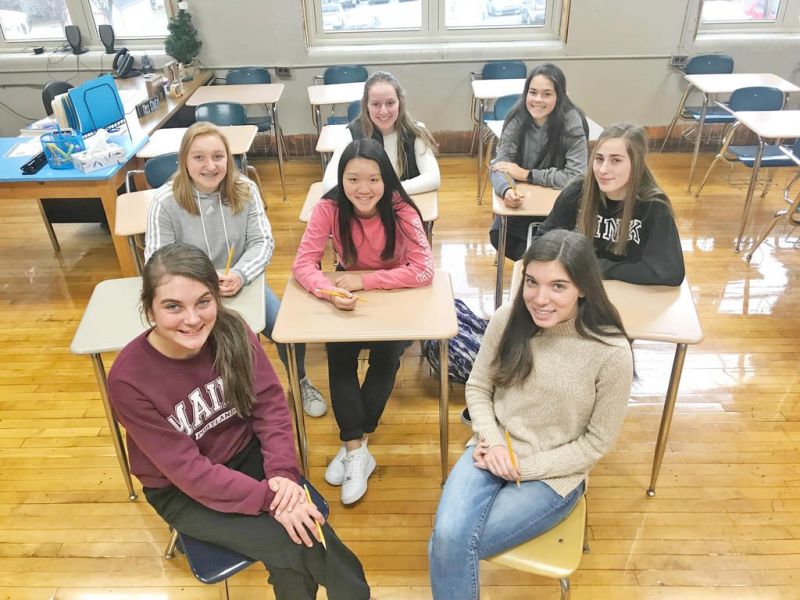 Usually when it comes to competing, friendly rivals Garaway and Hiland high schools are vying against one another for area bragging rights. However, an ongoing friendly competition for a good cause is at the heart of the two schools' push to provide for underprivileged children in other nations.
GHS and HHS student councils have spearheaded the fundraising contest for Pencils of Promise, an international organization that helps build schools for children who would otherwise have no means of learning.
According to the PoP website, there are currently more than 250 million children in deprived regions in the world who lack basic reading, writing and math skills.
The pitfalls of that lack of education can lead to a lack of health and sanitation, gender inequality, a lack of qualified teachers, economic instability, and poor infrastructure.
Pencils of Promise is working to build schools and train and support teachers who in turn can connect with the children in these deprived regions and provide a quality education that can embolden children to think outside the box and strive to break the chain of poverty in which they are living. An average school costs $50,000 to build, a small price to pay for creating a brighter future for these young people.
For GHS principal Ryan Taggart, taking part in building schools in regions around the world is exciting. He was energized by the idea, and after sharing it with students, they too caught the vision and wanted to do something for the nonprofit organization.
They set a goal of raising $10,000 for PoP, something they have been working on since the beginning of school.
"Our kids have shown a real compassion for these kids," Taggart said. "I had kids come to me and ask to help out."
A trade then became part of the discussion. Garaway doesn't have a winter formal, but the students requested one.
"I said I was OK with the formal as long as they invested in this project," Taggart said.
Thus the student council took on a major role in promoting the push for PoP. In addition to the competition with Hiland, GHS also is planning other fundraising events. Taggart said the hope is to raise $1,500 through the contest, but they also are planning a couple of other projects throughout the school year.
Not only was the opportunity to help children around the world enticing to Taggart, so too was the chance to work with neighboring school Hiland, a school that he said shares so much in common with his own school.
"Getting to work with Hiland and their student council was exciting for me on a couple of levels," Taggart said. "I love the idea of bridging two communities together for the greater cause, especially since it is being driven by our young people. Even though the two schools are rivals, I know there are a lot of friendships between the two schools, so being able to put aside any rivalries and differences to unite and do something for others is incredible. I think that the two school districts are so similar in their values and in so many ways, so I felt that this would be a golden opportunity to bridge the two schools together for a common cause."
Taggart connected with Hiland guidance counselor Noah Boyd, who was quickly on board with the program. He credited Taggart for his compassion to help underprivileged kids all around the world, and soon the Hiland student council was on board as well.
The two then came up with the idea of creating a friendly competition to see which community could raise the most money, and there is a fun pot of gold for whatever school raises the most money.
"Whichever student body loses the competition, they have to wear T-shirts from the other school for the basketball game the night it is announced," Boyd said. "It's a friendly wager that the kids thought would be fun."
The winner will be announced at the game on Jan. 31.
Boyd said Hiland has already had some fundraisers including a candy cane sale at Christmas. A bake sale promoted by the student council also is on tap.
As for joining forces with Garaway, Boyd said, "I think it's neat that these two schools are coming together for something this important. It will only make the bond between the two schools even greater."
Anyone wishing to drop of donations at Hiland may do so at any game at the Reese Center, where there will be jars set out. They also can do the same at the front office at the high school.
Garaway student council member Mallory Millet said it has been fun getting students involved and excited about this fundraiser.
"It's such a neat cause to be able to help kids all around the world," Millet said. "And to get to do it with Hiland is exciting. We are rival schools, but we can also come together to make something really neat happen for others. While we battle against each other on the floor, there is a great deal of respect between the two schools, and that makes it fun to compete."
Anyone wishing to send a check may do so by sending it to Hiland High School, c/o Noah Boyd Pencils, P.O. Box 275, Berlin, OH 44610.
Anyone desiring to do the same at Garaway may do so at any home basketball or wrestling event, at the front office in the high school or by sending checks to Taggart at Garaway High School, Pencils of Promise, 146 Dover Road, Sugarcreek, OH 44681.
A few dollars can mean so much when it means putting a pencil and some paper into the hands of a child who is eager to learn but doesn't have the means.
This fundraiser is a fun way to make that happen while at the same time building community relationships for neighboring school districts.