Garaway teens step up, deliver during blood drive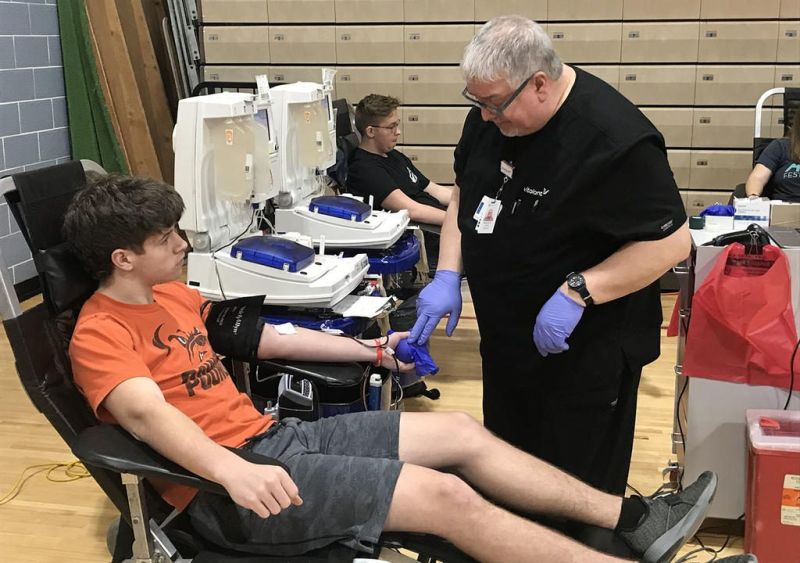 Sometimes taking the first step in donating blood is the scariest. With a lot of unknowns lurking about, it can be intimidating, but learning to give as a teenager is a great place to start.
That opportunity came about at Garaway High School on Wednesday, Feb. 5 when students were encouraged to donate for the cause during the school's blood drive.
While some teachers and adults did come in to give, the day was filled with mostly students who decided giving their time and their blood to others was well worth the effort.
Meghan Kieffer, a senior at Garaway, has given blood three times and said she has plenty of reasons to give.
"My mom is a paramedic, so that kind of pushed me into giving initially," Kieffer said. "It's not painful, and the process is really simple. They tested my iron and hemoglobin. Then I gave blood. Having grown up in a family of first responders, I realize the importance of giving, and I want to help other people in times of need."
Lonnie Weaver, a sophomore at GHS, was a first-time donor. He said the nerves coming into the day were a little on edge because he didn't know exactly what to expect, but once he was in the chair and ready to give, he was perfectly fine.
"My dad told me it wasn't that bad to go through it, and I really wanted to be able to give to others," Weaver said. "I know that eventually someone is going to need my blood, and it is exciting knowing that I will be able to help others, even though I won't know who."
Amber Kimmel, donor care specialist and phlebotomist with Vitalant, formerly known as LifeShare, said they visit many schools to present blood drives. She said because there is always a shortage of blood, these type of drives at high schools are critical to providing blood for hospitals in Northeast Ohio.
Kimmel said one of the reasons they have seen a drop in donations and a shortage of blood reaching the critical level is people including young adults are simply not aware of the importance and the ease with which technology has made giving blood.
"It is so crucial to share the need with people because it is easy to come up with excuses not to give blood," Kimmel said. "One of the biggest things we do is talk people through the entire process of donating blood and get them out of their own heads. People seem to get worked up over giving blood, and then they get anxious, but there is not a reason to get nervous because technology has made the process fairly painless."
Kimmel said in today's world of technology, blood donors are often texted to let them know when their blood was used to help save a life, something she said has kept young adults coming back to give, knowing their donation has helped someone in dire need.
"It is extremely satisfying once you give and you know you've helped one or several people," Kimmel said.
John Ytuarte, supervisor, said Vitalant is out in the community doing many drives at schools, businesses, churches and other organizations that wish to host a drive. He said for any entity wishing to get involved and provide an outlet for a blood drive, they may do so simply by logging on to www.Vitalant.org to set up a drive.
"We do businesses that have 10 employees to large companies," Ytuarte said. "We are at churches on Saturdays. We have done Amish schools, pretty much anywhere we have the room."
Ytuarte said currently they are in the midst of the annual "Battle of the Bikers" drive, where they set up at different Harley-Davidson shops around Ohio and challenge each to give. He also said getting schools to challenge one another, like they do with Massillon and Canton McKinley and Dover and New Philadelphia, is another fun way to generate interest in donating.
Ytuarte said while most students opt to give blood by donating a pint, another option is to give a double red cell donation, a process of giving blood on a special machine that breaks the blood down and keeps just the red blood cells. He said that allows two units of blood to go directly to a patient the very next day.
A double red cell donation is automated. And unlike traditional whole blood donations, a double red cell donation allows the donor to safely give two units of red cells, instead of just one. The red cells are collected, enough for two units, and the rest of the blood components are safely returned to the donor.
"We will often try to encourage bigger guys to give double red because they tend to have higher iron count in their blood," Ytuarte said.
Kody Hochstetler, a sophomore at Garaway, was giving the double-red donation. He said he simply wanted to help out where he could in perhaps one day saving someone's life.
"I really didn't have anyone tell me to come or any particular reason," Hochstetler said. "It seemed like the right thing to do. I definitely think it is something that I will do again because I know there is a great need."