Gerber prepares to become new director at Chamber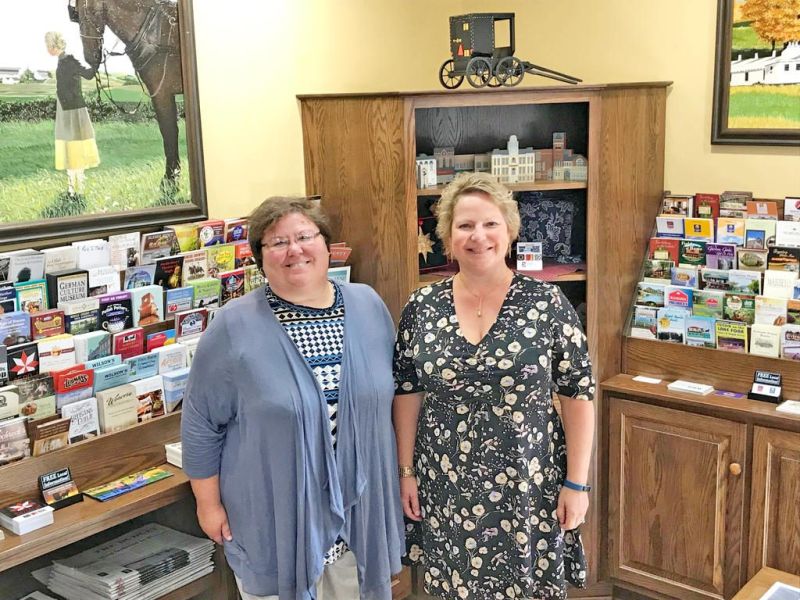 The Holmes County Chamber of Commerce Board of Directors recently announced Tiffany Gerber as its organization's next director, starting Jan. 1, 2020. At that time, current executive director Shasta Mast will step into a part-time support role at the Chamber.
"Shasta has ably led the Holmes County Chamber of Commerce and Tourism Bureau for nearly 17 years, growing the organization into the strong, relevant, dynamic organization it is today. It's a testament to her leadership that we are able to make a smooth transition that ensures the Chamber's continued success," said Kent Miller, Chamber board president. "Tiffany brings more than 25 years of tourism industry experience into the role and we look forward to working with her."
For Gerber, it has been a quarter-century of dedication to the tourism industry that has brought her to the doorstep of her dream.
"I never knew my path would lead me to Holmes County, but being a director has been a dream of mine for the past 25 years since I first got into the tourism world," Gerber said.
Gerber began her career in tourism at the age of 19, and it didn't take her long to realize that a life in that field was exactly where she wanted to be.
"I have worked so closely in group tour marketing and partner development that I always knew that one day I would want to oversee all of the day-to-day programs in a chamber and tourism role."
That adventure has taken her from the Tuscarawas County Convention & Visitors Bureau and through two years at the Ohio Star Theater before she found her way to the Holmes County Chamber of Commerce and Tourism, where she has been spearheading the destination marketing division.
Meanwhile, Mast has been the face of the Holmes County Chamber for nearly two decades, having come in as a relative newcomer. She aggressively put her stamp on the county and brought the Holmes County Chamber to a whole new level after taking over for Pat Brown, who was also instrumental in the Chamber's growth when she served as it is director.
For 17 years, Mast has been involved in everything from the new Harvest Ridge Fairgrounds to the Hardwood Furniture Guild. She has battled to fend off streamline sales tax, which would have been a detriment to Holmes County, and she has been a promotional force when it comes to highlighting everything Holmes County has to offer.
Because she has such a passion for her job and for Holmes County, Mast wasn't going to turn the helm over to just anyone. However, it didn't take long for her to click with Gerber, whom she had known for years before Gerber came to Holmes County six months ago.
"This has been my life for more than 17 years and I have truly enjoyed almost every minute of it," Mast said. "But when Tiffany became available and we had a spot available right in her wheelhouse with destination marketing, it was obvious we were going to make a strong team. In my mind, I always thought I would do this for 20 years and I have been concerned about a cessation plan for the past couple of years. I wasn't sure what that was going to look like. My main concern was always that all of the things we have built in our county wouldn't miss a beat."
What would be the best-case scenario came to the forefront when Gerber came on board. Her extensive experience in Tuscarawas County and her passion and direction in developing tourism was a great fit.
"Yes, it came three years sooner than I thought it might, but the pieces were all in place,' Mast said. "Tiffany coming in and joining a staff that is as talented and knowledgeable as we have here made it a perfect time for me to pass the torch."
The final touch came when Killbuck Savings Bank approached her about becoming the first female to take on a role as a KSB board member.
"It all came together and fit so perfectly," Mast said. "Maybe it was just my own internal timeline that needed adjustment."
Even after she passes the torch, Mast will remain with the chamber in a part-time role, working mainly with the Hardwood Furniture Guild. It will also allow her to fill in the blanks as Gerber becomes accustomed to the chamber part of the job.
"She can run the tourism side of it with her arms tied behind her back, "Mast said of Gerber. "But there is a lot of things she will have to become familiar with that comes with the chamber part and I like being able to be here for her when she has questions."
Mast added that she will in no way try to step on anyone's toes as a part-timer for the chamber, noting that it will be Gerber's baby all the way.
Gerber now relishes the chance to learn from Mast over the next sixth month transition where she can develop her skill set and get to know the many people with whom she will be working.
While Mast has worked with the county business owners and entrepreneurs over the last two decades, Gerber is still becoming familiar with many of them, although it didn't take her long to recognize the entrepreneurial spirit in Holmes County.
"My observation of the work ethic in Holmes County has blown me away," Gerber said. "The heritage is so ingrained in family and connections and that is something I know I can't learn right away. It is going to take time and having Shasta here to guide me through that early on is invaluable. It will take me steps beyond what I would be able to do otherwise."
Gerber said feeling her way through the chamber mechanics and the role it lays within the greater community of Holmes County is where the biggest learning curve will take place.
She does realize the value that the chamber has in the county and that with tourism on the rise, the role is one that will continue to be a big part of the county's growth.
"I've always believed that tourism relates directly to economic wealth for a county," Gerber said. "Community pride starts with tourism and I have always known that I would be able to lead a staff and a community in that area. I truly love promoting the very best of what a community has to offer and I don't know if there is another business or organization that provides those kinds of opportunities."
Gerber seems to have already gained plenty of foothold in the Holmes County community. She easily assimilated to the role and community, as she is a terrific people person and her resume includes serving on the board for the Ohio Travel Association, chairing the Heartland Travel Showcase, perhaps Ohio Tourism Association's premier event and she helped create "Ohio Has It," which features destinations all over Ohio.
"She is well known in the region because of her work in Tuscarawas County, but she is also known statewide because of her involvement and passion, and Holmes County is going to benefit from that," Mast said.
While many people might not recognize Gerber yet, it was much the same when Mast took over 17 years ago. Approaching the job with the same vigor and zeal for tourism and promotion of Holmes County, Gerber is relishing the opportunity to grow into her new role as the new chamber director.