Girl Scouts showcase artistic side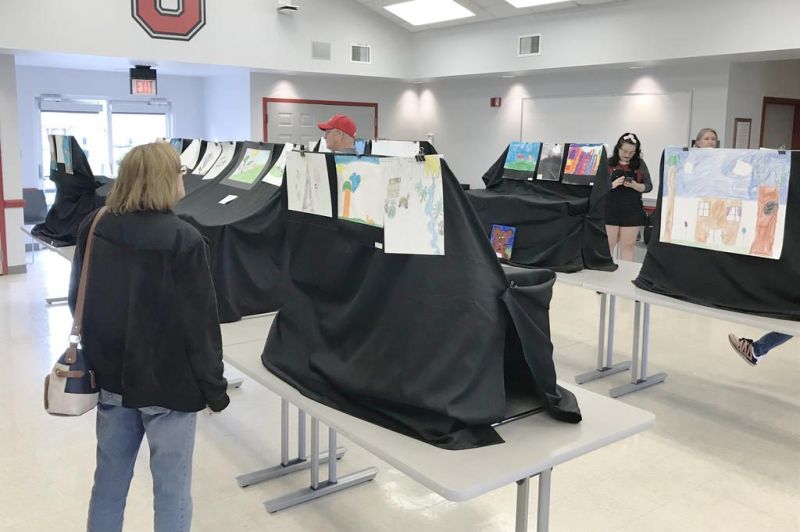 A number of area Girl Scouts of America troops put pens, pencils and paint brushes to paper and took a lot of photographs as part of their recent art show at Ohio State University Agricultural & Technical Institute in Wooster on Saturday, May 11.
The show served two purposes: one being to showcase the girls' artistic talents and the other that outreach can help OSU ATI promote everything it has made available to the community.
OSU ATI staff member Eric Williams helped organize the event, along with his wife Jennifer, who also works on the ATI campus and is the troop leader of Wooster Troop 453.
When the original plans to set up the art show elsewhere fell through, the OSU ATI housing office stepped in and granted the Girl Scouts its community room.
Eric Williams said most people only ever hear about the OARDC complex and the arboretum, so when the opportunity arose to help showcase the ATI portion of campus, they jumped at it.
"I grew up and went to Wooster High School, and I never knew that ATI was even here," Eric Williams said. "This is truly one of the great unappreciated gems in our community, and the girls got really excited about the chance to showcase their art here in a public place."
The Scouts had less than one month to put the show together, so with time at a premium, they had plenty of work to do. Eric Williams said the girls did an amazing job of creating the artwork; thus the adults then had to come up with the venue. That led to the community room at the housing office.
Eric Williams said the school has taken great strides in reaching out to the community recently to promote everything it has to offer, and having the Girl Scouts in was a way to do just that.
Over the past months, the Boy Scouts also have toured the arboretum and explored the different types of plants that are edible. Another wtrip saw them each take home a Venus flytrap as part of their program.
However, this day was dedicated to the Girl Scouts, who had their artwork on display for visitors to peruse.
Jennifer Williams said the ATI complex was perfect for the girls to set up for their art show. She said the entire show was centered around something that was very familiar to all Scouts.
"The theme was 'Nature Through Girl Scouts' Eyes,' so we wanted the girls to portray what they felt, saw and experienced in nature," Jennifer Williams said. "That theme resonates with both the Girl Scouts and with what ATI is promoting, so it was really an appropriate theme, from camping and hiking to nature itself."
Jennifer Williams said the hope was this show would be a success and lead to more shows at ATI, which would allow the group to feature not just drawing, painting and photography, but also introduce sculptures into the art show.
"We didn't put any restrictions on them as far as what they wanted to draw, paint or photograph," Jennifer Williams said. "As long as it was theme-related, they could go any route they wanted to choose. The main goal was that they go and have fun with being creative."
The Girl Scouts program has a series of badges for outdoor art with each level having a different way the Scouts experience nature in art. According to Jen Moser, another Scout leader, most of the art on display tied in directly with earning one or several of these badges. She said the photo artwork featuring four unique looks at the same nature photograph was a senior level badge, and the show served two purposes: having fun creating and earning badges.
"Using our resources wisely is one of the things we promote," Moser said. "The girls really did a wonderful job of being creative in what they portrayed in art. It was a fun project, and we are glad we had the opportunity to have such a great place to showcase their work."
The show featured seven different area Wayne County Scout troops, meaning plenty of artwork representing various age groups from throughout the area.
The show also helped promote leadership, something Scouting does on a regular basis. According to Jennifer Williams, another recent learning experience focused on robotics and what makes them tick.
That included a visit from a robotics team that brought with them one of their fighting robots, and they spoke to the girls about their competitions and what is involved with building robots.
That opened the door for a series of questions from the Scouts and created a learning experience.
"Whether it is observing nature around us and creating art, learning about robots or any of the things we do in Scouting, it is all about teaching the girls to think outside the box," Jennifer Williams said. "It's about experiencing everything around you and appreciating it, whether the girls are in kindergarten or in 12th grade."
Anyone interested in learning more about becoming a Girl Scout may email Jennifer Williams at williams.6712@osu.edu.