Glass museum brings a third People's vase home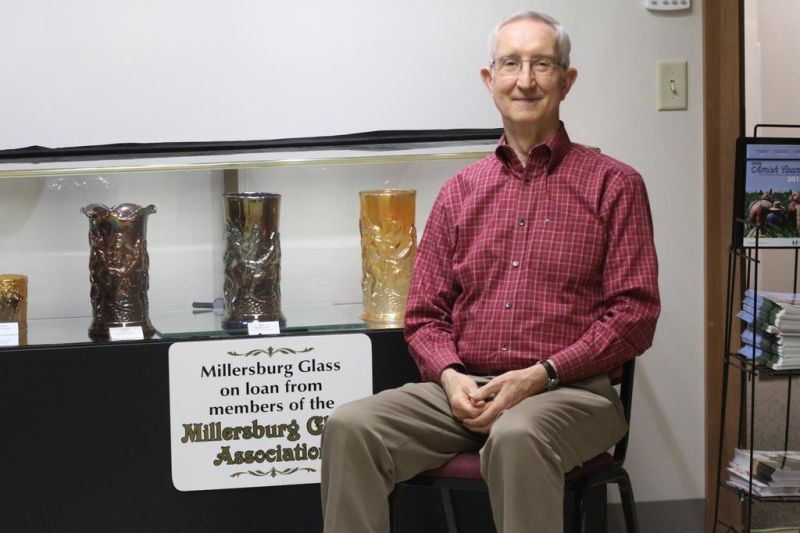 Recently a Holmes County original came home when Millersburg Glass Museum director Chris Sieverdes purchased the museum's third of the 10 known original People's vases created by John Fenton, owner of Millersburg Glass from 1909-12, this one the only known marigold vase.
Sieverdes' most recent addition to the People's vase family ensures three of the 10 vases are now in the Millersburg Glass Museum.
"I can truly say that I am done now," Sieverdes said with a laugh. "Having three of these incredible pieces of glass come back home to Millersburg where it all first began is thrilling to me because I appreciate the legacy and the history of these pieces. John Fenton was a master at his craft. He was an artist first and foremost, and he created some incredible glass that has become the finest in the world."
The People's vase is widely considered the most sought, expensive piece of carnival glass in the world. Sieverdes said bringing it back to Millersburg is a thrill for him and for the museum board and members.
According to Sieverdes, Fenton was known for his glass-making skills and risk-taking designs and was commissioned to create 10 People's vases in 1910 for the royal family in the Netherlands.
The vases were in honor of Queen Wilhelmina, who after eight miscarriages finally had a baby girl, Julianna, who later became queen.
There was reason to celebrate because there was now a queen to carry on the family's royal lineage. Fenton designed the 10 vases with Dutch people dancing in the streets because of the birth of their new heir to the throne.
During World War II, the royal family, with Julianna as their queen, fled to Canada for safety and reportedly brought all 10 vases with them, although the known whereabouts numbers just eight.
Over time these vases trickled down into America, where they found new homes.
Sieverdes, whose father sold Franconia China and leaded crystal from Bavaria decades ago, really wasn't a glass collector until he moved to Holmes County. A dozen years ago he began reading more about the old glass factory, and its three-year history fascinated a man who has grown up loving history. He taught criminology and community and leadership development at Clemson University before retiring and relocating to Amish Country.
That teaching and educating background laid the foundation for what he now does at the glass museum. Those visiting are treated to an in-depth tour of the museum that comes complete with many stories of the history that is now perched inside.
"I love teaching and telling these stories, and sharing the story of Millersburg Glass with others is fun for me because I am doing what I love, and that is teaching," Sieverdes said. "To me creating a legacy of the glass company and the glass itself and sharing the history of it for the town was a big deal. Having the two museums side by side here has made the tourism visitations much more significant for both us and the Victorian House. It's ideal."
Millersburg Glass is a passion for Sieverdes, and he has quickly learned a great deal about it. He and the Millersburg Glass Association created the Millersburg Glass Museum in 2007, which was located on Jackson Street before eventually finding a new home next to the Victorian House.
"The move to the Victorian House property made us legitimate," Sieverdes said. "We had much better lighting, we had these incredible Amish hand-crafted display cases and we were so excited about the opportunity. I really feel like that move opened the door to make the purchases of these People's vases."
Over the past decade Sieverdes has worked to stock the museum with not just expensive pieces, but also with glass that is stunning and showy. He seeks glass that is iridescent and almost glows in different lighting. Presenting the entire picture of the glass is what he hopes to achieve in the display cases.
"I'm really not a collector," Sieverdes said. "I am an educator, and I don't mind if pieces have flaws because that is part of the history."
In October 2018 Sieverdes purchased the first of his People's vases, a cobalt blue vase, for $155,000. Not long ago he brought home the second one, a green People's vase from an owner in North Carolina who made it known he preferred his vase would eventually find a resting spot in his hometown.
Then came the most recent purchase, a marigold People's vase he purchased from a local Wayne County family.
"[Local collector] Randy Jones was a go-between for me and the family because he knew them," Sieverdes said. "The family was a big collector of Millersburg Glass. We were finally able to meet, and a couple of the family members came down and toured the museum for the first time, and we were able to come to an agreement."
Sieverdes has always said he wanted to bring three of the vases back home. Now that dream is complete, and he said that is most likely where he will stop, although one can never say never.
Adding a third People's vase to the glass museum is something Sieverdes believes authenticates the museum more than ever to collectors and to visitors interested in learning more about the local glass.
"There are far more amethyst People's vases, so that is why this marigold one was such a big find for me," Sieverdes said. "Normally marigold is the last on the list in terms of what people want and the value, but since there was just one marigold out there, it makes it more valuable."
While avid collectors seek to purchase all types of Millersburg Glass, they all can appreciate the nostalgic idea of the glass coming back home to Millersburg to rest at the museum.
It is kind of a romantic idea that these expensive and rare pieces of glass that were designed for a queen overseas have found their way back to where they were made because the museum is just three-tenths of a mile from the Millersburg Glass factory.
"The babies have come home," Sieverdes said. "John Fenton was a creator and a visionary. He may not have been a good businessman, and he wanted to be mister big-shot and had to have the best of everything, which probably helped his business go under. But wow, what an unbelievable visionary when it came to creating some of the most vivid, beautiful and unique carnival glass in the world."
And now with three of the known 10 of what are his most prized and valuable pieces residing in Fenton's hometown, it has brought meaning to a museum that features a part of Holmes County's history.