Goshen Township cyclist to take on the Towpath Trail 50-mile ride in September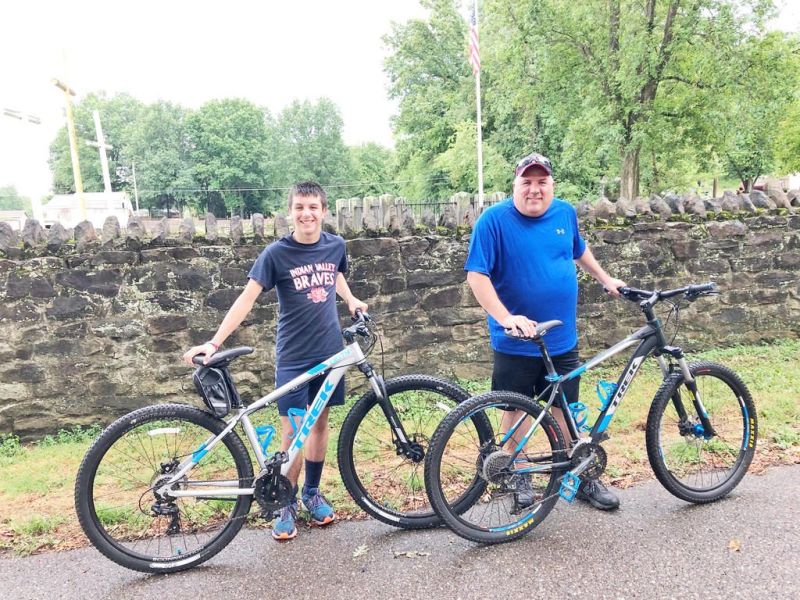 Scott Krocker, a resident of Goshen Township said, "Some of the guys who do this ride are like Lance Armstrong. I tend to take it a little easier."
Krocker is referring to his participation in the Cleveland Clinic Akron General Towpath 50, the 50-mile version of the Towpath Trail Century Ride, which covers all 101 miles of the trail from Cleveland to New Philadelphia. The purpose of the ride, which will take place Saturday, Sept. 12, is to raise funds to help complete work on the Towpath Trail.
This is the third year the Ohio & Erie Canalway Coalition has held the Cleveland Clinic Akron General Towpath 50. Krocker said in addition to the 50-mile ride, he has tackled the 101-mile Huntington Towpath Century Ride in past years with his brother, Joe Krocker, who was the impetus behind Scott's participation in this and other trail rides in the eastern part of the U.S.
"This will be my fifth year participating and Joe's seventh year," Krocker said. "In 2016 I rode the Towpath Century Ride in May. That September Joe and I rode from Pittsburgh to Cumberland, Maryland on the Great Allegheny Passage trail. It took us three days to ride the 150 miles. The following year we rode the C&O (Chesapeake and Ohio) Canal Trail from Cumberland to Washington, D.C."
The Joe Krocker training method
"I had bought a nice Trek bicycle in 2015, but I didn't really ride it much," Krocker said. "Then in December of that year my brother asked me to do the Towpath Ride with him."
Krocker eagerly agreed to participate in the ride. "It wasn't long, though, before I was wondering what I had gotten myself into," he said. "The first day my brother said, 'Let's just go out and ride 12 or 15 miles.'"
It was January, and the brothers' "go-to trail" in the winter is the paved Conotton Creek Trail, which is an 11-mile ride each way.
"We got to the 8-mile marker, and I said, 'We can turn around,' but Joe said, 'Let's just keep going. It's only 3 more miles.' We ended up doing the whole 22 miles that first day, and oh man, it just about killed me," Krocker said.
Krocker said training for the ride each year begins with a couple of 20-mile rides, graduating to 30 miles and continuing to add miles until the ride is 50 miles long.
"We ride all year long," Krocker said, "as long as it's above 30-32 degrees. I've ridden in colder temperatures, but it's not much fun."
Krocker said a light snow doesn't bother him either. Fortunately for this ride, he won't have to worry about snow or cold temperatures.
A family affair
Besides Krocker and his brother Joe, Krocker's 14-year-old son Seth has started cycling as well. A member of Indian Valley's cross-country team, he has cycled with his father and uncle a number of times locally and in other states.
"Dad and uncle Joe always sent us pictures from their rides, and it looked really fun," he said. "So Dad told me there was a bike at Ernie's Bike Shop if I wanted it."
Krocker said they put the bike in layaway, and Seth paid for most of it himself.
"I enjoy riding," Seth Krocker said. "You get to see what you can't really see in a car. There are some really great views on the trail, and it's cool to see the canal and the locks and the history. It's great to be able to follow the canal, even though it's been out of commission for more than 100 years."
Scott Krocker said he appreciates all the towns you go through on the Towpath Trail. "There's still a lot of the canal left to see," he said. "You go through parts of Navarre, the center of Massillon, Canal Fulton, Clinton and some of the other smaller towns. You also go right through downtown Akron. Part of the ride is on sidewalks downtown. From there, on the 101-mile ride, most of it is through the Cuyahoga Valley National Park, which is beautiful. It's one of my favorite parts of the trail. You really can't beat the Towpath Trail; it's just scenic no matter where you are."
Scott Krocker said he has ridden with a group of people he met on Facebook. "We did two 60-mile days on that trip," he said. He also credits riding with introducing him to new people. "We've met a lot of really nice people just through riding, and we have maintained those friendships."
The COVID-19 factor
Katelyn Freil, communication director for the Ohio & Erie Canalway Coalition, said both the Towpath 50 and its two-day counterpart, the Huntington Towpath Century Ride, were postponed earlier this year due to the pandemic.
"We decided to move forward with the September date with the support and counsel of local medical professionals, feedback from riders and assistance from our local health departments," Freil said. "The ride has been modified quite a bit this year to comply with safety regulations and to allow the most flexibility for riders."
Freil said the new format was created in partnership with medical professionals who are specifically trained in infectious disease. The format was then reviewed and approved by both the Summit and Stark health departments.
"While we will have an in-person option with a staggered schedule to manage social distancing, some riders are choosing to take their ride virtually," Freil said. "They are getting in their 101 miles throughout the summer or on a day separate from our weekend event in September. We are doing our best to support our riders in any way we can because they support our organization in such a meaningful and generous way."
Scott Krocker said he has noticed activity on the trail has picked up since the virus hit. "People use it locally, but a lot of people 'bike tour' like we do," he said. "They take longer trail rides and stay the night somewhere. These trails are actually a big economic booster for towns along the trail."
Scott Krocker points to the GAP trail as an example. "A lot of the towns along the trail were big coal-mining and steel-making towns," he said. "When that work dried up, they didn't have anything. Now the trail has brought life back to the towns. You have thousands of riders coming into these towns each year."
Freil said the same is true for towns along the Towpath Trail that were once canal and railroad towns. "In fact," she said, "a report released in 2015 shows that the total economic impact of the Ohio & Erie Canalway National Heritage Area including the Towpath Trail comes to more than $408 million."
Scott Krocker's tips for long rides
"Mainly you just have to make sure you stay hydrated and be sure you eat on the ride before you feel hungry," Scott Krocker said. "Your energy level can bottom out fast when you're riding. You burn a couple thousand calories easily on a long ride."
Scott Krocker said he hasn't been able to interest his wife or daughter into riding. "It's not for everybody," he said. "The number-one complaint is that your butt hurts. You just have to put in the seat time to get used to it. Everybody goes through it. If you're going to ride long distances, you should invest in a nice pair of padded shorts, no matter what kind of seat you have."
Riders still need pledges and sponsors
Riders like Scott and Joe are still seeking pledges and sponsors to help them raise funds for the event. "Each person is supposed to raise $1,000. That's the goal, but I'm short this year," Scott Krocker said.
"There is no deadline date for individual pledges," Freil said, "and we would love to see the community support our riders and the Towpath Trail up to and beyond the Century Ride. If companies or individuals are interested in sponsorships, there are various deadlines for recognition opportunities."
Those interested can get more information by calling Amber Genet at 330-374-5657 or emailing agenet@ohioeriecanal.org.
Freil said the organization appears to be on track overall to achieve their fundraising goal for the event. "We are encouraged every day by the creativity and enthusiasm of our riders," she said. "They are using this event as an opportunity not only to raise funds, but also to get out on the trail and share with their friends and family why they believe supporting the Ohio & Erie Canal Towpath Trail is so important."
To make a pledge to Scott, Joe or another favorite rider, visit www.towpathcentury.dojiggy.com and click on The Riders link in the left-hand sidebar. Then search the list by name. You can make your tax-deductible donation online.