Gospel Haven Academy Auction gives people a look at new gym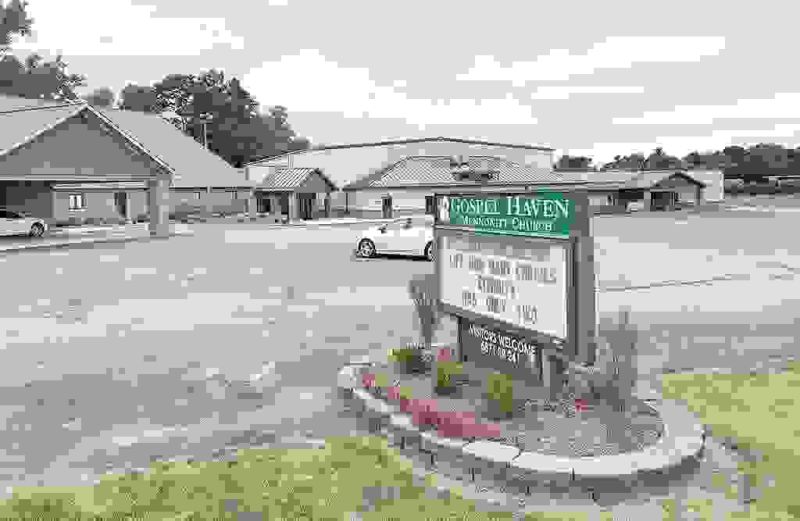 While the format and everything that accompanies the annual Gospel Haven Academy Auction remains the same, there will be one very large difference this year.
The auction, which will take place Friday, July 31, will take place in the facility's new gymnasium, a large area that is home to two full basketball courts and three full volleyball courts.
"We are all very excited about everything the additions now offer our church and school," event co-coordinator Kevin Coblentz said. "It really started with the church growth we were experiencing, and the church actually talked initially about building the new gymnasium. Once we started talking to Ivan Weaver Construction, they said we would be farther ahead if we just went ahead and built all of the classrooms and other additions for the school at the same time."
The school is currently in the midst of putting the finishing touches on all of the classrooms and offices, which will not be open to the public during the auction. However, the new gymnasium will be available because the auction will take place in the gym.
"It is such a nice, large area, and we felt we were better able to social distance everyone there," Coblentz said. "Plus, people are going to walk into a new world when they attend the auction. It will give people who haven't been in lately a chance to see the new gym. As a church and a school, we are extremely excited about everything the new additions have to offer."
With the expenses from the new addition, this year's auction becomes even more important for the school and church.
Gospel Haven Academy bumped back its 19th annual benefit auction from late spring to Friday, July 31 this year due to the coronavirus. However, Coblentz said in doing so, they faced some challenges. He said donation participation has been down some, and he said they are eager to see how attendance is in the middle of summer rather than in early May.
"This is an exciting time for us at Gospel Haven," said Coblentz, who has headed up the auction for the past seven years. "We had reached capacity for both our school and at church on Sunday mornings, so this is a much-needed addition to our facility."
Coblentz said on youth nights there are close to 100 young people enjoying the facility, so the new facility is certainly a welcomed addition for the youth.
The former gymnasium will be more classroom space, allowing for more classes in both the school and the church.
The additions were being built by Ivan Weaver Construction.
As for the auction, patrons can expect the same array of items for everyone's tastes.
"We really work to create a list of items that provides something for everyone," Coblentz said.
Included in that list are an 8-by-10-foot playhouse, oak tables and chairs, a Mathews archery bow, a 6-by-6-foot hunting blind, a power washer, a Weaver Vinyl playset, a massage chair, a Mantis tiller, a Stihl leaf blower, 16 tons of limestone, firewood, a chain saw, a barbecue grill, indoor/outdoor furniture, a Lake Erie fishing trip, a Chief Wahoo fire pit, a Time Cutter zero-turn mower, a KT barn and many more items to fit anyone's budget.
Two new items that should be exciting will be a pair of Magnum electric bicycles and a 250-square-foot stamped concrete or regular concrete addition. Plus, there will be a 32-by-48-foot garage package up for grabs, a Polaris Ranger 1000 UTV and a 16-by-81-foot power tilt trailer, making for some huge bidding packages.
The evening also will include a chicken barbecue courtesy of Junior Schlabach, a bake sale, kids' activities and a food stand. There also will be a silent auction where patrons may bid to their hearts' content — until the final seconds tick away. The chicken dinners, available to dine in or to carry out, will begin at 4:15 p.m. The auction will kick into high gear at 5:30 p.m., with RES Auction Services auctioneers Joseph Mast and John Kline livening up the bidding action.
While the church will turn to its members to support the new additions, as always, the annual auction will serve as the catalyst to help Gospel Haven students and their families lower tuition costs, as well as provide some funds for other school needs. The auction continues to serve as a way for the academy to give back to its students and their families by creating student scholarships, allowing the academy to keep tuition costs as low as possible for their families.
"It's important for us to be able to provide for our school's families," Coblentz said. "With our additions coming, the auction takes on a significantly larger role because we are asking so much from our members already."
All of the proceeds from the event will go toward helping with operating expenses at Gospel Haven Academy and will serve as a way to generate necessary funds that the school relies on to operate and to ease the financial burden on its many families and their students.
"It's exciting to see the support we receive from families and the community from people who understand the value Gospel Haven presents for our youth," Coblentz said.
For more on what is available on the auction block, visit the Gospel Haven page on Facebook or visit Real Estate Showcase at www.res.bid/auctions and search for Gospel Haven Academy.
Gospel Haven Academy is a nonchartered, nontax-supported school providing a Christ-centered education for k-12 children and is located at 6871 state Route 241 on the south side of Benton.