Grace and Isaac Cerniglia continue a 4-H family tradition at Ohio State Fair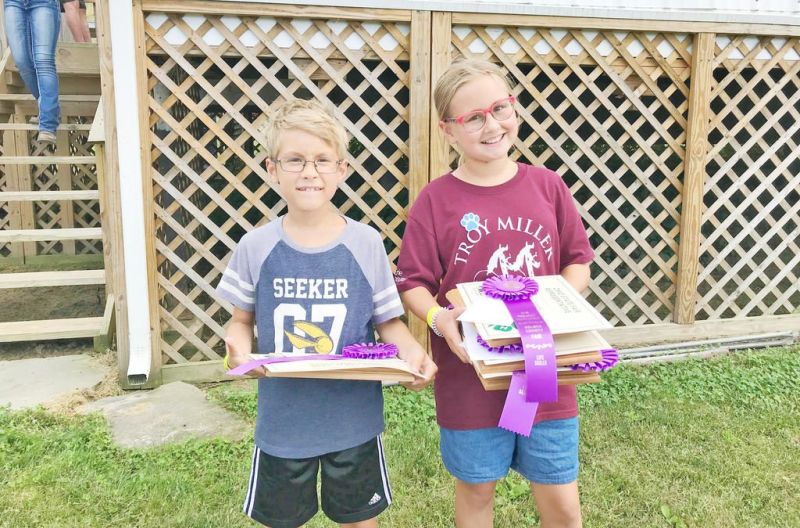 Siblings Grace and Isaac Cerniglia, members of the Holmes County 4-H Holmesville Clover Club, did well enough at the Holmes County 4-H project judging event at the 4-H Ohio State Fair that they qualified for state, and both went on to receive the Outstanding Award at the state fair.
Grace Cerniglia qualified for state in both of her projects including Snack Attack and Loungewear while Isaac Cerniglia qualified with his project, Sew Fun. Grace Cerniglia earned her Outstanding honor in Loungewear while Isaac Cerniglia duplicated that feat for his Sew Fun project.
For Grace Cerniglia the pressure was on because she was competing with high school-age youth. That did little to deter her as she did quite well.
"I was nervous," Grace Cerniglia said, but she was able to overcome those nerves with the strength of her project's theme. A Harry Potter fan, she created a Harry Potter-themed robe with pajamas underneath.
"I really enjoyed making the Harry Potter stuff. And my cooking, I didn't work quite as hard on that," Grace Cerniglia said. "I am pretty proud of myself for making it here and getting an Outstanding."
Isaac Cerniglia said he is new to the sewing world, having never done it before his project. It didn't take him long to catch on, and he created a khaki shorts outfit.
"I like the state fair, and I had a lot of fun doing it and learning a new skill," Isaac Cerniglia said.
The Cerniglia clan has been involved with 4-H for decades. Grace Cerniglia said her grandmother was involved with 4-H, and each of the children since then also have been involved. She qualified for state last year with a project titled Tops for Teens.
A first-time 4-Her at 9 years old, Isaac Cerniglia didn't waste any time following in the family footsteps.
Now both will look to continue that success as they make their way through 4-H.