Bontrager's story exemplifies everything about Rainbow of Hope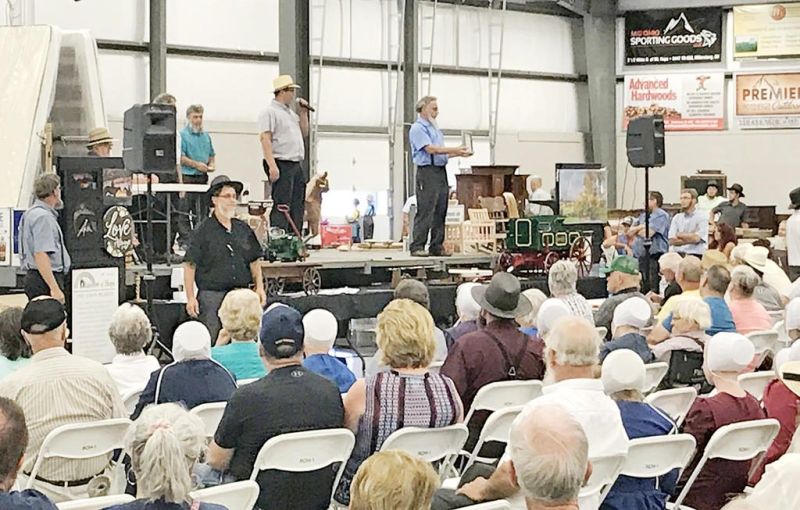 The fact Grant Bontrager was standing in front of a large audience speaking at the 34th annual Rainbow of Hope Foundation Benefit Auction in the Mt. Hope Auction event center on Friday, July 24 was miraculous, and not because COVID-19 hadn't shut down the weekend festivities.
Bontrager, from Kansas, was born under some seriously unusual circumstances. His mother had cerebral palsy, and health professionals said she was functioning at the level of a 3-month-old. One day in the hospital, she was raped by a hospital employee and became pregnant.
Doctors and officials suggested she abort the infant, despite being six-months pregnant. The Bontrager family prayed and followed their hearts and their belief that life is sacred and made the decision to go ahead and take the pregnancy to full term.
Family members LeVon and Mamie Bontrager readily accepted to adopt the infant, and thus, Grant Bontrager was ushered into a world in which many people would have aborted him with little thought.
Nearly three decades later, Bontrager is an inspiration to many, sharing his story of his faith and how a very difficult decision gave him life. He was the keynote speaker at this year's Rainbow of Hope event. Bontrager, who enjoys traveling with his ministry, shared his story, filled with hope, love for life, community support, prayer and family.
"As he grew up, over time his adoptive parents told him everything that had happened," said Raymond Miller, chairman of Rainbow of Hope Foundation. "The story is just an amazing commitment to faith, family and the value of every life."
As he gained more knowledge of everything that happened, he eventually met and forgave his biological father, and miraculously, his father was later saved and actually asked Bontrager to baptize him.
"It's a story of grace, a story of love and inspiring for everyone who is struggling with that kind of decision," Miller said. "When we think we are facing struggles in life that are overwhelming, these types of stories help put things in perspective."
Bontrager was the perfect person to represent everything Rainbow of Hope does in supporting families of children suffering from any number of medical issues. The nonprofit organization uses the funds from each year's benefit auction to provide funds for families struggling with medical bills.
Over the past 34 years, the group has supported nearly 800 different cases, impacting the lives of many. The funds presented are oftentimes around the $4,000 range, but Miller said years ago they committed close to $1 million to a case.
"We look at every case individually and base our giving on the needs," Miller said. "What is so great now is that we see families and their extended families who we have helped becoming volunteers and making an impact by giving back. We have an awesome, giving community."
While Bontrager was the featured speaker Friday evening, the auction took place Saturday, July 25 in the event center, where a huge sea of people came out to support the organization.
The event nearly didn't happen because of COVID-19 issues, but in the end the committee felt it was worthwhile to move forward.
The Rainbow of Hope committee waded through myriad questions about whether or not to have the event as the coronavirus issues raged on. In discussing it with the Holmes County Health Department and with ownership and management at the Mt. Hope Auction facility, they decided to forge ahead.
"They were really encouraging, and we truly believe that the community is in need of these proceeds for the children now more than ever," said Raymond Miller, president of the Rainbow event. "We have a lot of children and families who rely on us for assistance, and so we went ahead with plans, knowing in the back of our minds that in the end it could get canceled if things changed."
That never happened, and the benefit auction went as planned. Miller said they continually got a lot of positive feedback from the community that the event should happen, which was encouraging to them.
Pandemic aside, the crowd was large over the weekend, and Miller said the line-up of auction items, especially furniture items, was bigger than ever. He said having that kind of support really helped spur them to push ahead with the weekend.
Gloria Yoder, owner of Mrs. Yoder's Kitchen, helps create the menu for the Saturday evening supper that accompanies the auction. She said many hands make for light work, and it is wonderful to see the community rally behind Rainbow of Hope.
"Everyone puts their hands together, and it makes things work," Yoder said. "We have gone through various changes over the years. Our first year we had this old, dilapidated trailer, and this event has gotten bigger and better every year because people are so supportive, and they realize how important this organization is in supporting our children and their families."
"This weekend is all about love and support," Miller said. "We are blessed with a lot of wonderful volunteers and with the many people who come and support us financially at the auction. There is something special in supporting children, and you can feel the love people have for these families we are able to help. People just want to help any way they can."
Miller said there is an application process every family must go through to receive funding, but the board looks at each individual case and has been able to help many families. He said if anyone knows of a family with a child facing medical issues, they can contact the organization and request an application.
You can learn more about the Rainbow of Hope Foundation Benefit Auction at www.RainbowOfHopeFoundation.org or by calling the foundation at 330-674-5062.