H15 Ministries celebrates holidays close to home, farther away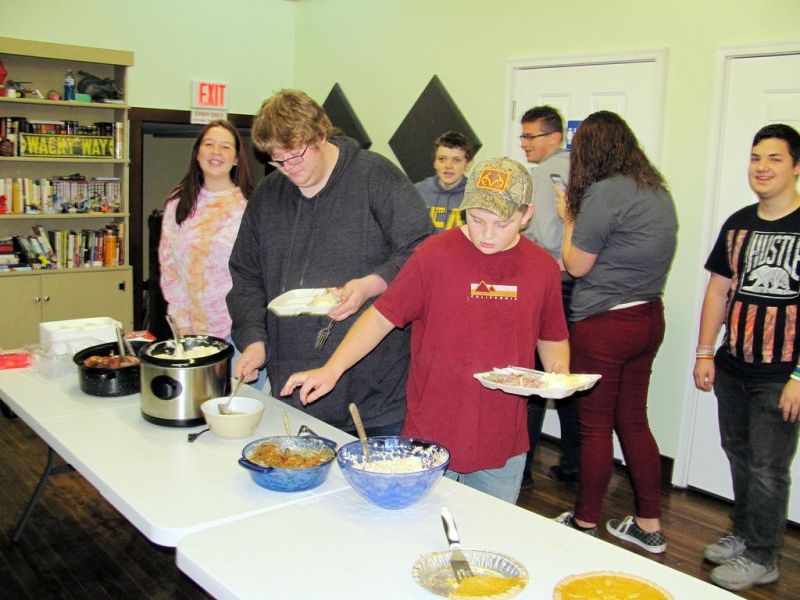 One of Andy Schafer's dreams when he and his wife Tammy started to create H15 Ministries three years ago was that it would usher in a sense of community and family for area teens of Holmes County.
On Nov. 26 the area teens who have made H15 Ministries a part of their lives saw firsthand how the community continues to back the ministry when the family of one of H15 Ministries' volunteers decided to make Thanksgiving dinner and bring it in for all of the staff and teens to share for the holiday celebration.
According to Schafer, the family came in to the facility loaded with some good eats including a turkey, green-bean casserole, homemade coleslaw, mashed potatoes and gravy, and pie and ice cream.
"What a spread we had, and man was it delicious," Schafer said. "What really made it wonderful was how the teens got to see that there are people who care enough about them to go to this much effort just for them. I looked around the room and saw everyone sitting in groups, eating and laughing together, just as a family should. God is building a family here at H15, and this was a wonderful way to come closer together."
While the facility is filled with myriad games, activities, reading materials and more, Schafer said connecting with youth on a personal level is something that helps build relationships and trust as the teen center continues to grow. He added that having food involved is always a nice kicker in ushering in fellowship.
"It's funny how food brings people together so well," Schafer said. "We are so thankful to the Millers for making this possible. When I first heard that they wanted to do it, I was blown away because to me Thanksgiving dinner is a huge undertaking. This will be something that the teens will remember for quite a while."
Now that Thanksgiving has come and gone, Schafer said they are turning their attention to the Christmas mission trip to Warfield, Kentucky. Schafer said they have collected more than 50 gifts to take to Kentucky.
Schafer is excited about this trip because it will be the first mission opportunity for some of the youth heading south, and he believes it will be a real time of growth and a bonding time when they can get to know each other on a more personal level.
"There are going to be about 14 of us going down with half of them being teens," Schafer said. "Most of the teens that are going are working together to put on a small Christmas play for the party, and all of them will have the chance to help hand out the gifts and interact with the families that we will be there to serve."
According to Schafer, on Nov. 18 a group of leaders and teens got together to go shopping for 14 gifts that had been sponsored by community members. He said they had a blast picking out things to buy and then packaging and wrapping them. They also enjoyed some pizza together in the process. He said people can still offer something important for the trip.
"Please be praying for everyone involved in the trip," Schafer said. "We will have left at noon on Friday, Dec. 13 and returned the following evening."
Schafer said the prayer list includes praying for the families in Kentucky with whom they will have shared the Gospel, praying the community as a whole will have been blessed by their visit, praying the trip will have had a meaningful impact on the H15 teens, and praying the relationships between the H15 volunteers and teens will continue to grow through the experience.
Schafer said the faithfulness and work of many has made the process to put the trip together a reality, and through the generosity of many, they were able to focus their Christmas spirit on less fortunate families.
"Thank you to all of you who have partnered with us to buy gifts, sponsored teens to go and helped pay the other expenses for the trip," Schafer said.
Anyone who would like to learn more about H15 Ministries or would like to become a volunteer may do so by visiting the website at www.h15ministries.org or by calling Schafer at 330-231-7147.