H15 Ministries' doors now open three days a week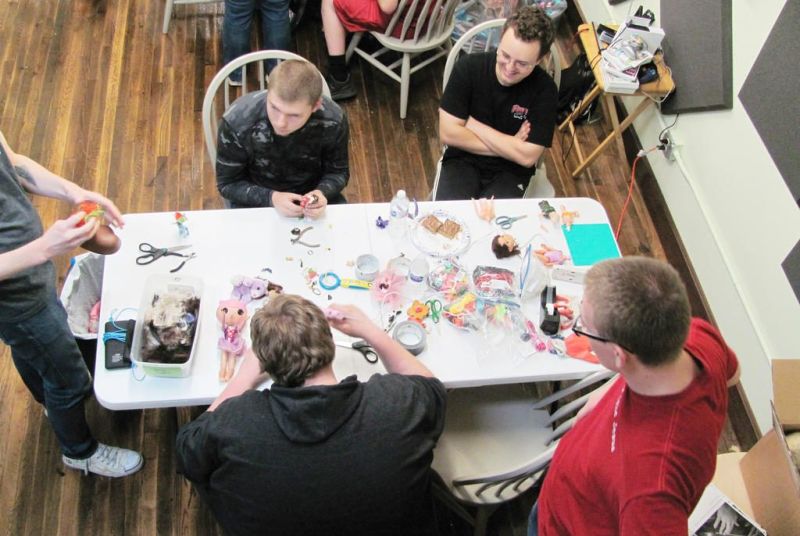 Slowly but steadily the youth facility at H15 Ministries in Millersburg continues to grow into what director Andy Schafer had hoped it would become, that being a six-day-a-week ministry for area teens.
Schafer switched on the sign reading "Teen Center Open" on Saturday, Oct. 26 and welcomed a batch of teenagers to the center for the first Saturday opening. The center is now open three days a week including Tuesdays, Thursdays and Saturdays.
Much of that ability comes from the willingness of volunteers to join in the process of celebrating life with the county's teens.
"We were super-excited as we flipped the 'Teen Center Open' sign on for our first Saturday evening, and as I suspected, there was a smaller crowd than our Tuesday night normally has, but I am sure it will grow," Schafer said. "We still had a great time with all the ones that came out."
The center continues to find new ways to entertain teens, the most recent one being a chance to have the teens showcase their singing talent. Schafer said he rigged up a karaoke machine, and once the ice was broke, it turned into a karaoke free-for-all.
"While nobody wanted to be first, it wasn't long before they were really getting into it," Schafer said. "To my surprise the first song to get sung was 'Fly Me to the Moon' by Frank Sinatra. I never dreamed they would go so old school."
Schafer said the Thursday evening for the 16- to 19-year-old group has started to grow as well. He said for a long time they were only seeing an average of three to five teens each night, but November has brought a number of new ones in as more teens have taken advantage of everything the center has to offer, and Schafer said they are now reaching double figures in attendance.
The older teens have shown their appreciation for being given more one-on-one time with the adult volunteers at the center.
"A couple of them have made a point of thanking me for giving them their own time to enjoy the center without the rowdiness of the younger ones," Schafer said.
Not that Schafer doesn't also enjoy the energy the younger teens bring just as much.
"I am so thankful for all the opportunities we have had to get to know these wonderful, young people," Schafer said. "I love getting to be a part of their lives and how eager they are to be a part of ours."
Another addition to the center has been the relationship being built with the Holmes County District Public Library. Recently Josh Chase from the library introduced Frankentoys to the teens, and that has brought on a whole new appeal.
The latest session with Chase was to create toys that were inspired by Sid from the movie, "Toy Story."
Sid, who is considered to be a cruel character in the movie, deformed innocent toys and left them to suffer in the torture chamber that he called his bedroom. They finally banded together to get their revenge on him.
Schafer said the teens were far less cruel as they took advantage of a hodgepodge of broken toys and turned them into works of art.
"Josh brought along a big box of random toys, scissors, pliers, hot glue and a lot of imagination," Schafer said. "Our job was to cut the toys apart and mix it all up and come up with some pretty crazy creations. It was an absolute blast, and we had a great time with it. I loved hearing all the laughter as each creation was shown off and explained. It was a chance to really get the creative juices flowing, and everyone loved it. I have already started collecting more toys so that we can have them here for future evenings filled with toy torture and creativity. If anyone happens to have some lying around, feel free to send them to their doom here at H15."
All area teens are invited to stop by H15 Ministries, located across from the courthouse in Millersburg, on any Tuesday evening or now on Saturday evenings. The facility also is open for older teens Thursday evenings.
Anyone wanting more information on the center or those who wish to become volunteers can visit the Facebook page or the website at www.h15ministries.org or may call Schafer at 330-231-7147.