H15 Ministries eager to hear the joy of teens again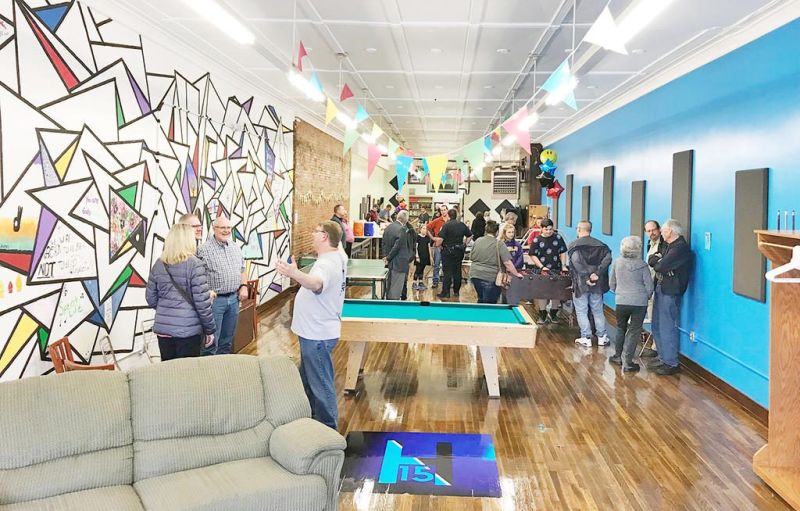 For H15 Ministries director Andy Schafer, texting, emailing and Snapchatting are all fun ways to stay in contact with the area youth who have made H15 Ministries in downtown Millersburg a favorite hangout over the past couple of years.
But, nothing can compare to actually being in one another's company as the teens and adult volunteers connect twice a week.
Well, at least they did until COVID-19 temporarily turned out the lights, closed the doors and left the teens in a waiting pattern that has yet to be lifted.
"Technically, we are allowed to be open," Schafer said. "We are following the state's rec center guidelines and we could be open. But we would have to keep everyone at least six feet apart or have barriers in place to separate people. We talked about reopening now, but it just seems to defeat the purpose of being together while at the same time trying to keep everyone away from each other."
While the doors are closed, Schafer continues to go to the center, and even with it being closed, there is some activity. Schafer said they are currently putting in a new heating and cooling unit.
As for the renovation plans, Schafer said everything has ground to a halt for the most part as uncertainty continues to surround exactly when the center will reopen along with the trepidation that donations will slack off should the center continue to remain closed.
Schafer said as of now the funds coming in are still strong and the center is in decent standing financially.
"Donations have been down a little bit," Schafer said. "Right now, we are still at about 75-to 80% of what we would typically be getting, most of that being the one-time donations."
Schafer said that is enough to keep the center in good shape, but the virus did hit at an inopportune time in terms of H15's progress on renovating the building.
According to Schafer, they were making huge strides in donations and were gaining ground on the start of the roof on the second half of the building on the west side.
"When everything hit, we kind of had to put everything on hold," Schafer said. "We were really making some nice strides toward getting that other roof on when it hit. We had a few contractors working together to see about taking what money we did have set aside for the project, seeing if we could get some donations and get it done. Then everything hit. We had been talking about doing that roof for probably two or three weeks before everything started getting shut down. We have reserve funds available that we had initially set aside for the roof, but right now we can't commit those funds."
Schafer added that throughout the past several years since the center went from an idea to a reality they have trusted that God would supply, and at every turn they have experienced that joy. He said this is no different.
As for the teens who frequent the facility, Schafer said they are itching to get back in and enjoy all of the fun things H15 Ministries has to offer.
He said he and his wife Tammy have been diligent in remaining in contact with many of the youth throughout the pandemic, keeping the lines of communication open to any of the youth who want to talk about life, faith or just to shoot the breeze, something they do plenty of at H15.
"I hate not being open and so do the kids, but what's the use of being open if we can't even sit at a table and play games," Schafer said.
The teens themselves have voiced their eagerness to get back into the center. Schafer said as soon as Ohio Gov. Mike DeWine announced that rec centers could reopen, he heard from a number of teens asking when the center was going to be available.
"All of the kids I've talked to have been very understanding about why we haven't opened back up," Schafer said. "They are more than ready to get back on a regular schedule, as we all are."
He added that early on during the pandemic, they tried to utilize apps like Zoom to stay in touch with the group as a whole, but nothing can replace the actual joy of fellowshipping together in person.
Schafer said he and his wife have also encouraged the many adult volunteers to try to stay in touch with the teens that they have built relationships with over the past many months of meeting at the center.
For now, they have to settle for emails, phone calls and texting for the most part, but Schafer said he knows a day will come when they can all gather together again at the center.
"Every once in a while, we will run into one of the teens when we are out shopping, and even that is fun interaction," Schafer said. "But not being able to be together is tearing me up inside, because we had seen so much growth from where we first started. I just keep reminding myself that God has a plan, because none of this came as a surprise to him."