H15 ribbon ceremony marks a rebirth downtown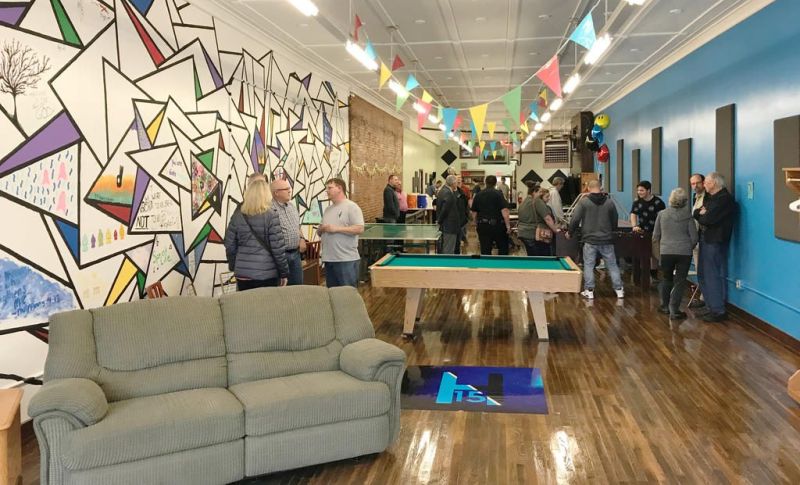 Three years ago the keys to the H15 Ministries building were handed over to Andy and Tammy Schafer. Ever since the building has become a second home to not just them, but also the volunteers who have taken it from a worn-out building to the new teen center it is today.
"Three year ago to the day, I stood out here in the pouring rain and talked to the owners and received the key to our dream," Andy Schafer said. "Three years ago we put this project into God's hands, and it is only because he watched over and guided us and gave us the volunteers that we are standing here today."
Schafer said hundreds of volunteers and local businesses have been instrumental in this dream becoming a reality. A grand opening was Saturday, May 4.
The ribbon-cutting ceremony included a dedication speech from Holmes County Juvenile Judge Thomas Lee, who for years has seen firsthand the need for an organization to create a place where teens feel comfortable and safe and can receive mentoring and guidance.
Lee said in his 22 years he has had numerous people bring up the idea of building a youth center in the downtown area, but it has never come to fruition, at least not until now.
"There is such a need for this in Holmes County," Lee said. "We have been blessed with a lot of great families in Holmes County. Those kids are going to come in here, hang out with friends, and that is great. But I can also say that after 22 years in Juvenile Court, we have families that are unhealthy and struggling. Some of these kids are having a hard time making good decisions in life, and this place can be a real lifeline for them."
Lee said several years ago Schafer came to his office and sat down to talk about his vision for a center where kids could come and feel loved and valued.
"Here's the truth: Change is hard," Lee said. "Positive changes in life come about by building relationships through Christ. It is that relationship that compels us to change and move forward in life. That is what this place is all about, and if we are serious about changing lives, it has to be done in the context of building relationships. This facility is just a tool, but it is a great tool. The real magic is going to happen inside when caring adults commit to them, love on them and make them feel valued."
Lee said seeing a facility come into town and provide a caring environment where mentors are helping them gain self-esteem and grow toward making good life decisions will eventually make the number of teens he sees in court far fewer.
Duane Galbraith, pastor at Gateway Church in Millersburg, also is a board member at H15. He said being a part of the revitalization process has been an incredible experience.
"It's been exciting to see this building come to life," Galbraith said. "My passion has always been for young people, so this whole idea that Andy had is such a wonderful gift from God. I have always dreamed that we would have something like this here in Millersburg, and to hear the kids and the joyful noises they are making is incredible. It has been a dream for so long, and now you can touch it and feel the joy it is bringing to the teens who come here."
Galbraith said the goal is to simply love kids where they are. There will be no judging, only love and acceptance as they build relationships.
While the many games, attractions and things to do in the center are fun, those who have invested their time and energy into the center realize that providing faith-based leadership is going to be pivotal in the success of the center's mission.
"The kingdom of God is about relationships, and this place is built on that," Galbraith said.
Dave Lammert is a police officer from Westerville, Ohio. While it is a distance away, he has made a commitment to making the trek to Millersburg monthly to help wherever he can. He met the Schafers during his training at Ohio Police Officer's Training Academy, where they hit it off and the Schafers shared their vision for a youth center.
As a police officer, Lammert said organizations like this can help keep young people from ending up having to deal with him professionally, and that is a good thing.
"Andy and Tammy are such big dreamers, and I see everything they desire with this place working out," Lammert said. "It's a place for teens to gather and build relationships, and it is an incredibly important addition to this community."
Millersburg Mayor Jeff Huebner was on hand to celebrate the ribbon-cutting. He said the center continues the ongoing growth of Historic Downtown Millersburg.
"Andy and Tammy saw a need here in our community and were willing to invest and to develop a center for teens," Huebner said. "This is phenomenal. I can definitely see this taking off and becoming more and more popular. What they have built is such an important part of building up our young people."
H15 Ministries continues to seek volunteers and is currently open on Tuesday starting at 4 p.m. The hope is over the coming months the center will be open multiple days each week.
If anyone would like to invest financially or volunteer at H15 Ministries, call Andy Schafer at 330-231-7147.