Habitat for Humanity holds campaign celebration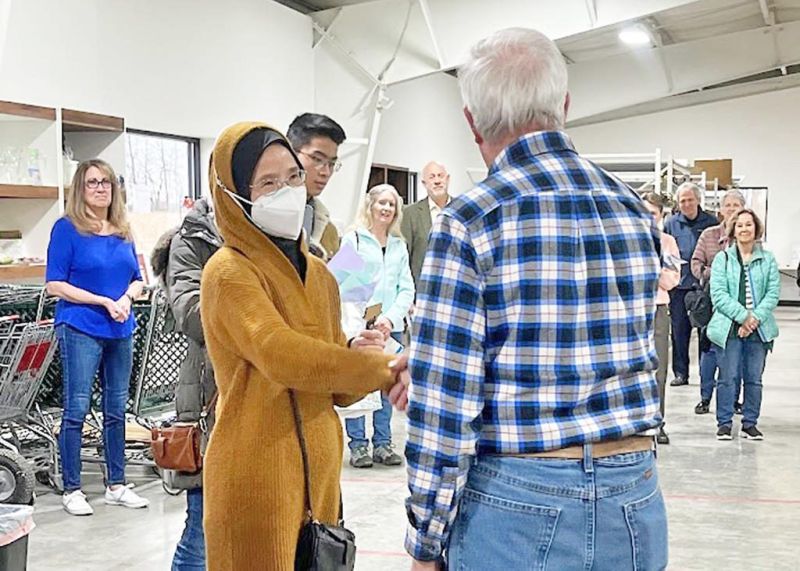 Habitat for Humanity of Wayne County held a celebration on Feb. 14 to celebrate the success of the capital campaign, "A Home of Our Own."
The campaign was run by the Wayne County Community Foundation, servicing the
donations that enabled the organization to purchase the facility at 2700 Akron Road in Wooster. Before the purchase of the property in October 2022, the organization had been renting the location for the past three years.
"Our community made the campaign easy," HFH Director Beth Weaver said to the attendees. "To be honest, I was dreading having a capital campaign, imagining it to be a daunting task to raise $1,000,000. I should have known better. After all, this is Wayne County. You all made the process easy. The responses were so positive and encouraging. Thank you for that."
The event went on to unveil a Wall of Fame, created to represent a front porch. The exterior of the structure displays the names of the donors who gave toward the campaign. The donor display was designed by Connie Curren of Gerber Lumber and built by Habitat volunteers. The names of the donors are displayed on metal plaques designed and produce by Izabel Meshew of the Romich Foundation.
The celebration went on to note some of the organization's recent home buyers. Aaron Arnold, representing Wayne County Retired Teachers Association, presented a house-warming gift to the homeowners. The Habitat volunteers, who spend over 2,500 hours of labor on each house, saving Habitat an average cost of $45,000 per house, presented the keys to the new homeowners — Upikin Gunawan and her children Sammy and Xander.
Lorrie Tignor, Habitat's vice president, read an appreciation letter from Gunawan. "All of you have gone above and beyond," she wrote. "I could never truly express the amount of gratitude I have for everyone involved in the process, but I hope this simple thank-you letter suffices."
The event came full circle with a mortgage-burning ceremony. Sue Watkins purchased her Habitat home in 1997 and was able to make her last house payment just this month. She lit the mortgage paper while smiling and said, "Goodbye."
Habitat for Humanity in Wayne County was affiliated in 1986, and for the first 14 years, it built 27 houses as an organization in a nomadic state. Since then HFH settled in three locations for spans of time, the last one being the building on Akron Road. The organization looks forward to continued progress toward building more affordable housing in Wayne County.